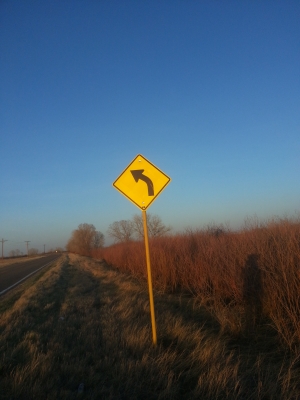 You seldom catch me breaking the rules of the road. You won't find me texting, eating (well,yeah, I break this one for the occasional peanut M&M), driving without insurance or running red lights.
A few days ago, I was headed to the next town twenty miles away on the old highway that runs a straightaway for the first ten miles, then winds in a series of curves for a few miles. Having driven that road a thousand times over the years, I could easily negotiate those curves at speeds that far exceed the posted warning speed limit of 45 mph. However, I'm not in the habit of speeding. (Add that to my list of rules I don't break cited above).
On this day, a car approached in my rearview mirror. Its grill simulated the bared teeh of a vicious dog savoring the anticipation of a bite of my leg in its mouth. The vehicle kept pace with me, but I felt a sense of urgency in the driver. Was he wanting to pass on this stretch with the double yellow line? Annoyed that I braked at every curve to adjust my speed? Should I push it and show off a little in the new car I was sporting?
Okay, I admit it. I felt intimidated.
My finger hovered over the cruise control button. Maybe I'd notch it up another ten miles per hour or so. What could it hurt? Nah, better not.
When I reached the end of the highway and prepared to make a left turn, I caught a full view of that car. A police car!
If I had given in to my impulse to break the rules, my reward probably would have been a big fat expensive speeding ticket and a whole lot of embarrassment.
Had I known a police officer followed me, the thought of breaking the rules of the road would have never entered my mind. In fact, once I realized the driver's identity and he continued to follow me, I became conscious of every move I made until further down the road, when he turned left and I veered right.
How often do we find ourselves breaking the rules when we think no one of consequence is watching? Whether it's a line of harmless gossip to a friend, a curse word uttered in the privacy of our homes, or a piece of chocolate cake hidden from our dieting partner, there is always that temptation to push the limits and cross the line.
Breaking the rules eventually catches up with us. Gossip always hurts someone's feelings. Curse words uttered in private are embarrassing when they slip out in public. Forbidden food adds pounds. Speeding earns us a ticket.
When you flirt with the idea of breaking the rules, what infraction tempts you the most?