Last Sunday, I found myself focusing on the nativity scene displayed at the front of our church. Even though the Sunday school children were adorable as they performed their skit, the youth group presentation was thought provoking, and the music and singing were inspiring, I needed to search deep in my soul and seek the real meaning of Christmas.
My mind was fraught with worry over my husband's upcoming appointment at the Wound Care Center and family members were having personal issues. I was beginning to experience that moment of panic when I questioned all the gifts I had bought and whether anyone would really be pleased with any of them. The tree wasn't even fully decorated, empty Christmas ornament boxes littered the floor, and the house in general was a mess.
The nativity brought my focus back where it belongs during the Christmas season. It doesn't matter how many ornaments are on the tree, whether the yard boasts a spectacular light show, or how much credit card debt I've accumulated while trying to purchase the perfect gift.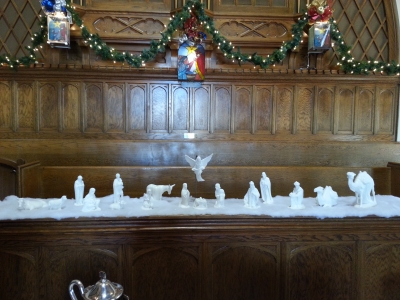 The message expressed through the music and the acting during the Christmas program reminded me that the season brings joy and hope. The nativity in the background emphasized that preoccupation with the material things of the season prevents us from experiencing the love and peace that was sent to penetrate the human heart in the form of a babe in a manger.
My husband's medical issues will be ongoing for the rest of his life to some degree, but he is healing. Family members will always have disagreements and they will resolve them or they won't. Gifts will be opened and appreciated or returned. The house always eventually gets cleaned.
Today, the pastor built his sermon around the nativity scene. He talked about how we need to embrace Jesus, not just admire Him. Perhaps that difference is what helps us through the tough times.
Adversity is a constant in our lives. Whether health issues or relationship issues or financial issues, there will always be something in our lives we wish were different or better. The Christmas season holds the promise that someday, none of these material concerns will matter if we cling to the gift given to all of us on Christmas Day, the Christ child, the Son of God.