My reading was limited last year, but here are five books that stand out as top picks in my opinion: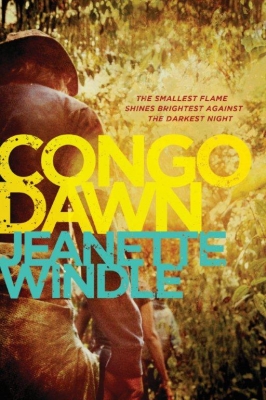 Congo Dawn by Jeanette Windle (I had the honor of interviewing Jeanette on the Over 50 Writer a few months ago. Find that interview here.)
I'm not a person who follows politics or the international scene closely, but this book, set in a dark corner of the world, drew me in from page one and held my attention to the very last word. I have never read any previous work by Jeanette Windle, but this book was well worth my time.
Robin Duncan has one goal in mind when she takes an assignment with an international corporation. Drawing on her past experience as a marine lieutenant, she fills the position of interpreter on a security team seeking to safeguard a Congolese region threatened by a ruthless killer. She needs the money to help pay for life-saving surgery for her niece.
The mission finds Robin confronted with situations she had not expected to encounter, both on personal and professional levels. She comes face to face with Dr Michael Stewart, the man she once loved and for whom she still harbors bitterness at his betrayal involving her brother's death. Just when it seems she and Michael have cleared up their misunderstandings, another situation comes along to make them wary of each other.
Robin begins the mission with complete faith in the good intentions of her superiors. She learns that the people she thought she could trust are embroiled in a deceitful, profit-seeking scheme. The insurgent the team seeks to capture, originally perceived as the evil enemy, may have motivations for his actions that are more justifiable than she could have imagined. All is not as it seems, and the division between good and evil blurs into a mass of confusion.
The author has crafted realistic characters who persevere in the face of adversity, show outstanding courage when confronted with danger, and base their decisions on compassion and love.
The element I liked most about this book is that Miss Windle takes the age old question of why a loving God allows so much human suffering and faces it straight on. She uses scripture in a non-preachy way to guide her reader to a deeper understanding of what human suffering is truly all about.
I felt a degree of shame as the author painted pictures of the stark reality of how people in war torn countries live, survive, and, with so little of what I take for granted, find joy in the midst of their suffering and sacrifice.
Florian's Gate by Davis Bunn
I know little of the antique business, but Florian's Gate gave me a glimpse into the world of antique trading that piqued my interest from the start of the book. Jeffrey Sinclair takes a job at a London antique shop, where he learns the business and tries to figure out the mysterious nature of his boss, Alexander Kantor. He finds himself more and more attracted to the lovely Katya, who keeps him at a distance.
Jeffrey's position takes him to Europe, where he not only seeks valuable antiques, but learns the hardships their owners endure as they adjust to freedom after the fall of the iron curtain. He discovers that part of the mystery surrounding Alexander stems from his painful memories of communist occupation in Ploand.. Katya, he learns, is protecting her wounded heart against further hurt.
The author skillfully weaves his story with vivid characters and leads his readers through their emotional and spiritual journeys. Relationships and circumstances grow naturally against a backdrop of historical fact.
From his description of the bidding at the auction chamber to the gut wrenching memories of Auschwitz relived through the eyes of his characters, Davis Bunn provides a deep reading experience. I found this to be an intense, thought-provoking read and I strongly recommend it to those who enjoy excellent character development and intriguing plot developments.
This book was provided to me by Hendrickson Publishers through Fred St Laurent and the Book Club Network (bookfun.org) in exchange for my honest opinion.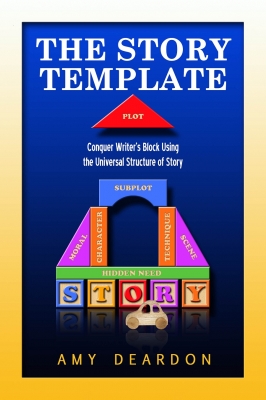 The Story Template: Conquer Writer's Block Using the Universal Structure of Story by Amy Deardon
Amy is a good friend of mine, so when I was asked to review a writing craft book on the Books to Write By blog, I knew her book would be perfect.
This book is a must read for any writer who struggles with the next paragraph, sentence, or word in their literary creation.
Amy takes her reader on a journey that begins with preliminary ideas for the type of story you wish to write and ends with techniques for polishing the completed first draft until it is ready for publication. She then takes her reader a step further by giving an overview of the process involved in submitting a manuscript and an explanation of the different types of publishing available to the writer.
The Story Template demonstrates through examples from well-known books and screenplays many aspects of crafting a great story, from the general premise of building a story world and developing a plot to creating an individual scene and employing various storytelling techniques.
Each chapter is packed with exercises that engage the reader and challenge the writer's imagination. The exercises build upon each other in much the same manner that any project requires basic structure elements followed by more detailed embellishment and fleshing out to create a superb finished product.
Added bonuses include a comprehensive glossary of terms commonly used in the writing and publishing world, a collection of famous opening lines, two sample synopses from well-known published works, and a list of writing books and self-publishing resources.
Amy is the author of the novel A Lever Long Enough, a story about a small military team that travels back in time to film the theft of Jesus' body from the tomb. Included in The Story Template is a sample passage from her novel before and after editing with an explanation as to why changes were made.
I highly recommend The Story Template to any writer who seeks a blueprint for crafting a successful novel.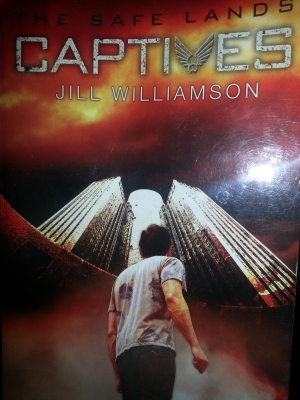 Captives (The Safe Lands) by Jill Williamson
This book hooked me from the beginning and delivered an action-packed adventure throughout. Jill Williamson has crafted a story that would appeal to older teens with its dystopian setting and dynamic characters.
Main character Omar falls prey to the promise of power offered by the Safe Lands enforcers out of the jealousy he feels toward his brothers. After all, it's not really betrayal since he believes his people will live a better life inside the Safe Lands, where society is far advanced from his own village of Glenrock.
Levi, Omar's brother, who returns to Glenrock after a trip arranged by Omar, discover many of his relatives and friends dead and everyone else kidnapped. Shocked that his brother would betray the village, he must gain access to the Safe Lands to rescue the captives, including his fiancé, from a society that is only deceptively idyllic.
A third brother, Mason, is enlisted to help the Safe Landers overcome a plague that threatens to annihilate their citizens. Women are to serve as healthy surrogates to create offspring not affected by the plague.
Some of the captives are deceived by the pursuit of pleasure and worship of beauty propagated by futuristic technology. Others battle against the permissiveness to maintain moral and spiritual values.
The story is never preachy, but carries the strong message that the pursuit of pleasure is not the best path to happiness and fulfillment in life. Consequences for poor choices are demonstrated throughout the story.
Miss Williamson hurls her characters into a futuristic world that becomes believable through her vivid imagery. The plot navigates them through a maze of moral decisions with potentially dangerous consequences.
I thought the book ended rather abruptly, but then learned that there are two sequels in the works. I can't wait to see where Miss Williamson takes her characters in those next two novels.
This book contains no graphic scenes, but does deal with mature subject matter, such as drug addiction, sexual freedom, seductive behavior, and artificial insemination. I would recommend it for mature teens of upper level high school age.
A copy of this book was provided to me free of charge in exchange for my honest review.
Chosen: The Lost Diaries of Queen Esther by Ginger Garrett
The inspirational story of these Biblical characters in diary format is told in a way that lays Esther's heart and soul bare to the reader. From her simple life as a teen experiencing the flutter of first love, through her dramatic lifestyle change as she is prepared for her night with the king, and on to her role as queen, Ginger Garrett explores Esther's deepest fears, unfailing faith, and divine destiny.
The author weaves a tale, based on Biblical truth, of love and devotion tainted by deceit and betrayal. Besides an entertaining read, this novel facilitates an understanding of the morality, politics, and religious beliefs of the times in ancient Persia.
The vivid descriptions of palace life were well done. Each character is depicted in such a manner that the reader is transported back in time. The vivid descriptions of palace life were well done. Each character is depicted in such a manner that the reader is transported back in time. I found the interactions between the characters to be believable due to Miss Garrett's skilled use of realistic dialogue.
I highly recommend this book to anyone who likes to supplement their study of the Bible with the enjoyment of quality Biblical fiction.
I received this book from David C Cook through Fred St Laurent at The Book Club Network in exchange for my honest review.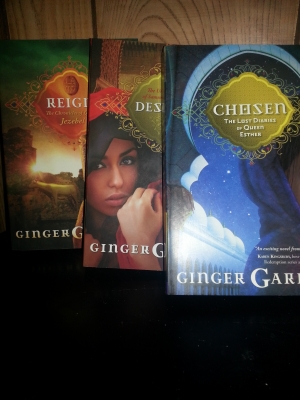 I also recommend Reign: The Chronicles of Queen Jezebel and Desired: The Untold Story of Samson and Delilah, both by Ginger Garrett. The reader does need to be warned, however, that these two books have been described as "dark" by some reviewers. Vivid descriptions of the ancient rituals practiced in Bible times are graphic, but I have no doubt they are also realistic.
Pick up one of these books today! Let me know what you think!