When I read this post on my daughter's Facebook page a couple of weeks ago, it raised some concern in my mind:
Heart breaking.......absolutely heart breaking. Yet I'm sure next year my hopes will be up again!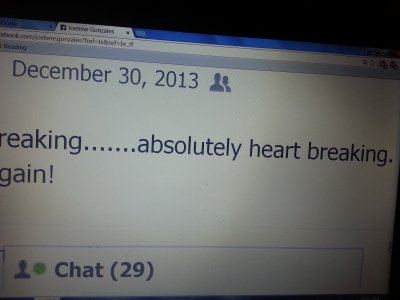 One person commented on her optimism. I responded that it had been a tough year for all of us and that things had to start looking up in 2014.
I worried about what was wrong. I knew she had qualified for a promotion and was hoping for the chance for advancement at work. Then, I wondered if the comment had had something to do with Christmas. Perhaps she had not received a Christmas gift she really wanted or expected.
A few days passed before I was able to catch up with her and ask her what the post was all about. She didn't even remember it and had to go back to her Facebook page to look it up. "Oh," she laughed. "I had just finished watching the Cowboys game and was disappointed they wouldn't be in the superbowl this year!"
How often do we misinterpret someone else's words, written or spoken, and draw ridiculous conclusions that have nothing to do with the original intent? Those assumptions can lead to misunderstandings at work, at home, in our churches, and between friends.
Words possess an immeasurable amount of power and can be so easily misconstrued.
Sometimes, it's not the person who wrote or spoke the words that causes the miscommunication, but the person who interprets what is read or heard. In this case, my mom instinct kicked in right away, and I never thought to perceive the post in the lighthearted manner in which it was intended.
Granted, she could have elaborated. I tend to agree with my son, who says, "Those kind of posts are so annoying!"
Yeah, they are, but that's Facebook for you.
When was the last time you read or heard something that you later found out you had totally misinterpreted?
Oh, and by the way, the fact that our daughter was born and raised in Colorado, still lives here and is a Dallas Cowboys fan is downright embarrassing! HA!