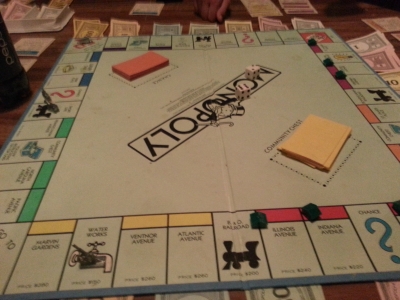 When my kids were growing up, I couldn't wait for them to reach the age where they would begin to understand Monopoly and be able to play as formidable opponents. Last night, my husband, son, twelve-year-old granddaughter, and I played the game on the twenty plus year-old board that we played on when our kids were growing up.
"Pappy never played board games with us when I was little," my daughter has lamented to hers. That truth sparks an ember of jealousy in her, I think. Also proves the power a grandchild holds over a grandparent.
As we went through the motions of playing the game, I realized the parallels between the action on the board and the 'game' of life.
The first few turns, everyone has money to buy the properties they land on. The problem comes when a player tries to develop a strategy, because something always gets in the way. Buy a piece of property in one color group, and you set your sights on getting all three, but you never come close to landing on that property again.
Don't we set our goals high, only to encounter stumbling blocks that make their attainment tougher?
Now, you're stuck with a paltry income from rent, like the eighteen dollars I collected for my two red properties a few times, while my opponent husband scarfs up eighty to one-hundred dollar profits on a regular basis because he managed to procure Electric Company and Water Works.
Isn't that like the person who has some education, but not enough to advance, versus the person with a degree?
As the game progresses, more complicated decisions need to be made, or the game will go on forever. So, I hand over something of value to my opponent son in order to obtain my coveted third red property.
However, in the meantime, opponent granddaughter is developing her property. So, between negotiating past the Luxury Tax, Income Tax, improved properties and three of four railroads owned by one player, I'm fighting a losing battle. Yet, hope springs eternal, so I jump off the financial ledge and fork over four hundred and fifty bucks for three houses.
Isn't that true of our daily lives? We consider the options, weigh the consequences, and take chances. Sometimes we lose, but sitting back and collecting eighteen dollars rent every once in a while doesn't make for a very interesting player.
Our granddaughter sets her sights on what she wants (the treasured Park Place and Boardwalk combo), takes risks to get them, even to the point of mortgaging her other property, and usually ends up with cash to spare.
I find it strange that my former non-board game player husband still doesn't really understand all that's going on in the game and seldom even realizes what property he has. Yet, he comes out the winner three times out of four.
Another lesson learned. Always beware of the quiet ones.
What are your favorite board games?