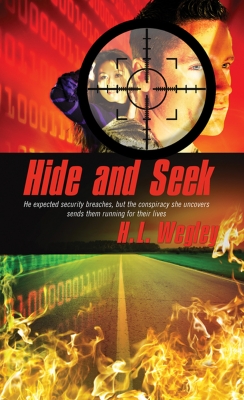 Featured Book: Hide and Seek
Author: H. L. Wegley
Publisher: Pelican Book Group
Genre; romantic thriller
Stand Alone or Series; series
Target Age: late teens to any age adult
See below for instructions on how to win an autographed print copy of Hide and Seek, the first book in the Pure Genius series!
Rhymes and Reasons for Writing the Pure Genius Series
by H. L. (Harry) Wegley
Hide and Seek is a romantic thriller about an ingenious plot to compromise US defense systems by cyber-espionage. I had two motivations/goals for writing this story and the Pure Genius Series. First, I wanted to write a story that illustrated valid reasons for considering the Christian faith. I studied Christian apologetics for several years and to incorporate what I had learned into my story. Second, I wanted to weave a thrill-filled story that incorporated incidents I had observed during my years as an intelligence analyst and in the IT industry. To accomplish these goals, the two main characters for my story needed to be very, very bright people. While trying to define the two protagonists, I asked my wife if they should be a generation apart in age and have a platonic relationship, or be near the same age and have a developing romantic relationship. She looked at me incredulously.
"You really don't know? I thought you were supposed to be bright … you know, like your characters. Go for the romance."
I took her advice.
The heroine I chose to create, Jennifer Akihara, is a 5'2″ 110-pound, stunning, Japanese-Hawaiian beauty, with an IQ and a temper both hovering near 212. She is an unusual and complex woman who enters the story as an agnostic. That gave me the opportunity to introduce her to a man of faith, Lee Brandt, and to generate some conflict because of their disparate worldviews.
Lee is a younger version of me, and he received a shortened version of my resume. It's a lot easier for a newbie author to write about characters they already know. My wife figured out Lee was me, and when he kissed Jennifer for the first time, my wife's eyes made some non-verbal accusations and her mouth made some not-so-veiled threats.
But when my tall, slender, red-haired Irish wife cooled off, she recognized her own personality in Jennifer. I breathed a sigh of relief and prayed that it would not be like this with each new heroine I created. I have not written myself into any male protagonists since creating Lee. But I'm digressing a bit …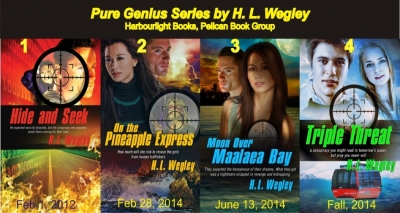 Once I created my two characters, Jennifer and Lee, and made them bright enough to unravel a cyber-espionage conspiracy, I didn't want to lose them after a single story. Consequently, I brought them back to dismantle an international human trafficking ring in On the Pineapple Express (releasing February 28, 2014) and again for book 3, Moon over Maalaea Bay, set entirely in Maui, releasing June 13, 2014. The final book is Triple Threat, releasing in late 2014, a wild, dangerous adventure and my best effort in validating the Christian worldview...
Pure Genius, published by Pelican Book Group, is a romantic-thriller series readers from late teens to seventies can enjoy.
WAIT! DON'T FORGET THE GIVEAWAY! LEAVE A COMMENT TO BE PLACED IN A DRAWING TO WIN AN AUTOGRAPHED PRINT COPY OF HIDE AND SEEK, THE FIRST BOOK IN THE PURE GENIUS SERIES! CONTEST ENDS FRIDAY FEB 7TH AT MIDNIGHT (MST). BE SURE TO LEAVE YOUR EMAIL ADDRESS SO I CAN GET IN TOUCH WITH YOU IF YOU WIN!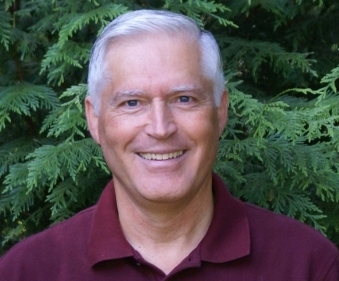 H. L. Wegley served in the US Air Force as an Intelligence Analyst and a Weather Officer. He is a Meteorologist who worked as both a forecaster and a research scientist in atmospheric physics. After earning an MS in Computer Science, he worked more than two decades as a Systems Programmer at Boeing before retiring in the Seattle area, where he and his wife of 47 years enjoy small-group ministry, their grandchildren, hiking beaches on the Olympic Peninsula, snorkeling Maui whenever they get a chance, and where he writes inspirational thrillers and romantic suspense novels.