It seems half the nation is buried in snow and wrapped in cold .I suppose people who have been suffering with freezing temperatures, outrageous amounts of snowfall, and treacherous ice will not appreciate me saying that I love winter!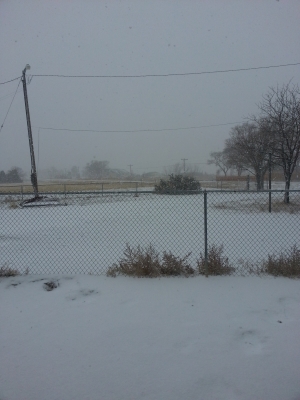 The problem with where I live is that we just don't get enough of it to suit me. Today, we had the first decent snowfall in all winter. Still, it was only a few inches.
We had to leave home for a doctor's appointment in Colorado Springs, one hundred twenty miles from where we live. It had started snowing during the night and was still snowing when we awoke this morning. I knew my husband was not thrilled about traveling on icy and snow-packed roads, but I also knew that the wound care clinic would not be able to see him until the following week if we missed this appointment.
Even though I driving promised to be hazardous in spots, I felt a certain excitement about getting out in the winter weather. We were fortunate in that, although the roads were snow-packed for the first forty miles or so, we really didn't have any problems. In fact, we ran into a stretch of dry roads for about thirty miles.
Once we arrived in Pueblo, though, it started snowing again, but not anything heavy. By the time we gained the Interstate, the snow was that wispy stuff that blows away with the wind created by the moving cars.
We stopped to eat before checking into our motel, and about that time, the snow started falling at blizzard proportions. Big flakes accumulated on the cars in the parking lot. By the time we finished eating, I had about an inch of snow to clear off the windows.
Later, I went out to retrieve a couple of items and it was cold! It had stopped snowing by then, but snow had again accumulated on the car. I brushed it off so I wouldn't have to scrape it from the windows in the morning. It's supposed to be minus one then, and that's pretty cold for this part of the country.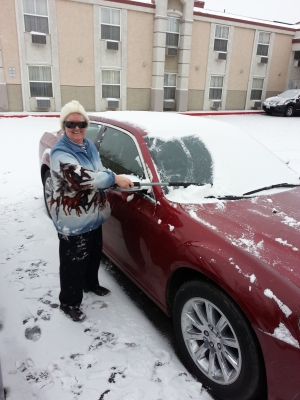 Still, I don't know why I get so much enjoyment out of brushing snow off my car windows, my nose stinging from the cold as the white stuff blows in my face!
I guess it stems from my memories of childhood when we would go on vacation to the Adirondacks.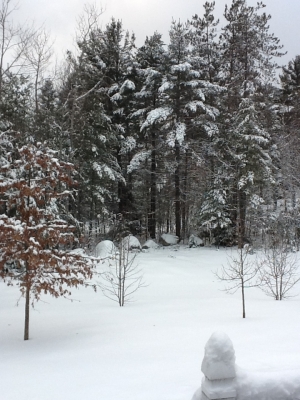 They had real winter storms there! We sledded and skied and did some snowmobiling.
My sister, who still lives there, sends me photos of her yard during a snowstorm and I am so jealous.
Our paltry little snowfalls are laughable to people who get real winter storms. Maybe someday, I'll live someplace where it snows eight months out of the year, and a foot is considered a "skiff."
What do you think of winter? Is it your favorite time of year?