It's that time again when the Olympics dominate the television screens of millions of American homes. As I watch these thrilling competitions, I am again reminded how we as spectators can all learn from the athletes on some level.
The degree of dedication to a dream is mind boggling. These competitors give hours every day, some of them from the time they are toddlers, to perfecting their technique in order to excel at their sport. They sacrifice staying in bed, social events, time with family and friends, and any number of other simple pleasures that we take for granted on a daily basis
They tax themselves physically and mentally to deliver the best performance possible. The degree of dexterity, flexibility, and stamina the athletes demonstrate demands admiration. The level of stress they experience as they move into competition must soar to near unbearable heights.
The ability to accept defeat reflects an athlete's strong character. It requires a great deal of dignity to recognize and respect the accomplishments of others in the face of one's own failure. It takes even more courage to commit to try again, even though the next opportunity to medal in Olympic competition will be four long, grueling years away.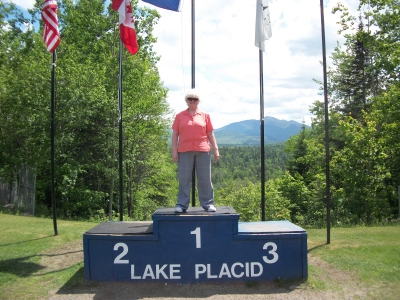 Almost thirty years after Olympic chills and thrills played out in Lake Placid, New York, I had the opportunity to stand on the medal podium long enough for my family to snap a photo. No cheering crowds welcomed me, and I didn't catch my breath with the exhilaration of having competed in a demanding race.
Most of us will never achieve such lofty goals as to take a position on the podium to claim an Olympic medal. Yet, perhaps it is the loser who deserves the most credit, the athlete who never makes it to the podium, but who embraces the experience and comes away grateful for every lesson learned from it.
If we exemplify to even a small degree the qualities that make these competitors the best in the world, we, too, can see our dreams come true. For each of us, a milestone achieved along our personal journey can impact another person as significantly as Olympic gold inspires millions.
What "gold" are you going for today?