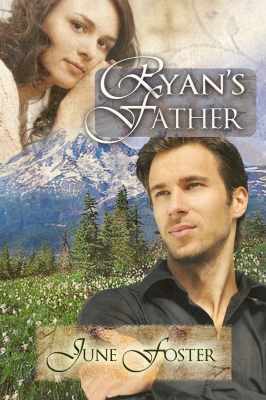 Featured Book: Ryan's Father
Author: June Foster
Publisher: WhiteFire Publishing
Series or stand alone: stand alone
Target age: late teen to adult men & women
JUNE IS OFFERING A GIVEAWAY (PRINT OR EBOOK) OF RYAN'S FATHER. CHECK BELOW TO SEE HOW TO ENTER TO WIN.
I am excited to welcome author June Foster to Patti's Porch. June, I have a few questions for you about the dificult subject you tackled in Ryan's Father.
Is there a story behind Ryan's Father?
Yes, when my daughter was in high school, she and a neighbor boy joined me for morning Bible study and prayer before school. The sweet boy attended our church and loved the Lord. My heart went out to him once when he called me aside and asked if he could talk to me. He confessed that he had feelings for another boy in our church and needed to know my thoughts. The young fellow was being raised by a busy father and no mother, so I felt honored he sought me out. However, at the time I didn't know what to say to him except for what the Bible states. Homosexuality is not in God's perfect plan for humans. Years later when I began to write fiction, the memory revisited me, and I wrote a story centered around this subject. Thus Ryan's Father.
Homosexuality is widely accepted today—even in the United States. What grounds do you have to restrict another person from living the lifestyle they prefer?
My premise for Ryan's Father is based on the Word of God. If we look carefully in the books of Romans and Leviticus, we see that homosexual relations are not pleasing to Him, though some people twist these passages, interpreting them to say what they'd like to hear. In no way am I trying to tell others how to live their lives. I wrote this book solely for those who desire to leave the lifestyle.
What about people who are born gay?
I'd like to begin by asking the question, "Why would God make someone gay if it's against His will?" In the book of Genesis, God told Adam and Eve to be fruitful and multiply. This is something a gay couple is incapable of.
I realize that some may have a predisposition toward homosexuality. But because a person is born with a predisposition to anger doesn't mean he should commit murder. Or like me, with a legacy of alcoholism. Though I struggled for many years, God set me free, and I don't have to practice alcoholism.
Is homosexuality a sin?
I believe it is because it is expressly forbidden. In 1Corinthians 6:9, the practice is lumped together with adulterers, thieves, drunkards, slanderers and swindlers. Help! I fall into a couple of those categories, too. But Christ died for all sin and wants to forgive us. Homosexuality is no worse than murder, adultery, lying, gossiping. When a person falls on God's grace and believes Jesus died for his sins, he will be forgiven and can expect an eternity with the Lord.
Does that mean if someone wants to leave the lifestyle and receives Jesus as Savior, they will be instantly changed?
Far from it. At the end of Ryan's Father, in my note from the author, I write that Ryan's story is fictional, including the passage of time. I'm not so naive to believe freedom could happen with one decision or a counseling session. But in time, God can draw us out of that pit of deception, but only if we first call on Jesus Christ for salvation. Then God's infinite power, peace, and truth can permeated our lives. Homosexuality is a devious, deceptive lie of the enemy. But if God can change the alcoholic, the self-centered person, the gossip, the liar, the person addicted to porn, or any other sin I can name, He can bring freedom to that precious person struggling with same sex attraction.
Are you homophobic?
By no means. I have a person in my family who is a practicing lesbian. I love gay people and want to accept them with open arms. I'm as much a sinner as any homosexual, thief, or glutton. I'd welcome him/her in my church in a heartbeat.
Does God have a plan for our lives?
Yes, for sure. I'd love to see many find that purpose. When a person lives a homosexual lifestyle, I don't believe they are experiencing God's best. I want to see others set free. Frankly, I question whether a person in a gay relationship is truly happy, but only the individual can answer that question. My prayer is that all who read Ryan's Father will find a path to that plan and freedom in Christ.
Where can readers purchase Ryan's Father?
Book Cover Blurb for Ryan's Father:
Ryan Reid is a first-grade teacher anVd a Christian with a heart for neglected kids, but a chance encounter during an earthquake with Sandy Arrington, a beautiful young nurse, rocks Ryan's carefully guarded world and unearths the secret he has held deep in his heart. Though Sandy falls in love with him, Ryan's forbidden affections lie elsewhere, and he must depend on the Lord to see him through a battle he always hoped he'd never have to face.
LEAVE A COMMENT TO BE PLACED IN THE DRAWING TO WIN A COPY OF RYAN'S FATHER BETWEEN NOW AND FRIDAY, MARCH 28TH AT MIDNIGHT MST. DON'T FORGET TO LEAVE YOUR CONTACT EMAIL SO YOU CAN BE NOTIFIED IF YOU WIN!
June Foster is a retired teacher with a BA in Education and a MA in counseling. June has written four novels for Desert Breeze Publishing. The Bellewood Series, Give Us This Day – February 1, 2012, As We Forgive – September 1, 2012, Deliver Us – April 1, 2013, and Hometown Fourth of July – July 1, 2012. June's book, Ryan's Father, is available from WhiteFire Publishing January 2014. For All Eternity, Red and the Wolf, and Misty Hollow, God willing, will be published in the near future. June loves to write stories about characters who overcome the issues in their lives by the power of God and His Word. June uses her training in counseling and her Christian beliefs in creating characters who find freedom to live godly lives.