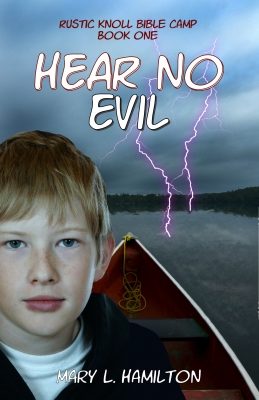 Feature Book: Hear No Evil
Author: Mary L. Hamilton
Publisher: HopeSprings Books
Genre: Middle grade/Tween
Stand Alone or Series: Rustic Knoll Bible Camp Series
Target Age: 10 and up
I am pleased that author Mary Hamilton has stopped by Patti's Porch to share a few words with us. Welcome, Mary!
MARY IS OFFERING A GIVEAWAY OF HER BOOK, HEAR NO EVIL. CHECK BELOW TO SEE HOW TO ENTER TO WIN.
"Write what you know."
That's the first rule for writers. But as a stay-at-home mom with three kids, I couldn't imagine anyone being interested in reading a novel about the daily minutia of changing diapers and digging Cheerios out of car seats. I did, however, have the unique experience of growing up at a Christian camp. And as I thought about the people who made up the permanent staff, as well as some of the summer staff members, I realized they were characters in themselves. So I knew I wanted to write a story set at a camp. But I needed a story to go with my setting.
About that time, my children were in junior high and high school. Two of them had friends from different families whose mothers told them, "I don't want you living with me anymore. You have to go live with your dad." These were not problem kids. I would've gladly taken them into my home without hesitation. I couldn't imagine what was going on in those mothers' lives that would prompt them to say that to their children. I also couldn't imagine the depth of pain such words must have planted in their childrens' hearts.
As I grieved for these families, these teens, I sensed a nudge from the Lord, a whisper that said, There's your story. The more I thought about it, the more it made sense. I'd write a series about kids who come to camp with all their 'baggage' from home and discover a different perspective on the problems they face. They learn that God really does care about them, that He doesn't just leave them to figure things out on their own. And they find new ways to cope with their situations.
Book Cover Blurb for Hear No Evil:
Brady McCaul's mom drops him off at summer camp and tells him he can't come home. She doesn't want him living with her anymore. While Brady tries to figure out what he did wrong, he becomes fast friends with cabin mate Steven, a blind but capable camper, and Steven's spunky friend, Claire. But Brady also becomes a target for the camp bully, deepening the pain from his dad's abandonment six years earlier and now Mom's rejection. Only God can heal Brady's wounds, but at this point, Brady is convinced not even God cares about him.
Find Hear No Evil at Amazon
LEAVE A COMMENT TO BE PLACED IN THE DRAWING TO WIN A COPY OF HEAR NO EVIL BETWEEN NOW AND APRIL 4TH AT MIDNIGHT MST. DON'T FORGET TO LEAVE YOUR CONTACT EMAIL SO YOU CAN BE NOTIFIED IF YOU WIN!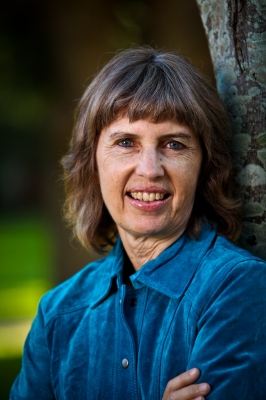 Mary L. Hamilton believes in the power of Christian camps to change people's lives. She also invites youth into her home for Bible studies and breakfast with her special recipe waffles. When not writing, Mary enjoys knitting, reading and being outdoors. She and her husband live near Houston, TX within range of their three grown children.
Connect with Mary: