Featured Book: On the Pineapple Express
Author: H. L. Wegley
Publisher: Harbourlight Books, Pelican Book Group
Genre: Thriller with Romance
Series: Book 2 Pure Genius Series
Target Audience: Teens through adults of all ages
Author H. L. Wegley introduced us to his Pure Genius Series earlier this year. Patti's Porch welcomes him back with some thoughts on human trafficking, the subject of the second book in the series, On The Pineapple Express.
H.L. WEGLEY IS OFFERING AN AUTOGRAPHED PRINT GIVEAWAY OF HIS BOOK, ON THE PINEAPPLE EXPRESS. CHECK BELOW TO SEE HOW TO ENTER TO WIN.
On the Pineapple Express – a writer's response to the human-trafficking epidemic
Four years ago, my wife and I met Dr. Cyndi Romine, a woman who has helped rescue girls from human trafficking around the globe. The stories she told us presented a picture of a grave danger for our grandkids. They also identified the great need for people to oppose sexual slavery, as modern day abolitionists, and for people willing to help the victims recover from the trauma of their horrific experiences.
We learned that children were being lured from street corners in our neighborhood, from the food court at our mall, and from just about anywhere kids gather. Sometimes the perpetrators of this evil spend weeks or even months grooming girls, preying on their vulnerabilities, until they can control them or get them into a car and drive away with them. Other girls are simply snatched off the streets—a van drives by, stops, and the targeted girl disappears.
What happens to these girls who are forced into a life they would never voluntarily choose? If they are sold into sexual slavery, their average lifespan is 4 years. If their "owner" is a good marketer, they will make 2 to 5 million dollars from their investment before the girl dies. Young boys are not immune either. Regardless of sex, these kids are sold, not once, but several times daily until they die … if they are not rescued first.
The average age of girls taken and forced into prostitution is about 13, but it drops each year. It is currently about 12. To maintain that average, many very young girls must be taken and this paints an extremely ugly picture.
Every thirty seconds, somewhere in the world, another girl is victimized by traffickers. In the United States, every two minutes someone's daughter falls victim.
Now that I've thoroughly depressed you, let me say that the story I chose to write in response to the trafficking epidemic, On the Pineapple Express, is not a depressing story. It is thoroughly uplifting, because I injected hope and light at every opportunity and structured the plot so that graphic images of the horrors of trafficking are not required. Then I ensured that the light overshadows the darkness in the characters hearts and minds as well as by justice prevailing over injustice. Telling the story in this manner, I gave a copy without reservation to my 15-year-old granddaughter on her birthday.
Back Cover Blurb: On the Pineapple Express:
In one of the most beautiful places on earth, the ugliest of crimes holds young, innocent lives in its evil grip. An intercepted cell-phone call from a remote area on the Olympic Peninsula tells beautiful, brilliant NSA researcher, Jennifer Akihara, a group of girls will soon be sold into slavery by human traffickers. She enlists her fiancé, Lee Brandt, to help find the holding location and convince the FBI to intervene. With the clock ticking off the last few hours before both the sale of the girls and the arrival of a deadly storm, and with international criminals pursuing them, can Jennifer and Lee save the girls, or will their wedding plans be cancelled ... permanently?
On the Pineapple Express on Amazon
Publisher link: Pelican Book Group
LEAVE A COMMENT TO BE PLACED IN THE DRAWING TO WIN A COPY OF ON THE PINEAPPLE EXPRESS BETWEEN NOW AND FRIDAY, APRIL 18TH AT MIDNIGHT MST. DON'T FORGET TO LEAVE YOUR CONTACT EMAIL SO YOU CAN BE NOTIFIED IF YOU WIN!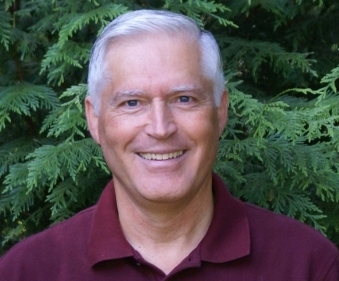 H. L. Wegley served in the USAF as an Intelligence Analyst and a Weather Officer. In civilian life, he was a weather forecaster and a research scientist in atmospheric physics. After earning an MS in Computer Science, he developed computing systems for Boeing before retiring in the Seattle area, where he and his wife of 47 years enjoy small-group ministry, grandchildren, hiking Olympic Peninsula beaches, snorkeling Maui whenever they can, and where he writes inspirational thrillers and romantic-suspense novels.
Find H. L. Wegley on the web: