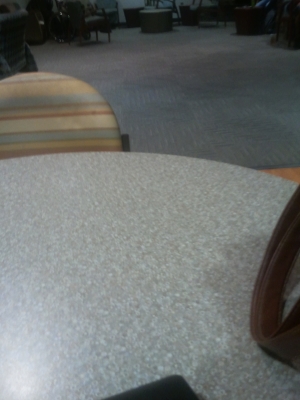 Do you ever have one of those days when you know you should feel differently than you do? Maybe you should be grateful for something, or happy about a certain upcoming event, but you're just not.
That's kind of the way I feel today. I can't say that I'm sad or discouraged, or angry, or any of those other negative emotions.
Normally, Wednesdays are good days because we go back home. Even though we have to return in the morning, it's so nice to watch our own TV, cook in our own kitchen, sleep in our own bed, spend some time lavishing love on our two huskies, and maybe, if our schedules work out right, get a visit from our daughter and granddaughter. Usually, once we leave the hospital, the drive home is enjoyable.
Today, though, I wouldn't mind if we could do the Star Trek thing and be teleported from the hospital in Colorado Springs to our front door. Today is a long day since my husband had an early morning appointment at the Wound Care Clinic, which meant getting packed and out of our hotel room earlier than usual, followed by his daily Hyperbaric Oxygen Chamber treatment. Then, on the way home, I have an appointment to get some maintenance done on the car.
I woke up a bit nauseated, a little dizzy, and probably way too tired. I'm just not on top of my game. The news at the Wound Care Clinic was encouraging, but the doc would like another week's worth of treatments. Insurance will probably say no, so that's a bit unsettling.
Yet, when I see people in the hallway at the hospital or greet the HBO staff, and they say, "How are you?" I respond with a cheerful "fine!"
How often do we do that, tell people we are "fine" when we are not "fine?" People don't like to hear our sad stories, especially strangers who are dealing with their own.
So, even though not completely honest, I hide my whatever-it-is feelings and pretend I'm having a great day. The funny thing is that, in donning that façade of all-is-well-ness, those unidentified negative emotions soon sink deeper and deeper into my consciousness.
As I sit in the surgical waiting room, one of many hangouts I've inhabited these past few weeks during hubby's treatments, I can't help but smile as a family sits in the corner, telling stories and laughing. Then, there is the little girl and boy who giggle as they dance together to their own music in the middle of the floor.
These simple little things make me look beyond my own cloudy blue day to the sunshine that peeks through at the most unlikely times.
In the end, the day will turn out good.
No matter what insurance decides, hubby and I will be good.
Most important, life is good!