I am pleased to welcome writer Jennifer Hallmark to Patti's Porch. From now until the end of the year, I will post Jennifer's seven part series on prayer. Look for her posts on the fourth Saturday of every month.
Prayer Changes Things-The Lord's Prayer
For the next seven posts, I'm going to share a fictional series describing how prayer changes things. We'll look at the lives of two co-workers, Margie and Debra. This week is a thought about The Lord's Prayer.
"Hey Margie, do you have a minute?" Debra, a young accountant, trotted into the break room early one Monday morning.
"Yes?" Margie pushed back her graying bangs as she refilled her coffee cup. Twenty-five years at the company put her in a perfect position to help up-and-coming employees like Debra. "You're still pretty excited to get to work for someone who's been here three months.
"This isn't about work." She plopped down at the table. "You go to church don't you?"
"I do." Margie pulled up a chair beside her.
"Well, I've been visiting the community church with my cousin for several months, but yesterday something happened. I mean I finally understood what they were talking about. Everything suddenly made sense and I went to the altar and gave my heart to Jesus."
"That's wonderful!" Margie hugged Debra. "You're now a child of God and that makes us sisters in Christ."
"It's like I have a whole new family." Debra drummed her fingers on the table. "After the service ended, I spoke with the pastor about my experience. He said it would be helpful to read my Bible and pray, so I could grow in the Lord. He suggested I start in Matthew and study the life of Jesus first."
"Oh yes. I love reading about Jesus and also the book of Psalms."
Debra's forehead wrinkled. "I'm not sure about praying. He said it was simply talking to God, but is there a guideline or something to help me?"
"Well, if you start reading in the book of Matthew, there is actually a prayer in there where Jesus taught his disciples how to pray. Let me read it to you out of the New Living Translation. It's the Bible in a more contemporary language."
"Pray like this: Our Father in heaven, may your name be kept holy. May your Kingdom come soon. May your will be done on earth, as it is in heaven. Give us today the food we need, and forgive us our sins, as we have forgiven those who sin against us. And don't let us yield to temptation, but rescue us from the evil one." Matthew 6: 9-13
"What exactly does all that mean?" Debra traced the word in the Bible with her finger.
"It's a pattern to go by, a roadmap to prayer. First we address God as Father because he has chosen to express himself to us as a Father rather than a boss or foreman. Then we ask that He show himself to us further, so we know that He is mighty and has things under control. We pray for the world and the people in it, that we all line up with the will of God.
After this, we ask God to meet our needs and to forgive us, making sure that we forgive others. We pray for safety and then again recognize that He is Father, is in charge, and is wonderful, glorious and everything we need."
Debra grinned. "Now that makes sense. I can pray about normal everyday life, right?"
"Yes. God wants you to talk to Him about everything, much like a child does to his or her parent. The Lord's Prayer, as it's called, is a guideline."
Debra pushed back her chair. "I'm going to write down where this is and read it again when I get home. Thank you for helping me."
"You're welcome. Anytime you want to ask a question, I'm here for you. If I don't know the answer, we'll find out together…"
Prayer focus: Take the Lord's Prayer and write it down, making it personal for you. Say each sentence slowly, letting your prayer flow.
Example: Our Father in heaven, may your name be kept holy. [You are holy, God. Thank you for continuing to make me whole. Bring wholeness to my family and friends]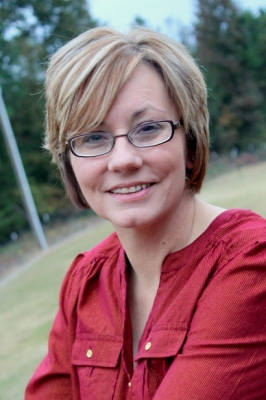 Jennifer Hallmark: writer by nature, artist at heart, and daughter of God by His grace. She loves to read detective fiction from the Golden Age, watch movies like LOTR, and play with her two precious granddaughters. At times, she writes. Jennifer and her husband, Danny, have spent their married life in Alabama and have a basset hound, Max.
Find Jennifer on the web:
Writing Prompts & Thoughts & Ideas…Oh MY! blog