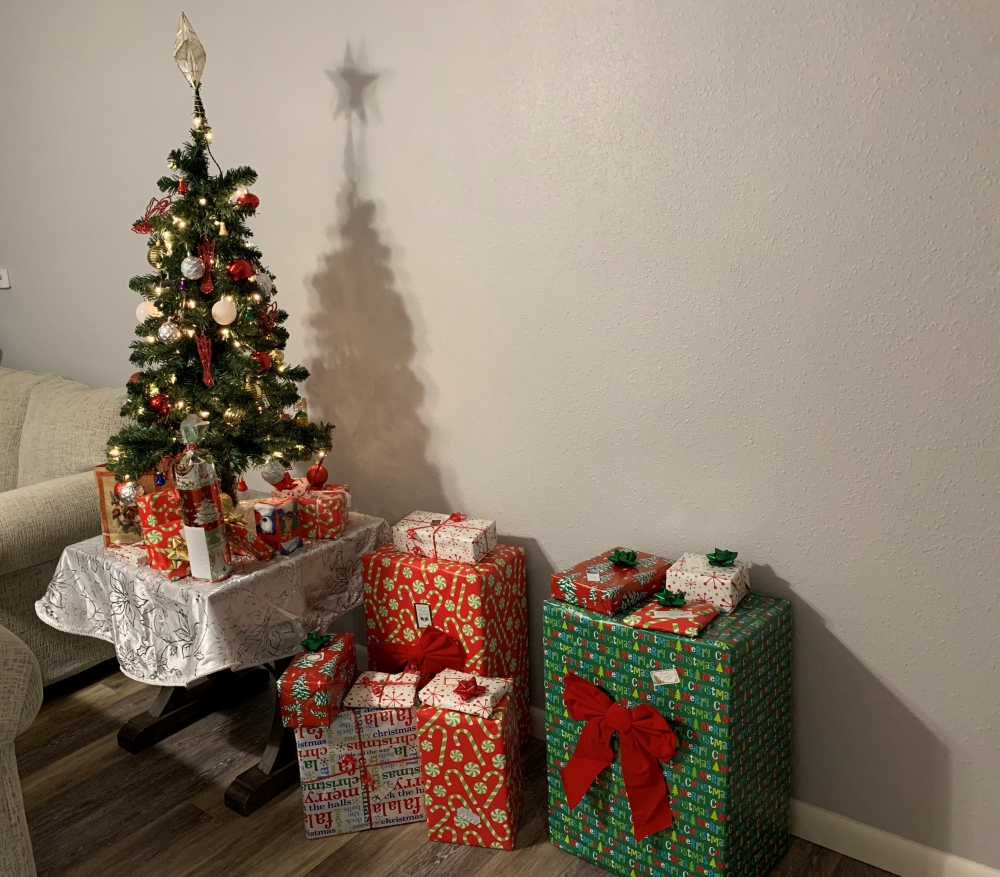 WAITNG FOR CHRISTMAS
by
Patti Shene
When I was a kid, I would go to bed on Christmas Eve with the same excitement of anticipation as thousands of other kids. I would tiptoe to the window and gaze into the night sky, hoping to get a glimpse of Santa and his magic sleigh. Yet, my knees trembled a bit because I just knew that if Santa spotted me out of bed and still awake, he would pass our house by.
The events of Christmas morning unfolded a little differently in our house than in the homes of our friends, neighbors, and cousins. Dad held a job that required him to be at work on Christmas morning. We didn't open a single gift until he strolled through the back door somewhere around noon. I remember my sister and I waking up, hearts beating wildly that the big day had arrived, and slipping down the hallway into the kitchen with our faces to the wall. We didn't want to chance even a peak at the Christmas tree until Dad was there to witness the look of wonder that lit up our eyes at the first glance of all those presents.
Mom couldn't drive due to a visual impairment, but Grammie lived a short distance away and would take us all to her house for breakfast. I can't say I recall with a lot of clarity Christmas morning church service, but I'm sure there was one that we attended. No matter how much activity filled up the morning, the hours dragged by as we waited…and waited to open those gifts
Years passed and I became a mom. My husband and I worked at a health care facility. When we both managed to be off on Christmas morning, we looked forward to a sleep in day, especially since we had been up late the night before to attend midnight mass. Our kids, however, had no problem with sleep deprivation and bounded into our room at the crack of dawn, Christmas stockings in tow. They would sit on our bed and ooh and aah over the simple little gifts and treats they found within.
Once they had roused us out of bed, they found themselves trying to contain their excitement as they gazed longingly at the presents under the tree just begging to be opened. We dressed, prepared breakfast, and insisted they eat it before any gift opening. Looking back, it probably seemed to them like they waited and waited to open those gifts. I still recall the laughter and the hugs and the love we shared on those mornings.
Now, as a widow and grandmother to my one grandchild, who is now an adult, I'm still waiting for Christmas. Yes, the joy is different now. Decorations are not as elaborate as they used to be when we heard the patter of little feet scampering into our bedroom. The tree is smaller now, the gifts not as many, and more sophisticated items within boxes have replaced toys and games. Yet, my heart flutters a bit when I think of the smile a certain gift will bring to the face of my loved ones. Gift giving carries a precious reward.
So on this Christmas Eve, I'm looking at the clock and waiting with expectancy for the moments I will share with family on yet another Christmas morning.
Despite the hustle and bustle of the decorating and baking and shopping and wrapping and singing and feasting, in our hearts we are waiting. Waiting for the birthday of the Christ child, the day that changed everything in human history.
May your wait bring you the hope, peace, joy, and love that Christ came to share with all of us.