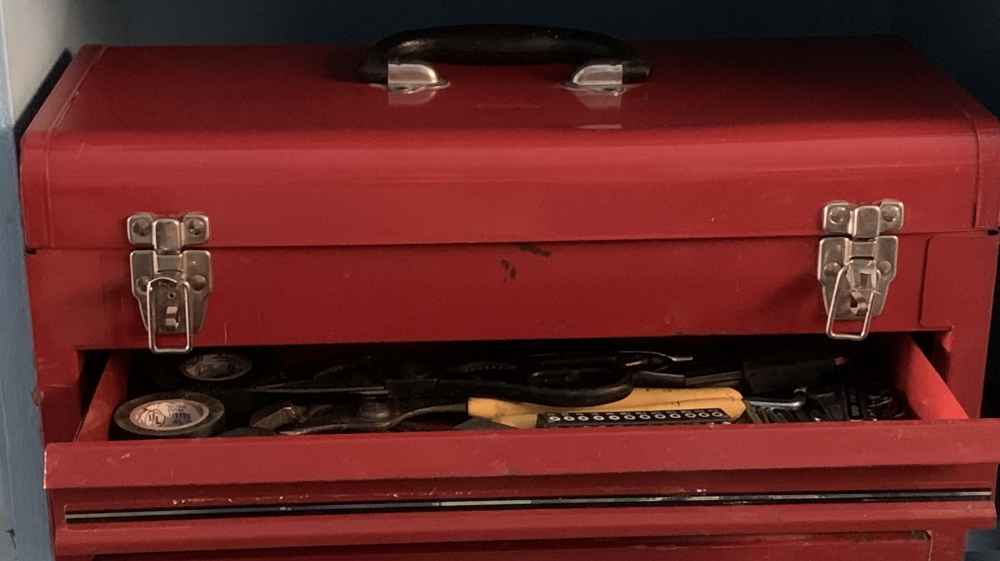 THE BIG RED TOOLBOX
by
Patti Shene
As I look back on the past year of 2021, one of the most exciting things for me was the remodeling in my home and the acquisition of new furniture.
In March, I went in search of a much-needed new mattress. In the process of choosing one, I decided it was time to downsize from a king-sized to a queen-sized bed. Long story short, I walked into American Furniture Warehouse intending to purchase the mattress and walked out with an entire bedroom set, a coffee table, two end tables, and two lamps for my living room.
I've dreamed of a living room remodel for several years. That goal was realized in June when I was connected with an excellent contractor willing to do the job. The project involved removal of wall paneling, painting, tearing up carpeting, laying vinyl flooring. The transformation is amazing!
New living room furniture came next, a couch, love seat, and two accent chairs. Another new lamp replaced the floor lamp with its large glass bulb I had purchased a couple of months before. It had managed to get smashed to pieces when it crashed to the floor in the back bedroom where I had stored it during the remodel.
My kitchen was next to see the expert hand of the contractor. The refrigerator used to nestle inside an alcove, but fear that an inevitable replacement in the not-too-distant future would never fit in that space resulted in the removal of one wall. The water heater had lasted for over thirty years, so it was time for a new one! A new countertop, stove, sink, lights, and cabinets upgraded with new hardware and paint resulted in another amazing metamorphosis.
So, what does any of this have to do with a big red toolbox?
Well, all of this remodeling has led to a lot of re-organizing. Drawers and cabinets that needed emptied for the cabinet painting project are beautifully organized right now, because truth be told, I haven't put anything in them except what I have needed for the past month. It is surprising all the things still tucked away in boxes that I obviously don't need. Most of those items are going to a thrift store or the trash bin!
The big red toolbox has sat inside a cabinet in my laundry room for more years than I care to remember. I'm not much of a do it yourselfer, so my need for tools is limited. When I did need something, I would haul out the toolbox, grab what I needed, and promise myself to someday go through it and sort out the many objects that might be useful someday.
My daughter is the DIY expert. When she would come by to complete some project for mee, she often needed a tool of some sort. A request for anything beyond a hammer or a screwdriver usually drew a blank stare. I had no idea much of the time what she was talking about.
A couple of days ago, she hung my key rack. We needed a simple tool, but when we searched the toolbox, we concluded it could do with some major weeding. We pulled every single thing out of that toolbox and threw a good deal of it away.
I couldn't help but wonder how some of those items ended up in that box and why they were there. Toothbrushes, strips of plastic, rusty nails (who saves rusty nails???), pieces of metal neither of us could identify. Then there was an assortment of wrenches, screwdrivers, pliers, and drill bits.
How many of those tools did I give my husband as gifts over the years? What kinds of projects did he use them for that I never paid attention to as he worked?
After my daughter went home, I put all the items we decided were worth keeping back into the big red toolbox. Now, when I need something so simple as a screwdriver of a certain size, I'll be able to find it without having to rummage through a lot of useless stuff.
The completion of this task is only the beginning of all the organizing I plan to do in coming weeks. A toolbox doesn't seem like much, but seeing it neat and tidy motivates me to strive toward more order in the new year.
What would you like to change in 2022?
SUBSCRIBE TO PATTI'S BLOGS HERE.