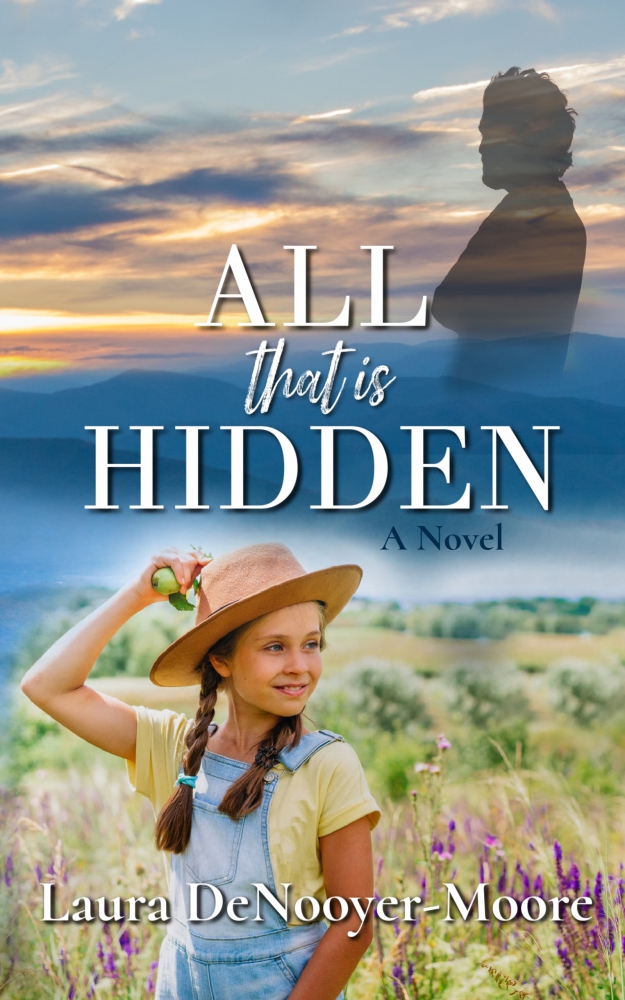 FEATURED BOOK: All That Is Hidden
AUTHOR: Laura DeNooyer-Moore
PUBLISHER: Lighthouse Publishing
GENRE: Historical fiction
SERIES OR STAND ALONE: Standalone
TARGET AGE: adult
IT IS MY PLEASURE TO WELCOME AUTHOR LAURA DeNOOYER-MOORE TO PATTI'S PORCH. LAURA SHARES HOW HER MEMORIES OF SMALL TOWN LIVING INSPIRING HER FIRST NOVEL.
LAURA IS OFFERING A GIVEAWAY! SIMPLY LEAVE A COMMENT BELOW TO ENTER THE DRAWING FOR AN EBOOK COPY OF ALL THAT IS HIDDEN.
TURTLE ON A FENCEPOST
by
Laura DeNooyer-Moore
"I'm a turtle on a fencepost. If you see a turtle on a fencepost, you know it had help getting there."
That's the folksy first line in the acknowledgements of my novel, All That Is Hidden. It could also be a mantra that characterizes people who were lovingly raised in small towns.
I'm a small town Midwestern girl who also enjoyed the benefits of being raised with the philosophy: "It takes a village to raise a child." Everyone I knew crossed paths at church, school, and the neighborhood. In my Christian elementary school, classroom sizes averaged twenty, with two or three grade levels per room.
My friends and I biked to school, the A & W root beer stand, and the baseball diamond. The grocery store, bowling alley, and duck pond were within walking distance. What more could we want?
When I was in second grade, a young teacher moved to town. She wasn't the basic finish-your-workbook type of teacher, unusual for the mid-1960s. She had students write original stories and turn them into illustrated books. By year's end, I decided writing stories was the way to go. I credit her as being my original Muse.
But I saw nothing behind the scenes. Here's where the small-town lifeblood kicks in. My dad was the treasurer of this fledgling Christian school. He was well aware of teacher salaries and their money struggles. Without telling anyone, he paid for her and her husband's rent at a vulnerable time, and delivered bags of groceries.
I found that out through my teacher, decades later. Apparently, my dad did the same for others through the years. Surreptitiously.
Even if everyone doesn't know what you're up to, folks watch out for others in small towns.
This same aura existed when I first visited southern Appalachia in college. My education professor—another Muse—took 22 students to work in the mountain schools. We stayed at Mars Hill College, North Carolina—population approximately 2,000, a fraction of my hometown.
We visited towns in three counties. Despite culture shock, we enjoyed the hospitality of strangers and sensed the tight-knit community. They didn't embrace the American Dream that we students aspired to, but they thrived in their professions—farming, woodworking, or blacksmithing. They were devoted to family and neighbors—and to storytelling. Folks had nothing but time, food, and stories to offer. And were generous with each.
Small town community bonds are tough to break, connected by deep roots and close ties. Plus, a distrust of cities and folks who move there. I wondered, what would rattle such a town? What if northern exploitation threatened? What if a trusted citizen left and returned with secrets too risky to tell? At what point would a town implode?
These questions inspired my novel. Years later, All That Is Hidden was born—but only with the help of my writers group. I'm a turtle on a fencepost, after all.
My literary consultant, Dr. Steve Eberly of Western North Carolina University, provided invaluable guidance. He says: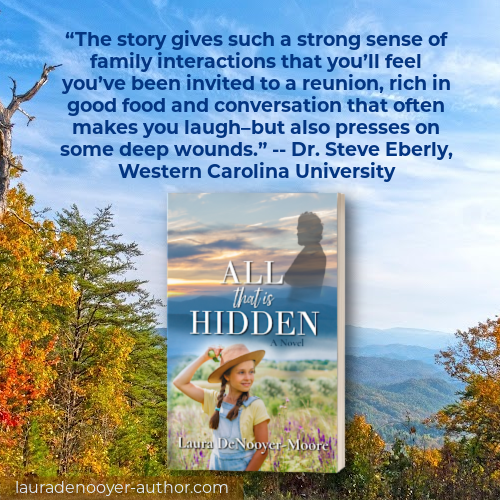 This story, set in 1968, has an elephant in the room. In ten-year-old Tina Hamilton's case, her father's secret nine years.
That cloud overshadows her while growing up in Currie Hill, North Carolina, near the Smokies. The cloud hovers over home. At the bakery. At the ice cream parlor. At church. At family picnics.
"I always knew my father had a secret.
I must have known it at least by the time I was old enough
to recognize the embarrassed hush that fell over
a room of grown-ups the moment I crossed the threshold.
That's back when folks still talked about it. . . ."
Tina catches snippets of conversation here and there—at family reunions, from Uncle Ross, Mom's stories, and arguments between her dad and northern businessman Phil Kepler. Phil has recently moved to Currie Hill to help establish a theme park that her father is trying to derail.
The cloud of silence finally lifts, but nobody is ready for the truth. Tina is caught in the fray of family loyalty and betrayal. People she depended on now lie powerless.
Above all, I wanted to capture the beautiful essence of a southern Appalachian community and the cords that bind it together. Folks that need each other—like a turtle on a fencepost.
Blurb for All That Is Hidden:
Are secrets worth the price they cost to keep?
Ten-year-old Tina Hamilton finds out the hard way.
She always knew her father had a secret. But all of God's earth to Tina are the streams for fishing, the fields for romping, a world snugly enclosed by the blue-misted Smokies. Nothing ever changed.
Until the summer of 1968. Trouble erupts when northern exploitation threatens her tiny southern Appalachian town. Some folks blame the trouble on progress, some blame the space race and men meddling with the moon's cycles, and some blame Tina's father.
A past he has hidden catches up to him as his secret settles in like an unwelcome guest. The clash of progressive ideas and small-town values escalates the collision of a father's past and present.
Purchase link: https://amzn.to/2HF4UB9
DON'T FORGET TO LEAVE A COMMENT TO BE PLACED IN THE DRAWING TO WIN AN EBOOK COPY OF ALL THAT IS HIDDEN BETWEEN NOW AND TUESDAY, APRIL 12TH AT MIDNIGHT MDT.
BY LEAVING A COMMENT, YOU GRANT PERMISSION FOR YOUR EMAIL TO BE REVEALED TO THE AUTHOR IF YOU ARE THE WINNER TO FACILITATE RECEIPT OF YOUR BOOK.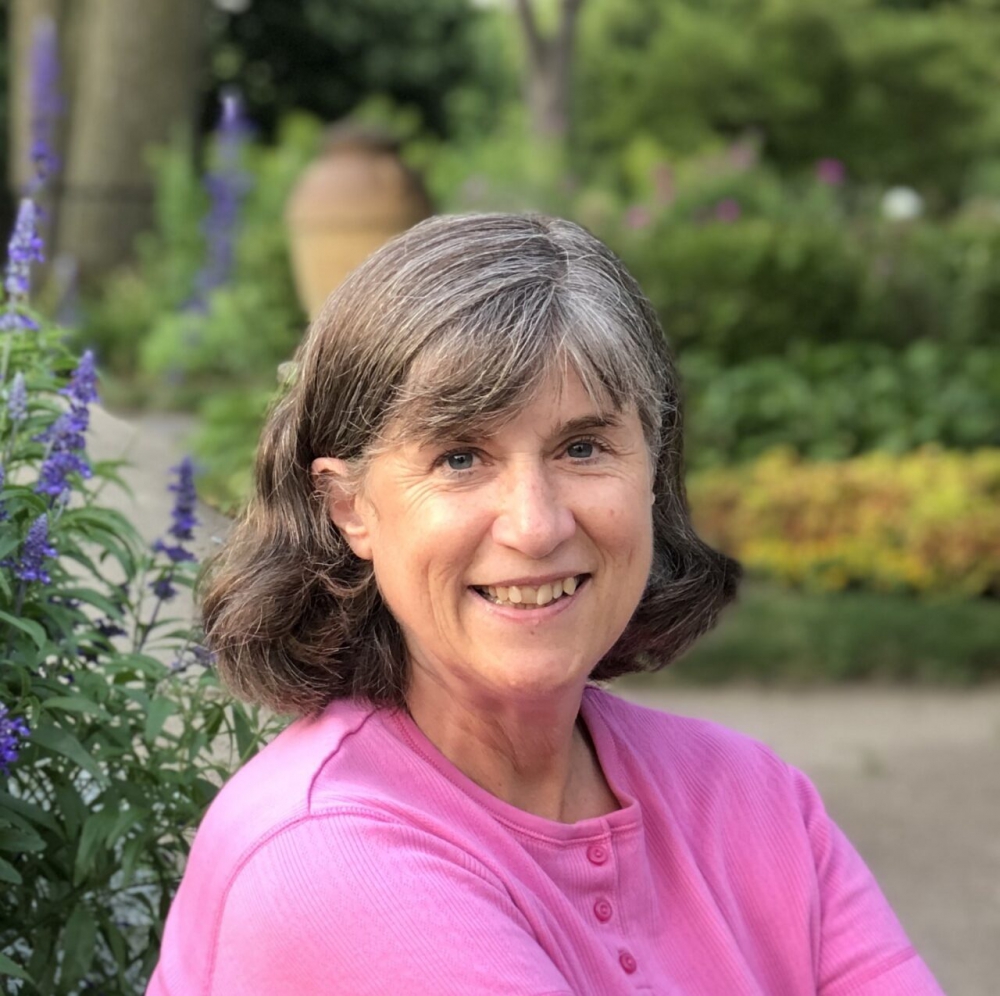 Laura DeNooyer thrives on creativity and encouraging it in others. A Calvin College graduate, she has decades of experience teaching art and writing to middle school and high school students. She and her husband raised four kids. An award-winning author of heart-warming historical and contemporary fiction, she is president of her American Christian Fiction Writers chapter. When not writing, you'll find her reading, walking, drinking tea with friends, or taking a road trip.
Visit Laura at https://lauradenooyer-author.com or on Facebook, BookBub, and GoodReads.
Join her monthly newsletter and she'll send you the prequel for All That Is Hidden:
www.StandoutStoriesNewsletter.com
website: https://lauradenooyer-author.com
Book trailer for All That Is Hidden: www.All-That-Is-Hidden-book-trailer.com
SUBSCRIBE TO PATTI'S BLOGS HERE