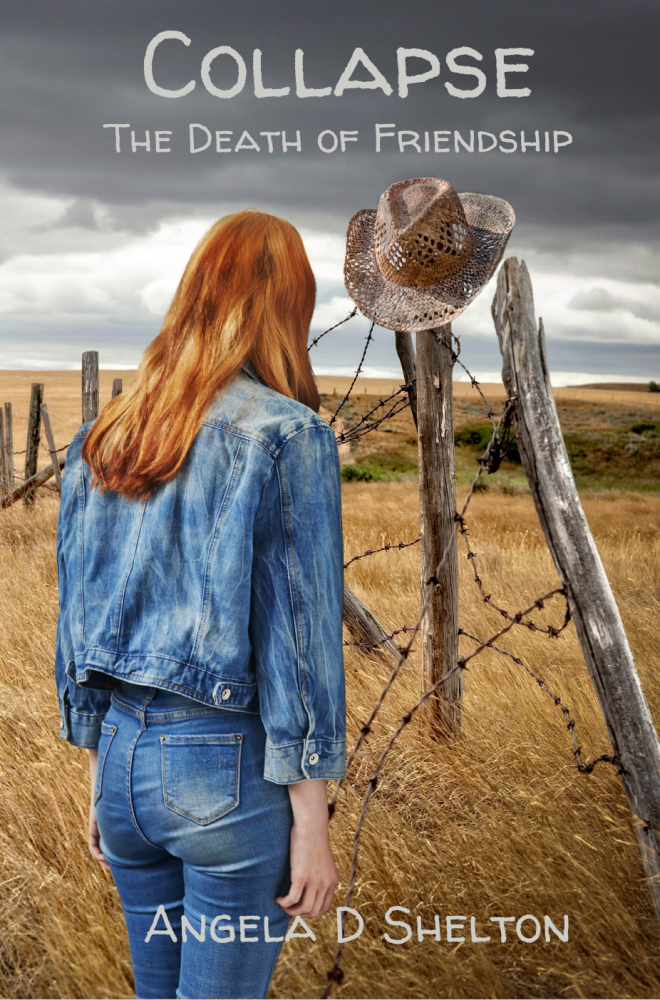 FEATURED BOOK: Collapse: The Death of Friendship
AUTHOR: Angela D. Shelton
PUBLISHER: Two Oaks Publishing, LLC (owned by author)
GENRE: Young Adult and Contemporary Christian
SERIES OR STAND ALONE: Book One in Collapse series
TARGET AGE: young adult through adult
IT IS MY PLEASURE TO WELCOME AUTHOR ANGELA D. SHELTON TO THE OVER 50 WRITER. ANGELA SHARES A DELIGHTFUL PERSONAL EXPERIENCE STORY ABOUT FARM LIFE.
ANGELA IS OFFERING A GIVEAWAY! SIMPLY LEAVE A COMMENT BELOW TO ENTER THE DRAWING FOR A SIGNED PRINT COPY OF COLLAPSE: THE DEATH OF FRIENDSHIP.
COVERED IN MUD
by
Angela D Shelton
We love our furry children. Ricky and Lucy are always up to something. One of my favorite "bad dog" stories is when we'd first purchased the farm and were out working on fences. We brought the dogs with us, but since they are both runners, they had to be contained. It was too hot to leave them in the truck while we worked, so we set up a dog run between two trees.
Each of them had their own lead, so they could freely run about eighty feet, in the shade of the trees, or out in the sun to bask if they preferred. They often played together, so there was also the ability for them to be together or move apart. They had plenty of room to entertain themselves while we slaved away in the scorching sun, repairing wires and clearing the fence lines.
After the workday ended, we checked back on the two hooligans under the trees. I honestly expected to see them taking a nap. Yes, I was naïve then. I know better now.
As soon as they saw us coming, they ran to the front of the trees from where they'd been busy working, covered in mud. Apparently, their job for the day was to dig a tunnel to China, or so they thought. They were so excited they weren't even ashamed of the fact that they were filthy with red Georgia clay. Stains covered their paws, snouts, bellies, and tails.
The hole was deep, so it was obvious they'd teamed up and devoted their day to accomplish the goal. You should have seen their faces, huge doggie smiles, happy with all they'd accomplished.
Unfortunately, we didn't need a gigantic hole dug under our tree. We also didn't want filthy pets to bring into our vehicle or our clean home. They didn't get rewarded for their efforts. What a disappointment to them, I'm sure.
It made me think back to some of my previous work efforts. I'd work for hours at a project and couldn't wait to share how much I'd accomplished. I'd have a grin a mile wide on my face, ready to have praise heaped upon me.
How frustrating when I'd find out the project wasn't what someone needed, or the method used was flawed, or any of a zillion other reasons that I don't get positive feedback. As a younger professional, I'll admit I didn't handle this type of rejection well.
Most of us go through a growing phase of learning how to deal with constructive criticism. As you mature, you learn to take in those minor blows to the ego and grow from them. Some who've been around long enough can take it one level above that—how to learn from criticism that isn't constructive.
Let me share a life lesson with you, my precious reader. If you want to move in a positive direction in life, you need to learn how to deal with your mistakes positively. Not all people, even those who end up in authority, can provide feedback in a way that builds up instead of tearing down. Accept the concepts they are sharing and evaluate whether there is a basis for improvement. Use any nuggets you can find to improve your end product.
Never stop growing. As soon as you do, you're dead in the water. And that isn't where any of us want to be.
"Let us not become weary in doing good, for at the proper time we will reap a harvest if we do not give up" - Galatians 6:9 NIV
Angela's upcoming novel, Collapse: The Death of Friendship is on presale with Amazon with a release date of March 25th. It's the perfect gift for the young adult in your life. A brief synopsis:
On the verge of losing friendships forever, sixteen-year-old Jan Worthington decides never to trust people again. But when she rejects all strangers in a collapsing society, she must learn to be smart about outsiders before her family has to fight off the marauders headed their way.
DON'T FORGET TO LEAVE A COMMENT TO BE PLACED IN THE DRAWING TO WIN A SIGNED PRINT COPY OF COLLAPSE: THE DEATH OF FRIENDSHIP BETWEEN NOW AND TUESDAY, MAY 31ST AT MIDNIGHT MDT. (U.S residents only eligible for print copy)
BY LEAVING A COMMENT, YOU GRANT PERMISSION FOR YOUR EMAIL TO BE REVEALED TO THE AUTHOR IF YOU ARE THE WINNER TO FACILITATE RECEIPT OF YOUR BOOK.
You can sign up to be an Advance Copy Reader (ARC) on Angela's website and be the first to readhery latest novels for free: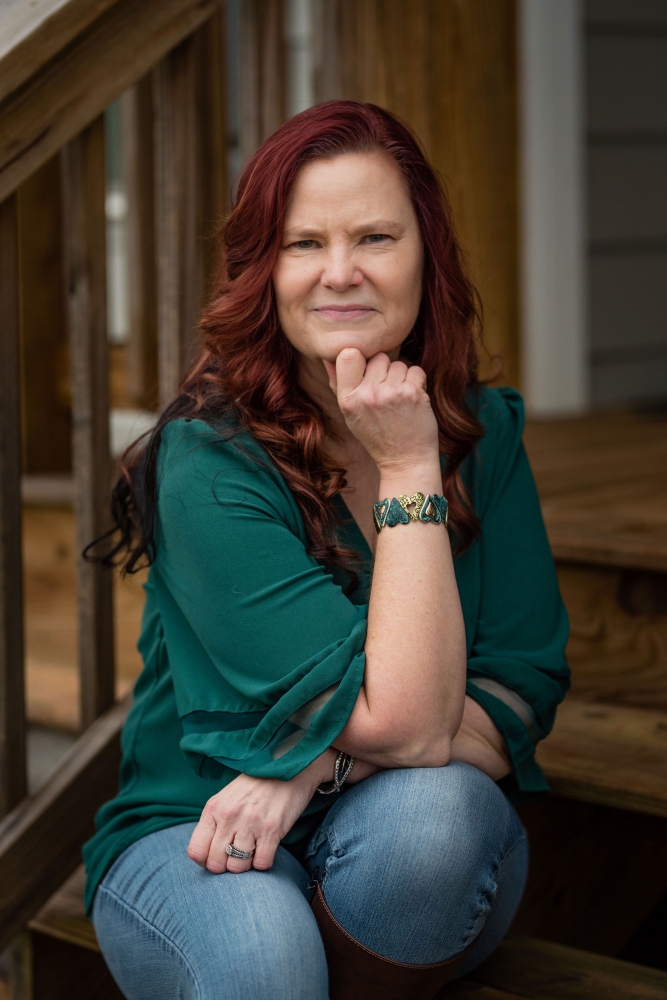 Introducing Angela D. Shelton, healthcare accountant during the work week, farmer in the evenings and weekends, now moonlighting as an author of the new and upcoming Collapse novels.
Born and raised in Erie County, Pennsylvania, Angela moved to Georgia just seven short years ago where she added the title of farmer to her resume. She lives on Two Oaks Ranch with her husband, Tom, two huskies, a dozen chickens, and a herd of Angus cows. Faith and family are her most important assets in life and in her writing.
Calling on her experience on her farm in small-town Georgia, Angela also drew on her husband's military and law enforcement understanding, and her own healthcare connections to create her new series of books. The stories revolve around a small-town Georgia family who turn to farming just in the nick of time to be self-sufficient when the supply chains in the world collapse.
Ms. Shelton is a member of the Christian Indie Publishing Association, the American Christian Fiction Writers, and Word Weavers International. The first book in her series, Collapse: The Death of Friendship is on Amazon and available for pre-order now.
Visit our farm at: http://www.twooaksranch.com
Check out my blog at: https://www.angeladshelton.com
See featured authors at http://www.chainlinkstory.com
Collapse: The Death of Honor on Amazon Now