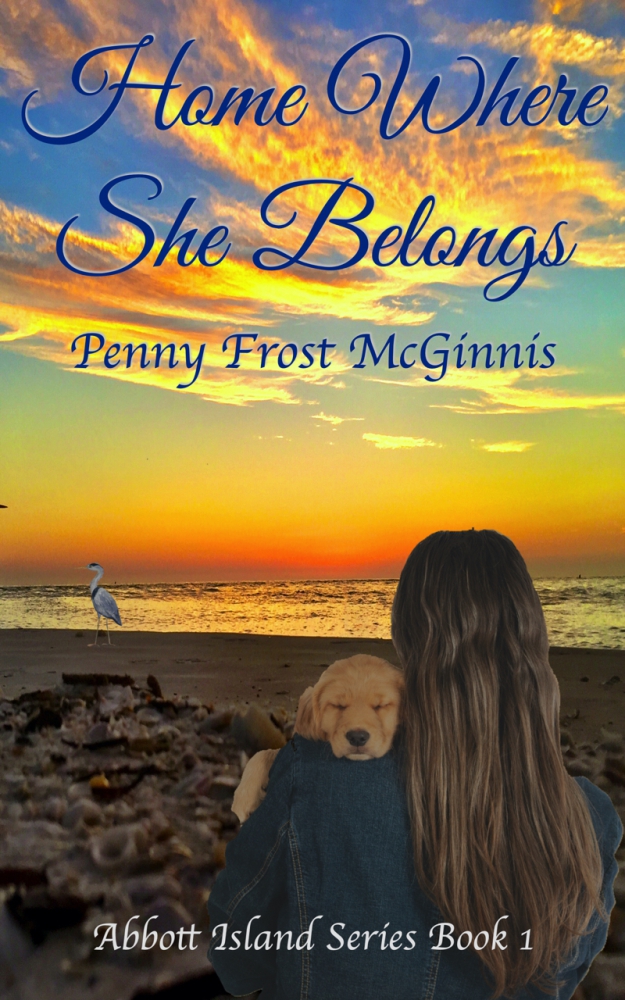 FEATURED BOOK: Home Where She Belongs
AUTHOR: Penny Frost McGinnis
PUBLISHER: Mt. Zion Ridge Press
GENRE: Contemporary Romance
SERIES OR STAND ALONE: Book One in the Abbott Island Series
TARGET AGE: Adults Women 20s+
IT IS MY PLEASURE TO WELCOME AUTHOR PENNY FROST McGINNIS TO PATTI'S PORCH. PENNY INTRODUCES US TO HER MAIN CHARACTER FROM HER DEBUT NOVEL, HOME WHERE SHE BELONGS.
PENNY IS OFFERING A GIVEAWAY! SIMPLY LEAVE A COMMENT BELOW TO ENTER THE DRAWING FOR A PRINT COPY OF HOME WHERE SHE BELONGS. PLUS A HANDMADE FELT BOOKMARK.
A LETTER FROM SADIE
by
Penny Frost McGinnis
I'm so grateful to be invited to sit on Patti's porch and chat with you. As a debut author, I'm excited to share with you about my novel, Home Where She Belongs. The story takes place on Abbott Island, a fictional town loosely based on Kelleys Island, a northern Ohio island on Lake Erie. My husband and I visited Kelleys several years ago. I fell in love with the quiet atmosphere and the beautiful nature. On the ride home, I told Tim I wanted to set a story in this unique place.
In time, Sadie and Joel's story emerged. She's written you a letter inviting you into her story.
Dear Reader,
I'm writing to you from Abbott Island, a small-town island on Lake Erie, where I spent summers basking in the love of my grandparents. Grandpa and Gram are gone now, but they poured their kindness over me one last time when I inherited their cabin and two rentals.
You see, my dog Rosie and I needed a safe place to start over. Life took an unexpected turn, and I found myself in danger. With the help of a good friend who prayed for me and sheltered me, I made my way to the island. It's so beautiful here with the leaves turning to gold and red, but I'm still a bit anxious over the change and afraid my toxic ex-boyfriend will find me.
Through Grandpa's Bible, I've found some peace, and I've reconnected with friends, Joel, Lucy, and Marigold, who I adored from my childhood summers. However, my story is just beginning, and it's a story of learning to trust again, finding faith, receiving love, and starting over.
I hope you'll join me in this romance, with a dash of mystery, and the promise of hope.
If my story can help one person, I'm thankful it's being told.
Best wishes,
Sadie
Book Blurb for Home Where She Belongs:
Small-town romance with a dash of mystery and the promise of hope.
Tired of being a pawn for her father and an emotional punching bag for her ex-boyfriend, Sadie Stewart escapes to Abbott Island where she spent summers with her grandparents. Would the love and faith she learned from them be enough to fuel her new life? She wants to believe God's promises, yet broken trust holds her back.
Joel Grayson left the island long enough to train at the Police Academy. The community trusts him, even though he's failed. When he finds Sadie at her grandparents' cottages, his heart skips a beat. He'd love to get to know her again, but no one needs to share the hurt he harbors.
When Sadie discovers someone is sabotaging her future, she seeks Joel's help. As they are drawn together, will Joel let down his guard and let her in? Will Sadie trust the man who loves her and the Father Who cares?
Home Where She belongs is available at Amazon, Barnes and Noble and other book sellers.
DON'T FORGET TO LEAVE A COMMENT TO BE PLACED IN THE DRAWING TO WIN A PRINT COPY OF HOME WHERE SHE BELONGS BETWEEN NOW AND TUESDAY, JUNE 14TH AT MIDNIGHT MDT.
BY LEAVING A COMMENT, YOU GRANT PERMISSION FOR YOUR EMAIL TO BE REVEALED TO THE AUTHOR IF YOU ARE THE WINNER TO FACILITATE RECEIPT OF YOUR BOOK.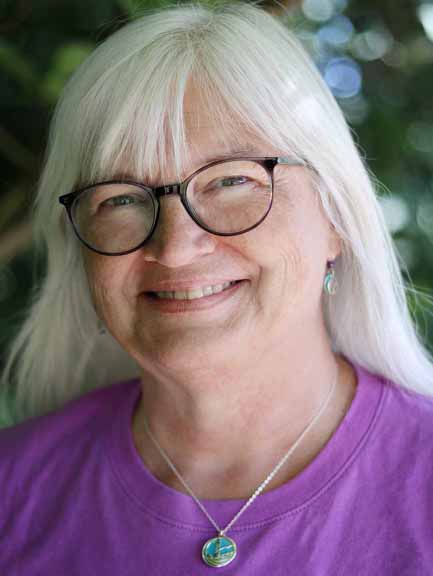 If Penny Frost McGinnis could live in a lighthouse or on an island, she would. Instead, she and her husband are content to live in southwest Ohio and visit Lake Erie every chance they get. She adores her family and dogs, indulges in dark chocolate, enjoys fiber arts, and grows flowers and herbs in her tiny garden. She pens romance with a dash of mystery and the promise of hope. Her life's goal is to encourage and uplift through her writing.
Connect with Penny:
Website/Blog https://www.pennyfrostmcginnis.com/
Facebook Author page: https://www.facebook.com/PennyFrostMcGinnisAuthor
Twitter https://twitter.com/PennyFMcGinnis
Pinterest https://www.pinterest.com/pennyfmcg/hope-for-todays-heart/
SUBSCRIBE TO PATTI'S BLOGS HERE