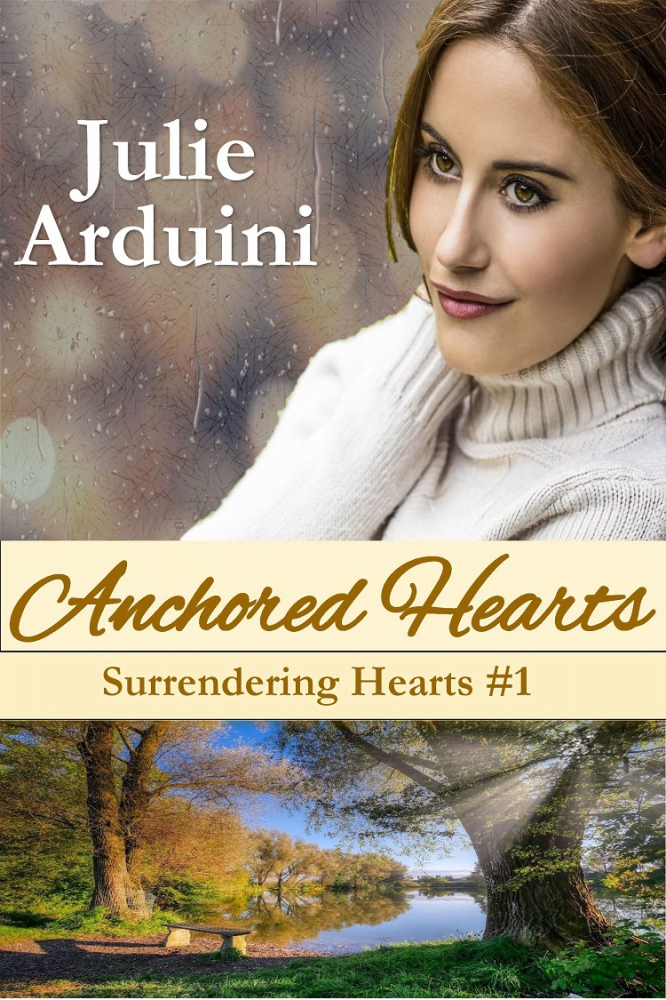 FEATURED BOOK: Anchored Hearts
AUTHOR: Julie Arduini
PUBLISHER: Surrendered Scribe Media
GENRE: Christian Romance/Sweet & Wholesome
SERIES OR STAND ALONE: Book 1 in Surrendering Hearts, can stand alone.
TARGET AGE: Anyone interested in Christian romance. Most of my readers are 30+.
IT IS MY PLEASURE TO WELCOME AUTHOR JULIE ARDUINI TO PATTI'S PORCH. JULIE SHARES ABOUT HER MAIN CHARACTER IN THE FIRST BOOK OF HER NEW SERIES.
JULIE IS OFFERING A GIVEAWAY! SIMPLY LEAVE A COMMENT BELOW TO ENTER THE DRAWING FOR A PRINT OR EBOOK COPY OF ANCHORED HEARTS.
ANCHORED HEART'S JORDYN HART
by
Julie Arduini
I created the Surrendering Hearts series when I wondered if I could write about a family with a unique birth story who stays in the national spotlight after tragedy. There's a lot of logistics involved as each sextuplet has their own book, yet they all are involved in the entire series. Anchored Hearts features the oldest sextuplet, Jordyn Bell Hart.
Jordyn has always been the mother of her siblings, and looked after her father. She made sure lunches were made and medicines were taken. Then their dad re-married and suddenly someone else is cooking Thanksgiving dinner and making sure the household is running smoothly.
Needless to say, Jordyn has a control problem.
Writing Jordyn was a challenge because she isn't bossy, she's afraid. Her biggest loss came when she wasn't around, and as a child she formed the thought if she had been there, the accident would not have happened. Every choice since then is about making sure she never hurts or experiences loss at that level again.
Enter Spencer Collins. He's experienced loss too, but he's trying to juggle his career against the grief his family is going through. He's trying to stay a step ahead of his dad, and it's not going well. On top of that, his promotion puts him in close proximity with Jordyn, someone he's followed in the news for years. As Spencer gets to know her, he realizes he's falling in love with her. Jordyn? She has a childhood vow, and Spencer's situation goes against her vow. She'd rather lose the opportunity to find love than hurt.
Through Anchored Hearts Jordyn has to face her control issues with Spencer, her new step-mom, Ryan, Evan, and most of all, their youngest sibling, Paige. Just when she feels one area of her life is at peace, something else springs up and Jordyn's faced with letting it go, or jumping in the middle of it.
Of course, trying to orchestrate every aspect of her life has consequences. Jordyn lacks peace and has a lot of conflict going on with the people she loves.
I think there will be readers who can relate to Jordyn. I didn't realize how much I did until I started writing Anchored Hearts. When the story started shaping up, my mom became ill and I had to leave home for two months to care give. When I returned and she was recovering, there was a lot of trauma to process. Before I could, mom passed away. The grief and fear were overwhelming. As excruciating as it was, God used it to shape my writing. I love Jordyn because I know her heart, and she has a beautiful story.
I believe you will love Jordyn, too.
Blurb for Anchored Hearts
Can two go-getters surrender their need to control and find a happily-ever-after?
Jordyn Bell Hart succeeds in everything she does. Her promotion to morning show co-anchor blossoms her career in the same way her mother's work had. Jordyn keeps tabs on her family and enjoys helping them grow. When life around her starts to change, can she surrender her desire to control?
Spencer Collins knows how to balance a busy life. He has his work as a reporter, his time caregiving for his grieving father, and looking out for his little brother. When he learns he's the new co-anchor of a morning show with Jordyn Hart, can he handle working with a celebrity who brings a lot of challenges to life on and off the set?
DON'T FORGET TO LEAVE A COMMENT TO BE PLACED IN THE DRAWING TO WIN A PRINT OR EBOOK COPY OF ANCHORED HEARTS BETWEEN NOW AND JUNE 21ST AT MIDNIGHT MDT. (U.S. residents only eligible for giveaway)
BY LEAVING A COMMENT, YOU GRANT PERMISSION FOR YOUR EMAIL TO BE REVEALED TO THE AUTHOR IF YOU ARE THE WINNER TO FACILITATE RECEIPT OF YOUR BOOK.
Julie Arduini loves to encourage readers to find freedom in Christ by surrendering the good, the bad, and ---maybe one day---the chocolate. She's the author of the new contemporary romance series SURRENDERING HEARTS (Anchored Hearts, Repairing Hearts, +four more.) Her other romance series is SURRENDERING TIME (Entrusted, Entangled, Engaged.) She also co-wrote a YA series with her daughter, SURRENDERING STINKIN' THINKIN' (You're Beautiful, You're Amazing, You're Brilliant.) Her stand-alone romances include MATCH MADE IN HEAVEN and RESTORING CHRISTMAS. Julie maintains a blog at juliearduini.com and participates in the team blog Christians Read. She resides in Ohio with her husband and two children. Learn more by visiting her at http://linktr.ee/JulieArduini.