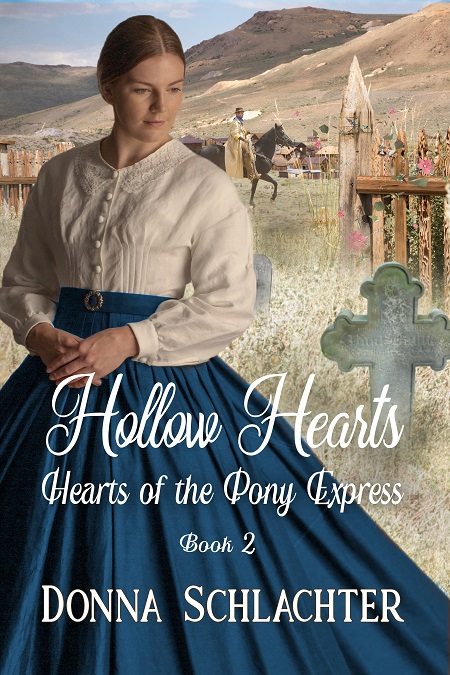 FEATURED BOOK: Hollow Hearts
AUTHOR: Donna Schlachter
PUBLISHER: PLS Bookworks
GENRE: Historical romantic mystery
SERIES OR STAND ALONE: Series
TARGET AGE: 12+ (considered a trade paperback, sweet and clean)
IT IS MY PLEASURE TO WELCOME AUTHOR DONNA SCHLACHTER TO PATTI'S PORCH. DONNA SHARES THE INSPIRATION FOR HER LATEST NOVELLA.
DONNA IS OFFERING A GIVEAWAY! SIMPLY LEAVE A COMMENT BELOW TO ENTER THE DRAWING FOR A PRINT OR EBOOK COPY OF HOLLOW HEARTS.
THE STORY BEHIND THE STORY OF HOLLOW HEARTS
by
Donna Schlachter
Readers often ask where do I get my ideas, and that's a tough question. Many times, as in the case of Hollow Hearts, it's a little here, a little there.
As Book 2 in the Hearts of the Pony Express series, I wanted the title to follow the pattern of the first book Hollenberg Hearts. So, the name of the station and the word "hearts". While I didn't set out for the first two books to both use "H", or even for the name of the station to begin with "H", I went in search of a Pony Express station that would go with "hearts".
I found it, in the form of "Simpson's Hollow", near "Simpson's Gulch", along the Green River. In researching that location, I learned that right along the river there, the ground was soft enough for a cemetery, and that many wagon trains heading west stopped off there and buried their dead. As you can imagine, crossing the prairies and the rugged landscape, often the soil was rocky, or clay, or simply not deep enough.
With those nuggets, I worked on my storyline. It's a well-known fact that unattached women in the 1860s had few options apart from marriage, and there were far more men in the West than women. It wasn't unusual for a widow to receive one or more offers of marriage on the way from their dead husband's funeral.
Having these ideas in hand, I created my heroine. I needed a strong name, and found it by asking my newsletter subscribers, choosing Edith. While she had few resources except the covered wagon over her head—wait a minute. Take that away. Now what?
I then turned to my hero. Since this is part of the Pony Express series, he should work for the Express. Stationmaster. Easy. But the station wasn't only about the Express. Wagon trains and stagecoaches came through, too. A recalcitrant horse, a kick to the arm—now he needs help.
The story came fairly easy after that. Like any good romance, there are two other men vying for her attention—or should I say, two men. Albert, the stationmaster, has sworn off women, given he's been jilted by two.
As you can imagine, a grieving widow and a man who doesn't trust women will end up creating sparks. And find themselves drawn to—and then thrust away from—each other. But to find out the ending, you'll need to read the book.
Leave a comment, and we'll draw randomly for a print copy (US only) or ebook of Hollow Hearts. Don't forget to cleverly disguise your email address like this: Donna AT livebytheword DOT com
Question: What is the trait you consider the most important in a spouse? I'll go first. For me, he had to be a Man of God, active in his church.
About Hollow Hearts:
Middle-aged widow Edith Cooper walks away from the cemetery along the Green River near Simpson's Hollow, Utah Territory. Away from the husband buried there this morning. Away from their plans and dreams for their future. Along the way, two men offer their hand in marriage. For her protection, one says. For his children's sake, says the second. Were any of these reasons enough to marry? She must choose one. But which?
Albert Whitt, stationmaster of the Pony Express Station, loves his independent life. Twice stood up by women, he takes the only course that ensures no more rejection: stay clear of them. But when he learns that the stoic Widow Cooper is considering two proposals from men not worthy of lacing her boots, he must do something. But what?
Can Edith and Albert find a new beginning in the midst of tragedy, or will they choose the most convenient path—alone?
DON'T FORGET TO LEAVE A COMMENT TO BE PLACED IN THE DRAWING TO WIN A PRINT OR EBOOK COPY OF HOLLOW HEARTS BETWEEN NOW AND THURSDAY, OCTOBER 6TH AT MIDNIGHT MDT.(U.S. residents only eligible for print book).
BY LEAVING A COMMENT, YOU GRANT PERMISSION FOR YOUR EMAIL TO BE REVEALED TO THE AUTHOR IF YOU ARE THE WINNER TO FACILITATE RECEIPT OF YOUR BOOK.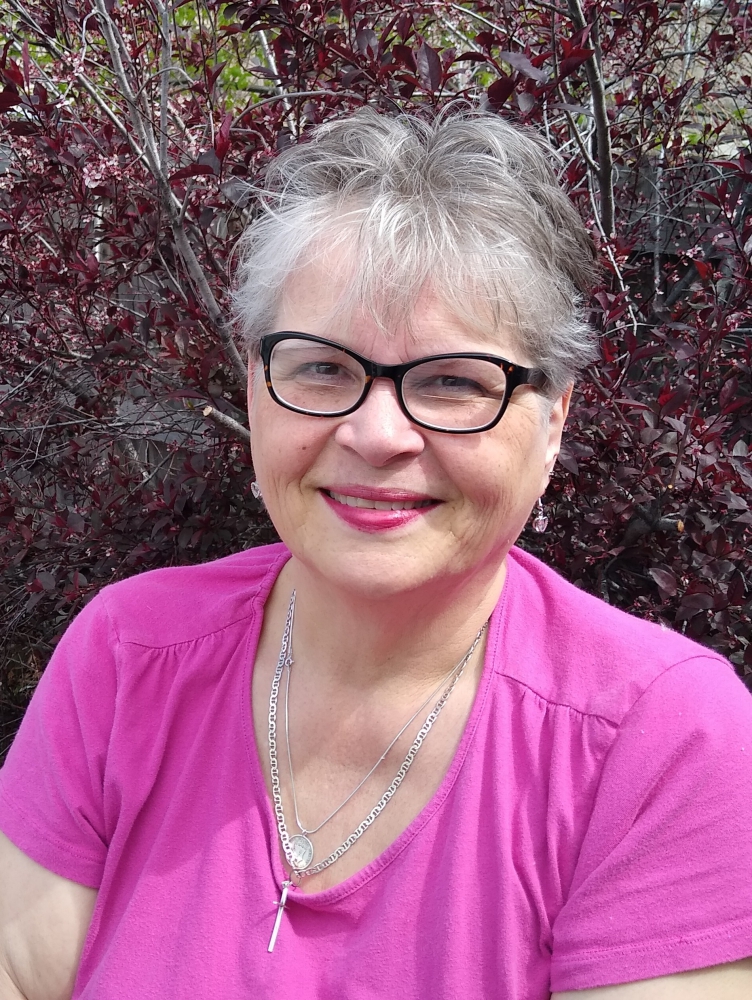 A hybrid author, Donna Schlachter writes squeaky clean historical and contemporary suspense. She has been published more than 50 times in books; is a member of several writers groups; facilitates a critique group; teaches writing classes; ghostwrites; edits; and judges in writing contests. She loves history and research, traveling extensively for both, and is an avid oil painter.
Connect with Donna:
Website www.DonnaSchlachter.com
Stay connected so you learn about new releases, preorders, and presales, as well as check out featured authors, book reviews, and a little corner of peace. Plus: Receive a free ebook simply for signing up for our free newsletter!
Bolg www.DonnaSchlachter.com/blog
Check out previous blog posts at www.HiStoryThruTheAges.wordpress.com
and www.AllBettsAreOff.wordpress.com
Facebook: www.Facebook.com/DonnaschlachterAuthor
Twitter: www.Twitter.com/DonnaSchlachter
Books: Amazon: https://tinyurl.com/58fxr3b3
Bookbub: https://www.bookbub.com/authors/donna-schlachter
Goodreads: https://tinyurl.com/mr3jk86b
Etsy online shop of original artwork: https://www.etsy.com/shop/Dare2DreamUS
SUBSCRIBE TO PATTI'S BLOGS HERE