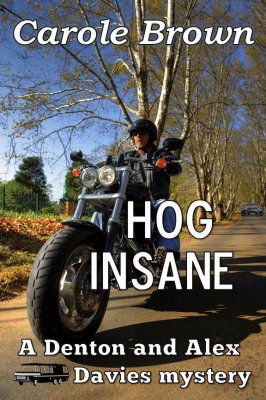 Featured book: Hog Insane: A Denton and Alex Davies Mystery
Author: Carole Brown
Genre: Mystery
Series or stand alone: series
Target audience: adult
I AM EXCITED TO WWELCOME AUTHOR CAROLE BROWN WITH A GLIMPSE AT THE FIRST BOOK IN HER NEW MYSTERY SERIES.
CAROLE IS OFFERING A GIVEAWAY OF HOG INSANE. CHECK BELOW TO SEE HOW TO ENTER TO WIN.
An interview with Denton and Alex Davies, characters in Hog Insane
(1st book in the Denton and Alex Davies mystery series)
Ahem. I've heard you two are having some marital problems even though you've been married for years. What's going on?
Denton: Nothing to worry about! Or at least I hope not. That Sheriff Riley though, if I didn't trust my wife so much, I'd worry about his intentions. Still, she has some resentment and stubbornness problems. I sent her some flowers to woo her back though.
Alex: Me, stubborn? And, yes, I do resent having to sell my real estate business early so Denton can fish to his heart's desire. What ever happened to considering what your partner wants? I like to have a purpose in life.
Give us a hint why did you retire early and begin traveling in your RV, if you don't mind telling?
Alex: It's Denton's fault! He insisted we quit our jobs and wants to travel year around--fishing. Don't get me wrong. I enjoy being with him, fishing a little, but year long traveling? Anyhow, we've compromised and looks like we have some fun times ahead.
Denton: It was time. She was stressed out and Kelli, our daughter, was ready to take over my landscaping business. I feel badly that she didn't choose Alex's business but it was her choice. Still it'll do us good.
Clue us in: I know Denton loves big words and fishing, and you, Alex, love shopping and shoes. Is there anything you enjoy doing together?
Alex and Denton together: Mysteries!
Denton: I worry she'll get in trouble, so have to keep my eyes open to protect her. As much as we love reading mysteries together, I really wish we hadn't stumbled upon solving them. I am pretty good at following the clues though.
Alex: I love excitement and the thrill of helping Denton figure out who did it. He might be pretty insistent on having his way, but he's got his good points too. He's sharp as a tack (forgive the cliché) when it comes to solving mysteries. I keep hoping and praying for more to solve everywhere we go! Wouldn't that be fun?
This is a fun question: what's the most embarrassing thing that happened to you in Hog Insane?
Alex: Lol. Not sure how embarrassed I was, but it was hilarious to climb through the window of that huge storage building on the Mountain Mist Campground. Then to stumble around in the dark, falling over bags of clothes, opening doors not knowing what would be on the other side. It was such a crazy thing to do. Then when Sheriff Riley marched in like he was going to send us to prison--well, I nearly laughed. Loved every minute of it.
Denton: Groan. She would say that. For me, following Alex and her new friend, Jane, into that lingerie shop was uncomfortable to say the least. Since I usually have Kelli do that stuff for me, I was only too glad to get away from the "shark" girl and get out of there. Whew!
Can you tell us a little bit about Bat Crazy, your soon-to-be-released second book in this mystery series?
Alex: Sure can but only a hint. So thrilled at this opportunity to help someone else. Does old maps, caverns and vampire bats tell you this is going to be a great mystery?
Denton: We've got us some good suspects if we can work around the pompous guy who tries to be bigger than he is. Snicker. With the danger and knowing someone's willing to kill to find what he wants--that's pretty serious stuff.
Hog Insane book blurb:
A dead body, a missing motorcycle, a strange key, and dope are at the bottom of the trouble Denton and Alex Davies, and Taffy, their Jack Russell Terrier, run into when they head for their first stop in the Smoky Mountains immediately after early retirement.
All Denton wants is to fish and recapture his wife's love. Instead, they find the body of Anthony Risler with a bullet hole in his head. None of the campground people, or even the sheriff, pretend to like Denton and his snoopy questions, and everyone seems to be lying.
Denton figures Risler's missing bike has to hide some kind of evidence that incriminates the murderer. Archie McGhee, the campground manager is self-centered and greedy enough to hide the motorcycle for the murderer, so why doesn't he know where the bike is now? The Stillwells, although good-looking and popular, brag way too much to suit the Davies. The expensive S-shaped, ruby watch they foist onto Alex ought to play into the mystery, yet Denton can find no evidence of it. The drug-using, gun-toting man who chases Taffy knows more than he's telling and raises questions in Denton's mind even when forced to partner with the man.
Why is the sheriff ignoring obvious clues, and why would he leave a bribery note lying around where Denton's suspicious eyes can see it? When Denton finds the keys with the strange looking C charm Alex and Denton realize only their pastor's wife, back in Ohio, and the small, cherry-wood box Risler gave her, can provide the final clue they need to reveal the killer.
Denton wrestles with his personal demons of self-blame over his nephew's death while riding a bike. Alex resents Denton's riding roughshod over her feelings. When he thinks her love is fading, he's determined to woo her back. But if he doesn't find the young man's murderer, their love may stretch to the breaking point.
LEAVE A COMMENT TO BE PLACED IN THE DRAWING TO WIN A COPY OF HOG INSANE BETWEEN NOW AND FRIDAY AUGUST 1ST AT MIDNIGHT MST. DON'T FORGET TO LEAVE YOUR CONTACT EMAIL SO YOU CAN BE NOTIFIED IF YOU WIN!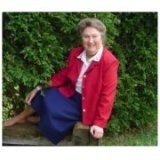 Carole Brown not only has her award winning (Selah finalist; Genesis semi-finalist) debut novel, The Redemption of Caralynne Hayman, available for purchase now, but a companion book called West Virginia Scrapbook: From the Life of Caralynne Hayman, filled with tidbits of information about West Virginia, quotes, recipes from West Virginia and from Caralynne's life, pictures and discussion questions for the novel. November, 2014, the first book in her mystery series, Hog Insane, released. It's a fun, lighthearted novel introducing the characters, Denton and Alex Davies.
Besides being a member and active participant of many writing groups, Carole Brown enjoys mentoring beginning writers. She loves to weave suspense and tough topics into her books, along with a touch of romance and whimsy, and is always on the lookout for outstanding titles and catchy ideas. She and her husband reside in SE Ohio but have ministered and counseled nationally and internationally. Together, they enjoy their grandsons, traveling, gardening, good food, the simple life, and did she mention their grandsons?
Connect with Carole here:
I am also part of several other blogs: