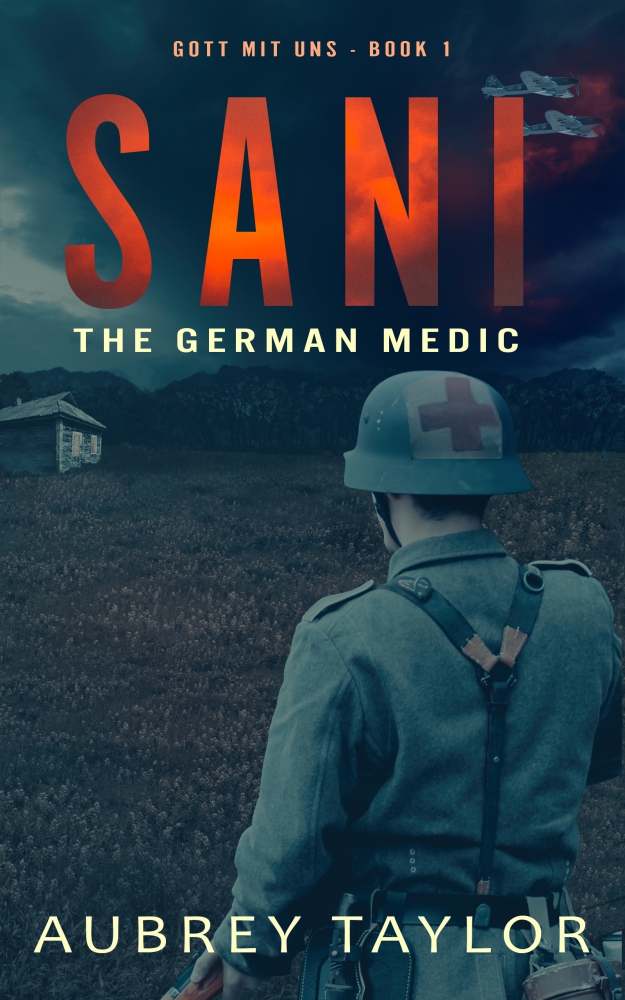 FEATURED BOOK: Sani: The German Medic
AUTHOR: Aubrey Taylor
PUBLISHER: Aubrey Taylor Books
GENRE: Historical Fiction
SERIES OR STAND ALONE: Series but can stand alone
TARGET AGE: middle school and up
(series itself contains themes that may not be appropriate for younger readers).
IT IS MY PLEASURE TO WELCOME AUTHOR AUBREY TAYLOR TO PATTI'S PORCH. AUBREY SHARES ON THIS VALENTINE'S DAY HOW SHE LINKS HER WRITING TO THE SOURCE OF LOVE ITSELF.
AUBREY IS OFFERING A GIVEAWAY! SIMPLY LEAVE A COMMENT BELOW TO ENTER THE DRAWING FOR WINNER'S CHOICE OF A PRINT OR EBOOK COPY OF SANI: THE GERMAN MEDIC.
TELLING HIS STORY
by
Aubrey Taylor
It took me a while to come up with a post which I felt was worthy of a Valentine's Day share date. I wanted to introduce you to my characters and pique your interest in my German-perspective 20th Century Historical Fiction series, Gott Mit Uns, but I also wanted to share something that would point back to the Source of Love: God Himself!
I began to reflect on how He has used each of the relationships in my books to teach me more about His love for me. In the short time I have with you today, I hope I can pass along a little of that to you.
First, I'd love to introduce you to my heroines:
Hannah remains true to her vows for 20 years after her husband disappears during the Great War.
Krystyna, a Polish girl, is willing to love a German soldier, even though he wears the uniform of the enemy.
Ulla, who is hiding her Jewish bloodline, welcomes a homeless member of the SA (Brownshirts) into her home.
Emma remains faithful to a vow she made to her beloved at a young age, even after he becomes a brutal killer in the SS.
So far Emma, affectionately known as Emmy, has emerged as a key figure. A young woman who not only faithfully loves her husband, but also opens her home to a young man who has given himself up to debauchery, trafficking himself out of a desperate need to survive… and be loved.
The first thing a reader will notice, however, is that these books are not primarily written from the perspective of the heroine. More often than not, the stories unfold through the eyes of the men.
Although every era of history is filled with stumbling blocks and the potential for evil, I can't imagine a better setting than Hitler's Germany in which to explore the depths of God's love from the perspective of those who were caught up in the Zeitgeist. I've always been one of those girls who loved the bad boys, not because I found them desirable (although I admit, sometimes I did!) but because I was holding out to see them come to the light.
I can hardly call most of my "boys" antagonists, but it would be fair to say that a few of them are anti-heroes. Often, they are characters who initially appear in my writing as a throw away villain, but as I develop the story, God begins to draw my attention to them. It's almost as if He is saying, "I loved you so much that I refused to leave you in your mess. What do you think I might be willing to do for him?"
Suddenly, I find I need to tell his story, even if it is fictional, because aside from the specifics, his backstory reflects someone else's story, somewhere. More often than not, there is also an element of something I have felt about myself. Unworthy. Unlovable. Beyond forgiveness.
Sani: The German Medic is a clean and wholesome read, with the exception of some drug use that was part of the Nazi's effort to make their soldiers perform better. Protagonist Frederick Smith is a good boy and destined to be a preacher someday. However, in the following books I've been challenged to plumb a little deeper into the nitty-gritty realness of life. My latest is a Christmas novella, available for pre-order now, and involves a character who struggles to free himself from a life of homosexuality and prostitution.
Why would a Christian author run the risk of turning readers off by writing about such things? Because people are lonely and desperate. Sometimes, we don't realize the desperation of someone's circumstances. Perhaps we give scripted Christian answers, or we're afraid to talk about it at all. Jesus said, "It is not the healthy who need a doctor, but the sick" (Mark 2:17, NIV)
Whether God uses a book as a tool to meet a reader where they are at, or as a bridge to help a reader begin to understand someone else, I believe God can easily use fiction to comfort and encourage. "I see you. I am with you."
Perhaps that's the reason He placed the series title Gott Mit Uns on my heart. The words mean God with us. Yes, it was a German army slogan for two hundred years, but that's not really the point: the beautiful truth is that God wants to be with each and every one of us. His love and grace are already there, before we even start looking for them.
Do you have a favorite story with a strong theme of redemption? I'd love to hear your thoughts below—but please, no spoilers! I'll be checking in to see what you recommend.
Book cover blurb for Sani: The German Medic:
"Do you suppose you can serve Germany without serving Hitler?"
"I am determined to find a way."
It's 1938. Tired of a life without adventure, German-American Frederick Smith leaves everything he's ever known to return to his ancestral homeland. What he finds is a nation that has been overrun by militarism and hatred.
Though he tries to remain uninvolved in the terror that surrounds him, his thirst for adventure and friendship draws him into service in the army of the Third Reich. As a medic, or Sani, he is a non-combatant, but when war breaks out, the actions of his comrades challenge him to question whether he can truly stand on his own beliefs.
Faced with both inner conflict and the loss of one of his closest friends, he surrenders his life to Jesus Christ and is soon called upon to do much more than bandage wounds and try to bring soldiers comfort in their dying moments. Throughout the next five years of war, Frederick sees clearly how "Gott Mit Uns" holds true for those who stand for righteousness amidst great evil.
Purchase Links:
Find Sani: The German Medic and other Gott Mit Uns books on Amazon and Google Books:
Amazon/Audible: https://tinyurl.com/yckn4v3d
Google Books: https://tinyurl.com/mu95a5wb
Sani is also available on Apple Audiobooks https://tinyurl.com/3z97djcf
DON'T FORGET TO LEAVE A COMMENT TO BE PLACED IN THE DRAWING TO WIN A PRINT OR EBOOK COPY OF SANI: THE GERMAN MEDIC BETWEEN NOW AND FRIDAY, FEBRUARY 24TH AT MIDNIGHT MST.
BY LEAVING A COMMENT, YOU GRANT PERMISSION FOR YOUR EMAIL TO BE REVEALED TO THE AUTHOR IF YOU ARE THE WINNER TO FACILITATE RECEIPT OF YOUR BOOK.
After creating stories prolifically as a child, Aubrey Taylor experienced a renewed interest in writing as she entered her 40s. She lives in Upstate New York with her husband and three children, and enjoys reading, playing music, crafting, sketching, exploring the outdoors, and traveling whenever possible. She is a lover of Jesus, the Bible, history, German culture, tea, and cats, and has a special heart for those who struggle with severe anxiety and depression.
Connect with Aubrey:
Website: www.aubreytaylorbooks.com
Facebook: https://www.facebook.com/aubreytaylorbooks
Instagram: https://www.instagram.com/aubreytaylorbooks/
Twitter: https://twitter.com/aubtaybooks
LinkTree: https://linktr.ee/aubreytaylorbooks
SUBSCRIBE TO PATTI'S BLOGS HERE