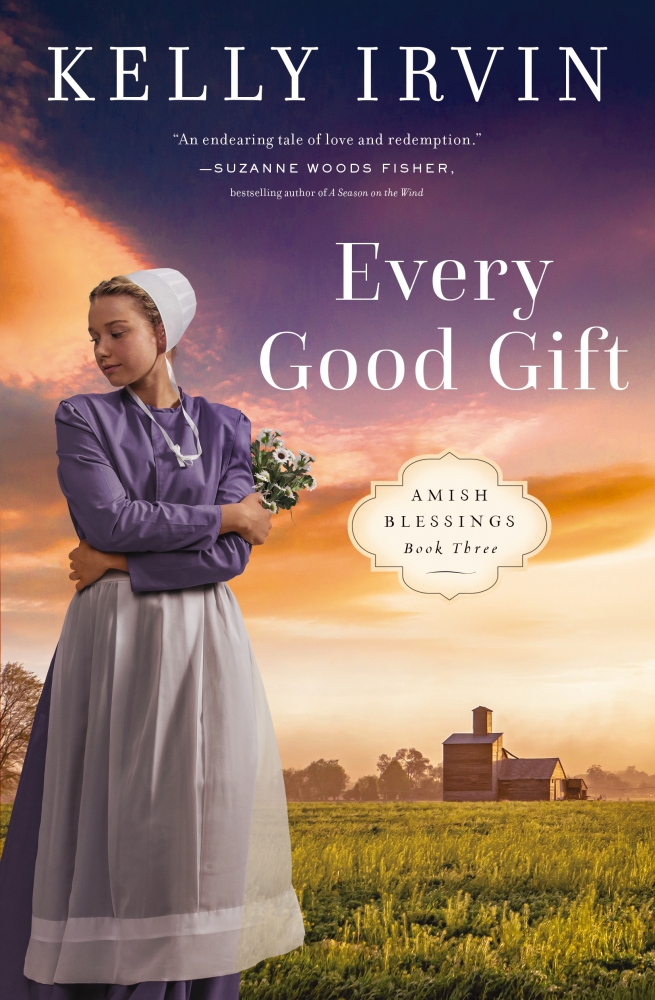 FEATURED BOOK: Every Good Gift
AUTHOR: Kelly Irvin
PUBLISHER: Zondervan
GENRE: Amish romance
SERIES OR STAND ALONE: series Amish Blessings (book #3)
TARGET AGE: 18-99
IT IS MY PLEASURE TO WELCOME AUTHOR KELLY IRVIN TO PATTI'S PORCH. KELLY TALKS ABOUT THE REDEMPTIVE AND HEALING MESSAGE IN HER LATEST AMISH RELEASE.
KELLY IS OFFERING A GIVEAWAY! SIMPLY LEAVE A COMMENT BELOW TO ENTER THE DRAWING FOR A PRINT COPY OF EVERY GOOD GIFT.
EVERY GOOD GIFT RECORDS JOURNEY OF REPENTANCE, REDEMPTION
by
Kelly Irvin
Recently another writer participating in a Facebook chat celebrating the release of Every Good Gift posted the comment that the novel is "edgy" because the book follows the journey of a young unmarried Amish woman who becomes pregnant with an English man's baby. The comment surprised me. I truly had never thought of Maisy's story as anything but a recording of a journey of repentance, forgiveness, grace, and redemption. I believe my readers will see behind the "scandalous" start of the journey to the ways in which God shows up every step along the way.
When I started writing Every Good Gift, my goal was to reflect on how Amish communities would treat Maisy's situation in comparison to what the mainstream world would tell us about it. Maisy's been brought up to believe certain Scriptural truths. She been taught to act accordingly. Yet she's made a terrible mistake. She knows she's brought shame on her family. She can't bear to subject them to more. She decides to leave her hometown of Jamesport, Missouri, and go to stay with her cousin, who's more like an aunt, in Yoder, Kansas. There she meets Joshua Lapp, who gives her a ride from the train station to her cousin's farm—where he happens to work.
I know I can't be the only one who has seen how God puts people in my path at just the right time to help me over a rough patch or allow me to see His truth that I seemed to be missing. Joshua's a taciturn man hiding a broken heart behind his silence. Yet he stands up for Maisy in a way that was most unexpected. I loved getting to know him as I wrote his story as well as Maisy's.
The Amish see all babies as gifts from God, no matter the circumstances of their birth. They are strict believers in forgiveness. They also take very seriously Romans 8:28: "And we know that in all things God works for the good of those who love him, who have been called according to his purpose." Maisy can't imagine how her family and friends—let alone God—can forgive her for what she's done. She's hard pressed to imagine what God's plan is to use her predicament for her good—and the good of her baby.
Much of the mainstream world tells us we should do whatever feels good, what makes us happy, and not worry about consequences. Having babies outside marriage is commonplace. Deciding not to have a baby is also considered an option by many nonbelievers. The Amish adhere closely to God's Word that says otherwise. As I wrote Every Good Gift, I waited for God to show me how Maisy's circumstances could be used for her good, the baby's good, and for the good of others. He does all three. It's not easy. It's messy. It's painful. It's a hard season, but Maisy walks through it with the help of the people God places in her life—Joshua, her cousin, a midwife, and the most unlikely of all: a kindly English hardware store owner.
One other point is important to make. Maisy's cousin Ruth makes it well. Here's what she says when Maisy talks about how she feels she's being judged by everyone:
"You're gut with boplin." Ruth dragged herself up from the floor. Her belly had become more prominent too. Her cheeks had turned pudgy. Three babies back-to-back did that to a woman, but she wore it well. "I understand why you might think it would be best for you to give yours up, but you're the mudder. You'll be gut at it. Don't let anyone shame you into thinking otherwise."
"It's not a matter of shame. It's a matter of truth. Plus I want this bopli to have a daed."
"You're assuming you won't marry. You will. I just know you will."
"Who will want to marry a woman who committed the sin of fornication with an Englisch man?" The words sounded so ugly spoken aloud. "What man will want to marry a woman who already has a baby who came from that sin?"
"A gut man who knows he isn't perfect." Ruth took Bonnie from Maisy. The little girl laid her head on her mother's shoulder. Her eyelids drooped. "We've all sinned and fallen short. That's what Scripture says."
"So why do I feel like I'm the only one in the world who has messed up? Why do I feel like some people are staring at me like I'm such a poor excuse for a human being?"
"Because everyone likes to feel as if they're superior, like their sin is less than yours. Bryan says all sins are equal in Gott's eyes." Ruth rocked Bonnie as she talked. The little girl's eyes closed. "And she's out. I'll put her down for her nap. Whatever you decide I'll support you. If you keep the bopli, you can stay here and we'll raise our kinner together."
Maisy's story reminds us that we've all sinned and fallen short. None of us dare throw the first stone. No sin is bigger or worse than ours. There's nothing edgy about that!
Back Cover Blurb for Every Good Gift
During the most difficult season of her life, how could she know whether their meeting was a gift from God—or another temptation?
Maisy never expected that a Plain girl like her could have her heart stolen by an Englisch boy. But when her rumspringa ends and Maisy realizes she's pregnant, the reality of their choices—and their differences—sets in.
Maisy knows she will never leave her faith to marry her baby's father. But she also knows the road to acceptance as an unwed mother in an Amish community will be long and hard. To protect her family from the scandal, she goes to live with her cousin in Haven, Kansas, where she will have some solitude to figure out what kind of future she might have.
In Haven Maisy begins to find her way—thanks in no small part to Joshua Lapp, a Plain man who's made it clear he isn't bothered by her situation or ashamed to be seen with her, despite the bishop's warnings. But Joshua has struggled with his faith ever since the death of his twin brother, leaving Maisy to wonder: How can two people who are so lost ever help each other discover Gott's plans for their future?
buy links:
Amazon: https://www.amazon.com/dp/0310364558
Amazon Kindle: https://www.amazon.com/dp/B0B5D97YZM
BarnesandNoble: https://tinyurl.com/mvf7xcek
BarnesandNobleNook: https://tinyurl.com/4c59aj72
christianbook.com: https://tinyurl.com/t88r5xdp
DON'T FORGET TO LEAVE A COMMENT TO BE PLACED IN THE DRAWING TO WIN A PRINT COPY OF EVERY GOOD GIFT BETWEEN NOW AND FRIDAY, MARCH 10TH AT MIDNIGHT MST.
BY LEAVING A COMMENT, YOU GRANT PERMISSION FOR YOUR EMAIL TO BE REVEALED TO THE AUTHOR IF YOU ARE THE WINNER TO FACILITATE RECEIPT OF YOUR BOOK.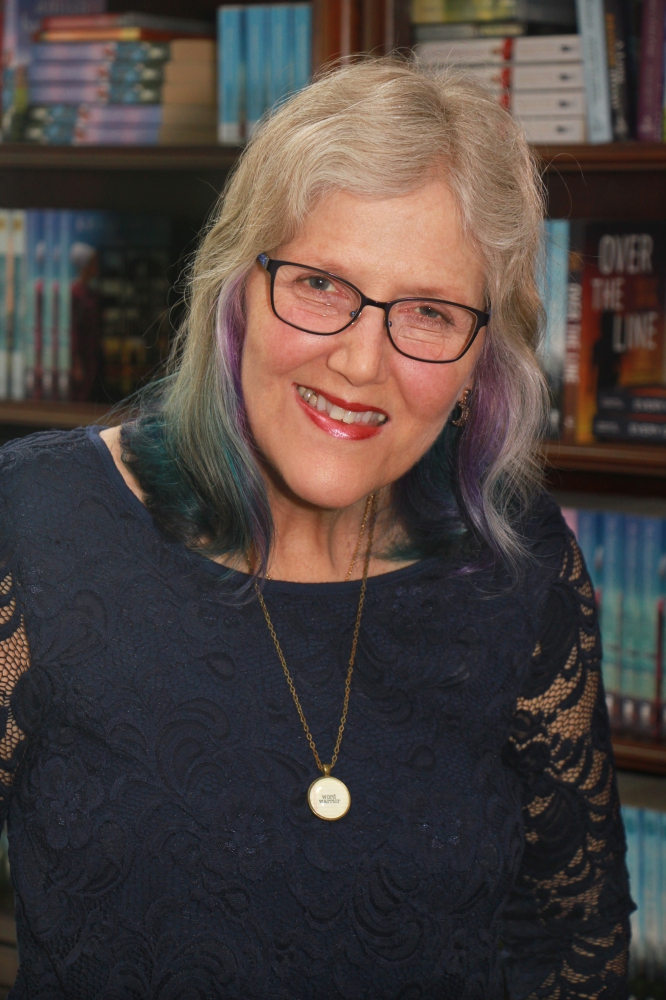 Best-selling author Kelly Irvin has published more than 30 novels, including 25 Amish romances. Every Good Gift, the final installment in the Amish Blessings series, is her latest release. The first book in the Amish Blessings series, Love's Dwelling, took second place in the Selah Awards long romance category. She's also the winner of a Reader's Choice Award for her novel Upon a Spring Breeze.
A former newspaper reporter, Kelly worked in public relations for more than 20 years. She now writes fiction full time. She lives in Texas with her husband Tim. They are the parents of two kids, four grandkids, and two ornery cats.