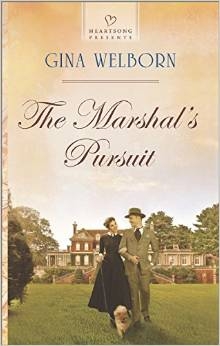 Featured book: The Marshal's Pursuit
Author: Gina Welborn
Publisher: Harlequin Love Inspired/Heartsong Presents
Genre: Inspirational Romance
Series or stand alone: 2nd book in 4-book Tuxedo Park Series
Target age: women 18+
I AM PLEASED TO WELCOME INSPIRATIONAL ROMANCE AUTHOR GINA WELBORN. GINA SHARES SOME INSIGHT INTO WHERE SHE FINDS THE IDEAS FOR HER STORIES AND HER CHARACTERS.
GINA IS OFFERING A GIVEAWAY OF AN AUTOGRAPHED COPY OF THE MARSHAL'S PURSUIT. CHECK BELOW TO SEE HOW TO ENTER TO WIN.
Gina, tell us about your latest release, The Marshal's Pursuit.
My heroine, Malia Vaccarelli, a New York socialite, needs a place to hide.
When her brother is arrested for a gangster's murder, Malia is plunged into danger. Her life in peril, she trusts no one—not even the special U.S. marshal assigned to protect her. But handsome Frank Louden isn't what Malia expects. Hiding Malia on his grandparents' Tuxedo Park estate may not be the best idea, but Frank is determined to do anything to protect her…even if he's soon unable to ignore his growing feelings for the beautiful woman. As their romance blossoms, will Malia's criminal connections force her to choose between family and her heart?
You have published several stories. How many of the events you create are based on your own life experiences?
My first Heartsong began with a train wreck. This one with a murder. The Barbour novella I just finished features my widow hero dating twelve women at the same time. I'm glad to say none of those events are based on life experiences. What readers can find of "me" in my books are my quirks, fears, lessons learned, and my worldview based on what God has been/is teaching me.
Which of your novels or novellas is your favorite and why?
Ooh, that's a tough question. I love each of my stories, like I love each of my five kids who range in age from 20 down to 7. I don't have a favorite one. At least I didn't I had a favorite story until I finished this last novella for Barbour. I've watched The Bachelor/Bachelorette show on and off for years. The last three seasons my girls started watching with me, and I use it as opportunity to talk dating and relationships. Never in my wildest imagination would I ever think I could write my version of the show for a CBA publisher. But when Rebecca Germany put the call out for The Most Eligible Bachelor Collection, I decided to submit my idea. It's the story I wished I had read twenty-five years ago. It's also the story I needed to write.
What life lessons do you convey to your readers in your work?
Oh my, Patti, you're hitting me with some doozies today. I tend to read more non-fiction than fiction. Any John Eldredge book. What God Wished Christians Knew About Christianity by Bill Gillham. Beth Moore Bible studies. The Great Work of the Gospel. Confessions of St. Augustine. From Eternity to Here. I highlight passages that speak to my wounds, or truths I now see. My ultimate objective is to bring joy to readers through my stories. Maybe it's just the pleasure in a satisfying read. Maybe it's a reminder "you are loved, you are forgiven, you are free." To be reminded that God is not waiting to smite you if you forget to confess some sin ought to bring joy.
How do you decide the traits your characters will have?
Part brainstorming. Part discovering it while writing the story. Two years ago we moved from Virginia to Oklahoma. God knew I needed a friend, mentor, and fellow writer. He brought Becca Whitham into my life. She helps me brainstorm. Sometimes, though, only half of our brainstorming makes it into the story, as with Zeke and Marianne in Mistletoe Memories. In The Marshal's Pursuit, Frank began as a career-focused, serious guy. But when I reached the scene with him and Malia on the train, I knew she could learn to trust that Frank but she would never fall in love with that Frank. She needed someone to remind her how to have fun, how to find joy despite her circumstances. So I had to give Frank a personality transplant.
If you could choose one character to come alive and play a part in your life, who would you choose and why?
As much as I love my main characters, the people I'd want to come alive are my secondaries. Deputy U.S. Marshal Norma Hogan is a hoot. And I know I'd have a blast with Arel Dewey, my suffragette, go-all-in, coffee=whiskey secondary in my next release, Masterpiece Marriage: Quilts of Love Series.
Where can readers learn more about your work?
Readers can learn more about my novels and novellas at my website, as well as find my social links and even excerpts from my stories. Thank you for hosting me today!
LEAVE A COMMENT TO BE PLACED IN THE DRAWING TO WIN AN AUTOGRAPHED COPY OF THE MARSHAL'S PURSUIT BETWEEN NOW AND FRIDAY, OCTOBER 24th AT MIDNIGHT MST. DON'T FORGET TO LEAVE YOUR CONTACT EMAIL SO YOU CAN BE NOTIFIED IF YOU WIN! (SORRY, CONTINENTAL US ELIGIBILITY ONLY)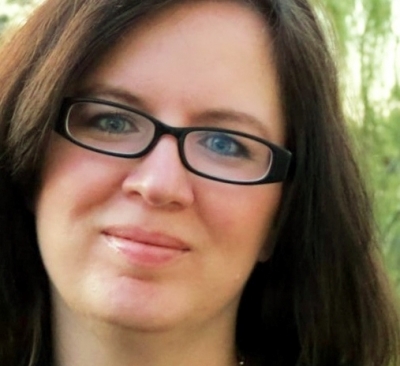 Gina Welborn wrote public service announcements for a news radio station until she fell in love with writing romances. She's written three novellas for Barbour, including the 2014 Selah finalist Mercy Mild in the ECPA-bestselling Mistletoe Memories. This year ushers in the release of her novels: The Heiress's Courtship, The Marshal's Pursuit, and Masterpiece Marriage. A moderately obsessive fan of Community, Once Upon a Time, and Chopped, Gina lives in Oklahoma with her pastor husband, their five Okie-Hokie children, a box-lab, two rabbits, four guinea pigs, and a fancy Russian dwarf hamster. She is represented by The Steve Laube Agency.