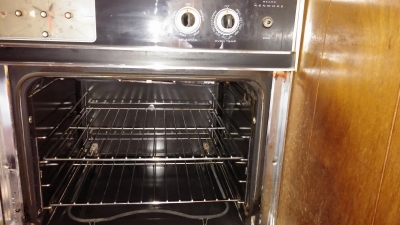 One evening, I turned on my oven only to hear an ominous "zappy" sound followed by a loud pop that told me the electricity was doing something it's not supposed to. Frightened and intimidated by the appliance, I jumped back and stared at it as though it could provide me with the reason why.
Further investigation by my husband and I revealed that the breaker switch had been thrown, hence the "popping" sound. We reset it and tried again with the same result. The next step was to call a friend who knows all about electricity and how to handle it when it misbehaves. He managed to turn the oven on without incident and checked the schematic against the circuitry. Nothing wrong that he could see. However, when we engaged the temperature dial, the problem was discovered.
That was over two years ago.
My search for a replacement part proved futile. I discovered that the company that made my 1960 oven went out of business twenty-five years ago. Friends are amazed that I have been without an oven for such a long time. It causes me to wonder how many other household items we could live without if we had to.
The last time I owned a dishwasher was thirty-seven years ago, when I lived in the mobile home that preceded the purchase of our current house. I've done fine without one ever since. In fact, the "dishwasher" in my home now happens to be named "Manuel." When his wife doesn't get around to doing the dishes right away, he picks up the slack.
Works for me.
Many years ago, my dad bought my mom a toy stove, wrapped it, and put it under the Christmas tree. Taped to the top was a note that said, "Look what's cooking in my oven." When she opened the tiny oven door, a look of puzzlement came over her face. Nothing was there. Unfortunately, the note we had carefully scrolled and tied with a red ribbon had fallen out. It read," The real me will be delivered on Tuesday."
I kind of had this fantasy played out in my own mind that the same would happen to me, but no such surprise has lurked under my Christmas tree the past two years. (I must say, though, many other delightful gifts have!). So, it's time for me to break out the old credit card for more than a gas purchase or a meal at a restaurant.
Part of my procrastination has stemmed more from my indecision than any financial hardship. Did I want another wall oven or a stove/oven combination unit? If I choose the combination unit, it means remodeling work in the kitchen. After careful consideration, I've decided to stick with the wall oven. I love the ease of accessibility and the ability to peek through the glass at eye level. Besides, these days, I'm always looking for ways to protect my back from aches and pains.
Sometime between now and December 1st, I will have a new oven in my kitchen. The thing I've missed the most about being without one? The delightful smell of Christmas sugar cookies!
Is there something you've been missing in your home and just haven't replaced? I'd love to hear from you!