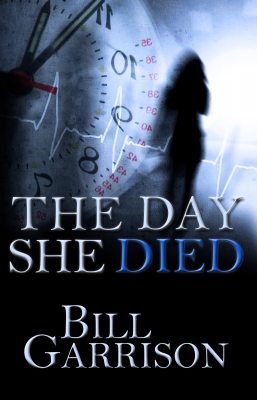 Title of book: The Day She Died
Author: Bill Garrison
Publisher: Castle Cate Press
Genre: Mystery (Time Travel)
Series or stand alone: Stand Alone
Target age: Adults (Anyone who has lived long enough to make a few bad choices. Mystery Lovers.)
DEBUT AUTHOR BILL GARRISON STOPS BY TO TALK ABOUT HIS BOOK, THE WRITING LIFE, AND JUST MAYBE, A LITTLE BASEBALL.
BILL IS OFFERING A GIVEAWAY OF AN EBOOK COPY OF THE DAY SHE DIED. CHECK BELOW TO SEE HOW TO ENTER TO WIN.
Bill, welcome to Patti's Porch. Tell us about your book, The Day She Died.
In this clean time-travel whodunit, a middle-aged coffee-shop owner always wondered what his life would have been like if he'd stayed in town the day his college fiancee disappeared, the victim of an unsolved crime.
One morning he wakes up 20 years earlier and finds himself a student at OU in Norman again on the day she died. In a journey that takes months, he stumbles over people connected to Kim's disappearance and puzzles over connecting the dots. He plays on a baseball team, something he'd dropped out of the first time, and discovers what it's like to be a Christian pastor.
Can he find some answers about Kim and about his own life? Or prevent Kim's death? And if he succeeds in changing history, what happens to his beloved wife and kids?
You have a successful daytime career. What events in your life encouraged you to craft a novel?
In college, I took business courses as well as writing and journalism courses. My career path took me to finance and accounting, but I never stopped writing. Finished my first novel (of 160,000 words) in my late 20s and have always been writing as well as working. My current novel was influenced by many things, including books on time travel and as well some of my own regrets of how I lived my life.
You use a setting out of your own past (Oklahoma University) in The Day She Died. Do you believe that is easier or more difficult than using a fictional setting? Why?
I think using local settings was not a problem for me. I have lived in Oklahoma City since I was 18 so I know the city and surrounding area quite well. I know a lot of local readers enjoy reading about locations they are aware of. My previous novel, yet to be published, was set in an entirely fictional city and state.
Tell us about your launch party. What was the most memorable moment?
The launch party was lot of fun. I had it the Cole Community Center, a recently completed gym and outreach center at my church. It was a come and go event where I signed books and talked with many friends and family. As a writer it really felt weird talking about and promoting myself, but it was also nice to see so many people genuinely excited for you. I think my kids might have had more fun than me. They all fought over how they could help me.
Time travel is a main theme in your novel. If you could travel a hundred years into the future, what common technology would you expect to find and why?
I believe cell phones will always be with us. Those powerful devices totally control our lives now, so who knows what they will be like in 100 years. Cars will probably drive themselves while we surf the web on a computer implanted in our brain.
You are a baseball fan. Share your favorite baseball story.
I'm an old school baseball fan. Baseball is boring, I admit. The season is very long and not much happens. But if you are a fan of a team and strategy, you get to know the players really well. When I was a kid, I stayed up way past my bed time listening to games on the radio and I've always done whatever I could to follow Royals games every single day.
As an avid Colorado Rockies fan, I feel your pain over the Kansas City Royals loss of this year's World Series! Who is your favorite Royals player and why?
Growing up, I loved George Brett and wore his number when I played 3rd Base in little league. Mike Sweeney was another of my favorites. He played from around 1999 to 2010 and was a strong Christian. My favorite now is Alex Gordon. He's been around awhile and got through a lot of injuries and position changes, but persevered to become one of the best players in the American League. He grew up a Royals fan and ended up taking them to the World Series.
Book Cover Blurb for The Day She Died:
John has been living the perfect dream with loving family and a successful business…until his wife quits talking to him and he discovers his coffee shop is deep in debt.
What if he had it all to do over again? If he hadn't quit baseball? If he'd saved money? And if he hadn't gone out of town the weekend his college fiancee Kim disappeared for good?
John inexplicably wakes up back at Oklahoma University, reliving Kim's last day. Can he find some answers? Or prevent her death? But if he succeeds in changing history, what happens to his wife and kids?
LEAVE A COMMENT TO BE PLACED IN THE DRAWING TO WIN A COPY OF THE DAY SHE DIED BETWEEN NOW AND FRIDAY, NOVEMBER 28TH AT MIDNIGHT MST. DON'T FORGET TO LEAVE YOUR CONTACT EMAIL SO YOU CAN BE NOTIFIED IF YOU WIN!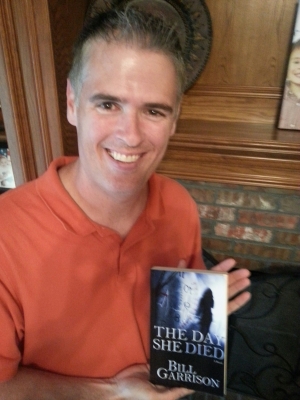 Debut author Bill Garrison lives the American Dream with his family of five in Oklahoma City. As a graduate of Oklahoma University, Bill works in the healthcare and accounting industry by day, but lives his creative side once he leaves the corporate world. After putting the kids to bed with a good story, he turns to his laptop and spins his daydreams into novels. Bill Garrison, CPA by day, story weaver by night. Visit bill at his website and connect on Facebook.