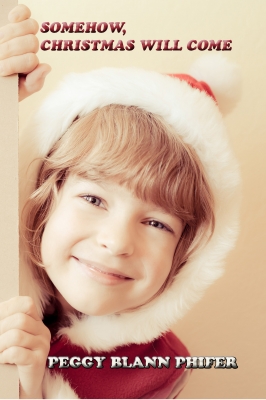 Featured book: Somehow, Christmas Will Come
Author: Peggy Blann Phifer
Publisher: Elk Lake Publishing
Genre: Contemporary Romance
Series or stand alone: Stand Alone
Target age: 20-70
I AM EXCITED TO WELCOME AUTHOR PEGGY BLANN PHIFER. SHE SHARES THE STORY BEHIND HER CHRISTMAS NOVEL.
PEGGY IS OFFERING A GIVEAWAY OF AN AMAZON KINDLE GIFT CARD FOR AN EBOOK COPY OF SOMEHOW, CHRISTMAS WILL COME.. CHECK BELOW TO SEE HOW TO ENTER TO WIN.
I originally started what is now Somehow, Christmas Will Come, in 2005 during the Las Vegas Centennial celebration when I lived there. Finding out about the history of my adopted home town was fascinating, and I bought many of the books that came out at that time from a local publishing house.
Reading through those books and seeing the wonderful historical photos, and the major players involved in its beginnings started the germ of an idea for a novel set in 1905, the year Las Vegas was founded. It would be about a girl from Minnesota traveling to Las Vegas to live with her brother, who'd struck it rich in the Nevada gold mines. In the morning of the day she arrived, he'd been bitten by a rattlesnake, and she got there just in time to see him moments before he died.
The working title was The Pride of Molly Dugan. I actually got quite a bit of it written, but, for some reason I don't recall, set it aside. Then, in 2008, the Christian Fiction Online Magazine was calling for short-short stories of 1,000 words, so I condensed what I'd written, combined it with some notes for future developments, and submitted it. That story appeared as Dugan's Deed.
But I never finished writing the novel, and it languished in my Documents folder. Early this past summer, Kathi Macias, Acquisitions Editor for Elk Lake Publishing, asked me to write a Christmas novel for them for release in time for Christmas this year, I dug out that old semi-finished manuscript, renamed it to Somehow, Christmas Will Come, and proceeded to try to finish it.
Alas, I discovered that all the notes, all the books I had, weren't coming together, and, since I now lived in Wisconsin, had no easy access to more information. The more I labored over the story, the more I realized I couldn't write it. Had I still lived in Vegas, there were many sources and places I could have personally visited, and being a 'local author' I'd have had all kinds of willing help.
Anyway, at the eleventh hour, I told Kathi I couldn't do it, but asked if I could change it from Historical to Contemporary. Same characters, same setting, same title, different time period. She graciously consented.
I had cut myself short on time by doing this, and, despite Kathi extending the deadline—twice—I scrambled to get it finished in time for publication before Christmas.
Had it not been for Kathi's grace in extending my deadline, which she certainly did not have to do, and God's Blessing on the story, this book would not exist.
If there's one thing I learned along the way through this whole thing, is that I am NOT a writer of Historical Fiction. I will stick to contemporary, thank you very much.
BACK COVER BLURB FOR SOMEHOW, CHRISTMAS WILL COME:
When Molly Dugan's best friend gets married and leaves St. Paul, Minnesota, to live in Georgia, Molly feels alone and plans a visit to her brother, Patrick, in Las Vegas. Molly had been worried about him ever since his wife died in a tragic boating accident. Grieving she could understand, but she sensed something deeper going on. And she was concerned about Patrick's six-year-old daughter, Bethany.
Molly had no sooner booked her open-ended airline reservations than she received a rather desperate call from Patrick, asking to please come down to be with him for a while.
So she sets aside her life in St. Paul to spend an indeterminate time in Vegas. But when Molly gets there, she finds more than she bargained on. And in the lead-up to Christmas, the situation only gets worse….
Somehow, Christmas Will Come can be purchased at Amazon in Kindle version and paperback, and in paperback only at Barnes and Noble.
LEAVE A COMMENT TO BE PLACED IN THE DRAWING TO WIN AN AMAZON KINDLE GIFT CARD FOR AN EBOOK COPY OF SOMEHOW, CHRISTMAS WILL COME BETWEEN NOW AND MONDAY, DECEMBER 15TH AT MIDNIGHT MST. DON'T FORGET TO LEAVE YOUR CONTACT EMAIL SO YOU CAN BE NOTIFIED IF YOU WIN!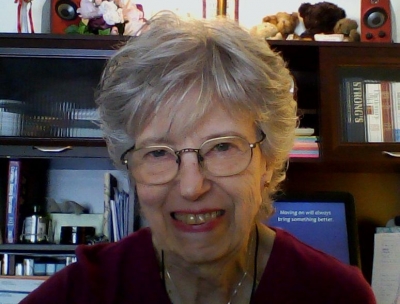 Peggy Blann Phifer retired from an executive assistant position after twenty-one years in the Electrical Wholesale industry. She came to writing later in life when a prayer she wrote appeared in a two-volume Guideposts Book compilation, Prayers for Every Need, in 2000. She self-published her debut novel, To See the Sun, in January 2012. Her writing has appeared in three anthologies in 2014, and a Christmas novel, Somehow, Christmas Will Come, in November 2014.
Widowed in October 2012, Peg now makes her home in northern Wisconsin in a home she bought together with her daughter and son-in-law. The three of them share the house with one dog, and one grand-dog. She converted a third of the house into a cozy apartment, where she spends most of her time writing.
Peg has three children, six grandchildren, eleven great-grandchildren, and numerous other grand-dogs and great-grand-dogs.
Follow Peg on the web: