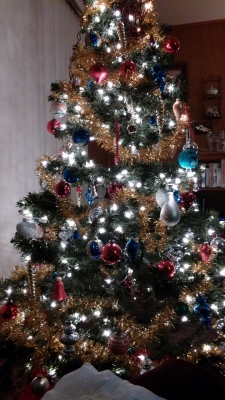 Christmas is almost upon us. The decorated tree sitting in our living room, the bright display of lights that has shined from the house across the street for over a week now, and the recently printed church bulletin that lists the performances in Sunday's Christmas program all point to the arrival of the holiday.
This year's advent season finds me in a state of peace and contentment different from years past. Perhaps it is the fact that this has been such a tough year for our family and God has stood with us through every step of the journey.
My husband endured the frustration of dealing with a wound that took months to heal and required several different treatments. One therapy included twelve long weeks of daily appointments two hours in length at a hospital 125 miles away. The travel, staying in motels, and getting around in a wheelchair took its toll on both of us, both emotionally and financially.
Even though I did not endure his physical pain, I raged when the foot wound remained deep. I cried when it appeared he would be wheelchair bound forever. I sank into despair when his level of independence seemed indefinitely compromised.
However, the wound has shrunk to the size of a pinhead, the leg graft placed in his leg that should have lasted only twelve or so months (counting from October 2013) is still doing its job, and he's been walking, albeit with the intermittent assistance of a cane, for several weeks.
He's even back to completing his "favorite" household chore on a regular basis – doing the dishes!
So how does this rough road we have traveled these past months relate to advent?
These pre-Christmas weeks symbolize the advent, or coming, of Jesus Christ into the world, but this year more than ever before, I realize that he's already here!
His compassion sustains even when things look grim and the forward path is grueling to follow.
His comfort brings warmth and light through a long, cold night riddled with doubt and fear.
His healing presence touches the body with a subtle yet incomprehensible power that yields amazing restorative results.
His love wraps the spirit with a protective blanket that enfolds hope inside and walls discouragement out.
Yes, Jesus is coming back in the flesh someday in the future. This advent season, I rejoice in the fact that over the past months, I have gleaned a glimpse of His glorious coming in the many ways He has enriched my life in the present.
Perhaps it is through the trials of adversity that we awaken to the true meaning of advent!