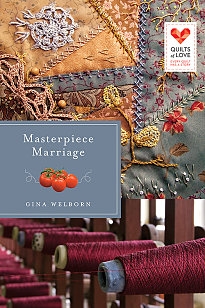 Featured book: Masterpiece Marriage
Author: Gina Welborn
Publisher: Abingdon Press
Genre: Inspirational Historical Romance
Series or stand alone: Quilts of Love Series
Target age: women 18+
I AM PLEASED TO WELCOME AUTHOR GINA WELBORN. SHE SHARES HER LOVE OF RESEARCH AND THE REASONS WHY IT IS ONE OF HER FAVORITE TASKS IN THE WRITING PROCESS.
GINA IS OFFERING A GIVEAWAY OF AN AUTOGRAPHED COPY OF MASTERPIECE MARRIAGE. CHECK BELOW TO SEE HOW TO ENTER TO WIN.
The best thing about being a historical writer is researching.
I love searching through Google Books in hopes of finding some historical tidbit to spark my imagination. Need to know what time a train left Chicago for St. Paul? Google Books has the answer. What poisons in the 19th century could kill a person? Google Books can help. Need an antidote for said poison? Google Books can come to the rescue.
When my agent told me about Abingdon's Quilts of Love Series, I realized the moderate quilting knowledge I had wasn't going to be enough to help me frame a story idea. A search-and-find in Google Books led me to an old Good Housekeeping magazine from the1880s. In it was a life-experience story written by a man named Zenus Dane. His name caught my attention. Some parents actually named their son Zenus. Loved it! What he wrote gave me the beginning point for what is now Masterpiece Marriage, the novel I am honored to have written for Abingdon.
The real-life Zenus Dane hadn't been a quilter nor had he shared his Aunt Priscilla's passion for quilts. (Probably because her closets had been full and thus he had nowhere to hang his clothes when he came to visit. I empathize with that 19th-century man's pain.) For all his lack of appreciation for quilting, Zenus remembered numerous quilts his aunt had made enough to write about them. A patriotic quilt. The log cabin. A bride's quilt. None, though, resonated like her masterpiece.
"There is one [quilt] of the 'set-on' description that has for years been the glory of Aunt Priscilla's life," he wrote. Not only had the quilt won eleven times at different fairs, but the design hadn't come from a pattern. His aunt had just made it up out of her own head. It was a rural scene with a brown house and blue indigo smoke rising from the red chimney. A calico female, her cheeks puffed with cotton, outstretched arms, and blue beads for her eyes. Her turkey red lips stretched from ear to ear. A black calico dog. A purple calico cow. As Zenus wrote about the herringbone and feather top-stitching, I couldn't stop imagining this Frankenstein design made by a master creator who could "see" in her mind the finished product before she'd even begun sewing. Or maybe she hadn't "seen" the end result before she started. Maybe she sewed upon inspiration. Maybe the quilt came to life as she added each new character or layer.
For me, that's how writing is. With Masterpiece Marriage (titled A Bride by Design back then), I began with a basic plot of what my hero wanted, what my heroine wanted, who each were, and what things were standing in their way to achieving happiness. Three characters—Zenus Dane, Mary Varrs, and Aunt Priscilla—were going to drive the story. Oh, a few secondaries would enter in when needed, but the story was my leads. I even knew how I wanted it to end. Then I started writing. Chapter 1 done. Chapter 2 café scene: Mary walks to the intersection, stops, and—
"Mary Varrs! Miss Mary Varrs!"
Those five little words popped up on my laptop screen, and I muttered, "Whoa, where did that come from?" I knew I'd written those words because, well, I was the one typing, but my heroine had no time to have a conversation with anyone. Mary had to find Aunt Priscilla and ask for help drawing her botanical illustrations. Thus I deleted that line of dialogue.
And I couldn't think of another thing to write.
"Why can't I think of something? I don't believe in writer's block. I'll do a quick transition sentence and poof her home."
Only my fingers wouldn't type.
"God, why is this happening to me?"
No answer. And my hair looked like a rat's nest from all the scrunching and twisting and pulling.
"This is stupid." Cue the Beggar's Prayer. "Please, God, help me."
Still a mental blank slate.
"Fine." Begrudgingly I retyped what I'd deleted. That's when I saw Mary in my mind looking over her shoulder and muttering the same sentiments I was having. This person—Arel Dewey—invaded my scene. I didn't want her there. Mary didn't want her there. Good gracious, Arel was a suffragist! (I'm glad women can vote; I just don't like reading about the suffrage movement.)
So why was she there? This Problem Called Arel forced me to adjust my plan for my scene. This Problem Called Arel took my story in a direction I never imagined. This Problem Called Arel eventually became a blessing to me and to my heroine. And I almost deleted her because I didn't want to deal with the unplanned and the volatile that she was. I wanted my story to stay the easy-course.
I rather like my stories going the way I've plotted.
I rather like life going the way I've planned.
I don't want to deal with the unplanned and the volatile. But I don't think God cares too much about my life staying the easy-course, or me being comfortable, or sparing me the unplanned and the volatile. Nor you either.
Sometimes God gives us a real (or metaphorical) writer's block because we need a course change or because He has a new adventure for us. That's scary for me. I don't like the unknown. I was taught not to talk to strangers and I figure that's the safest thing to do even at my age. I like adventures as long as I know what to expect.
But then God throws an Arel at me . . . and one at you.
Like Zenus and Mary in Masterpiece Marriage, we need Arels to push us out of our comfort zones, to help us see our heart's true desire, and to enable us to experience more than what we can imagine. That's a scary good thing.
For we are God's masterpiece. He has created us anew in Christ Jesus, so we can do the good things he planned for us long ago. ~Ephesians 2:10 (NLT)
Book cover blurb for Masterpiece Marriage:
After a flood damages the looms at Zenus Dane's Philadelphia textile mill and the bank demands loan payment, Zenus turns to his aunt for help repurposing his textiles. Trouble is . . . his aunt has already been hired by the lovely yet secretive Englishwoman Mary Varrs. Eager to acquire his aunt's quilt patterns, Zenus attends the summer Quilting Bee, a social event his aunt has uniquely designed with the secret purpose of finding Zenus a wife. However Zenus only has eyes for Mary, but Mary has no such desire for him. Though his aunt is determined to design a masterpiece marriage, both Zenus and Mary will have to overcome their stubborn ways. Can he realize that love requires stepping out of his routine? And will she recognize that following her heart doesn't mean sacrificing her ambition?
LEAVE A COMMENT TO BE PLACED IN THE DRAWING TO WIN AN AUTOGRAPHED COPY OF MASTERPIECE MARRIAGE BETWEEN NOW AND FRIDAY, JANUARY 2ND AT MIDNIGHT MST. DON'T FORGET TO LEAVE YOUR CONTACT EMAIL SO YOU CAN BE NOTIFIED IF YOU WIN! (SORRY, CONTINENTAL US CONTESTANTS ONLY, PLEASE.)
Masterpiece Marriage can be purchased at: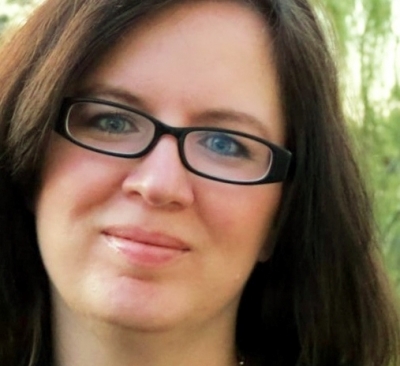 Gina Welborn wrote public service announcements for a news radio station until she fell in love with writing romances. She's written three novellas for Barbour, including the 2014 Selah finalist "Mercy Mild" in the ECPA-bestselling Mistletoe Memories. This year ushers in the release of her novels: The Heiress's Courtship, The Marshal's Pursuit, and Masterpiece Marriage. A moderately obsessive fan of Community, Once Upon a Time, and Chopped, Gina lives in Oklahoma with her pastor husband, their five Okie-Hokie children, a box-lab, two rabbits, four guinea pigs, and a fancy Russian dwarf hamster. She is represented by The Steve Laube Agency. Connect with Gina online:
Go to this previous post on Patti's Porch to learn where Gina finds the ideas for her stories and her characters.