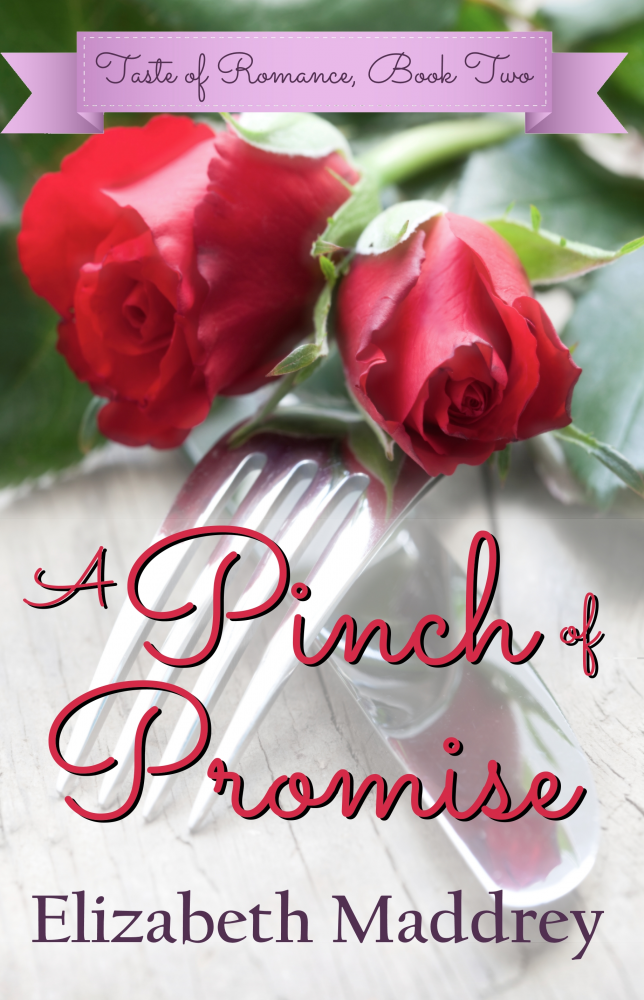 Featured Book: A Pinch of Promise
Author: Elizabeth Maddrey
Genre: Contemporary Romance
Series or Stand alone: Book 2 in the Taste of Romance Series
Target age: adult women (28-35ish?)
AUTHOR ELIZABETH MADDREY JOINS US TODAY. SHE BRINGS US AN EXCLUSIVE INTERVIEW WITH BEN TAYLOR, THE HERO OF A PINCH OF PROMISE, HER LATEST RELEASE.
ELIZABETH IS OFFERING A GIVEAWAY OF AN EBOOK COPY OF A PINCH OF PROMISE. CHECK BELOW TO SEE HOW TO ENTER TO WIN.
Thanks to Patti for giving me a chance to bring Ben Taylor, the hero of my latest release, A Pinch of Promise, along with me for an interview. I hope you'll enjoy getting to know a little bit about him.
Me: Hi, Ben. Thanks for coming. Have a seat.
Ben: Sure. Thanks for having me. What can I do for you?
Me: We're going to just chat for a bit, give everyone a chance to know you a little better. What's up with the leg brace? Are you injured?
Ben: Ugh. Yeah, I tore my ACL, had surgery last week and my first physical therapy appointment is in about an hour. I'm looking forward to being able to drive again. And not being in pain would be good, too.
Me: I imagine so. How'd you mess up your knee that badly?
Ben: Playing football with some guys after church. I...don't really want to talk about it.
Me: Okay. Got it, we'll move on. Rumor has it that you've been in love with a girl from summer camp ten years ago. How's that relationship going?
Ben: You need to get a better rumor source. I mean, I did meet a girl and fall in love with her ten years ago. But then she disappeared. I tried to keep in touch—she'd promised that we would. But...nothing. So it's not like I'm carrying a torch.
Me: Ahh. Sorry. So tell me about your current love life then.
Ben: Well...there's not a lot to tell.
Me: Why's that? You're young, handsome, and very polite. Surely you can...
Ben: Okay, okay. I'm still in love with her and no one measures up. Happy?
Me: Very. It's good to know yourself. So...what would you do if met her again?
Ben: Like that's going to happen.
Me: Humor me.
Ben: Hm. Okay, well, I'd ask her out, see if it was possible to pick up where we left off.
Me: You wouldn't be curious about where she's been for the last ten years?
Ben: Oh, I would be. But how bad can it be? Anyway, it's unlikely to happen.
Me: Fair enough. Tell us a little about you apart from your love life then.
Ben: Well, I work for an international hunger relief agency. We help provide clean water, food, that sort of thing to people around the world who don't have them. It's incredibly rewarding work. I live with two guys from my church, it's great that they've become good friends. We have fun together...though Jackson has a steady girlfriend now, so he's not probably going to be rooming with us much longer.
Me: Sounds like fun. Anything else you'd like to add?
Ben: Not really. And I should probably get on my way, PT awaits.
Me: Sure thing. Thanks for coming by. And hey, don't give up on finding that girl. You never know what God has in store for you.
Thank you for stopping by to spend some time with us, Elizabeth, and for bringing Ben with you!
LEAVE A COMMENT TO BE PLACED IN THE DRAWING TO WIN AN EBOOK COPY OF A PINCH OF PROMISE BETWEEN NOW AND FRIDAY, JUNE 26TH AT MIDNIGHT MDT.
Elizabeth Maddrey began writing stories as soon as she could form the letters properly and has never looked back. Though her practical nature and love of math and organization steered her into computer science for college and graduate school, she has always had one or more stories in progress to occupy her free time. When she isn't writing, Elizabeth is a voracious consumer of books and has mastered the art of reading while undertaking just about any other activity. She loves to write about Christians who struggle through their lives, dealing with sin and receiving God's grace.
Elizabeth lives in the suburbs of Washington D.C. with her husband and their two incredibly active little boys. She invites you to interact with her in cyberspace: