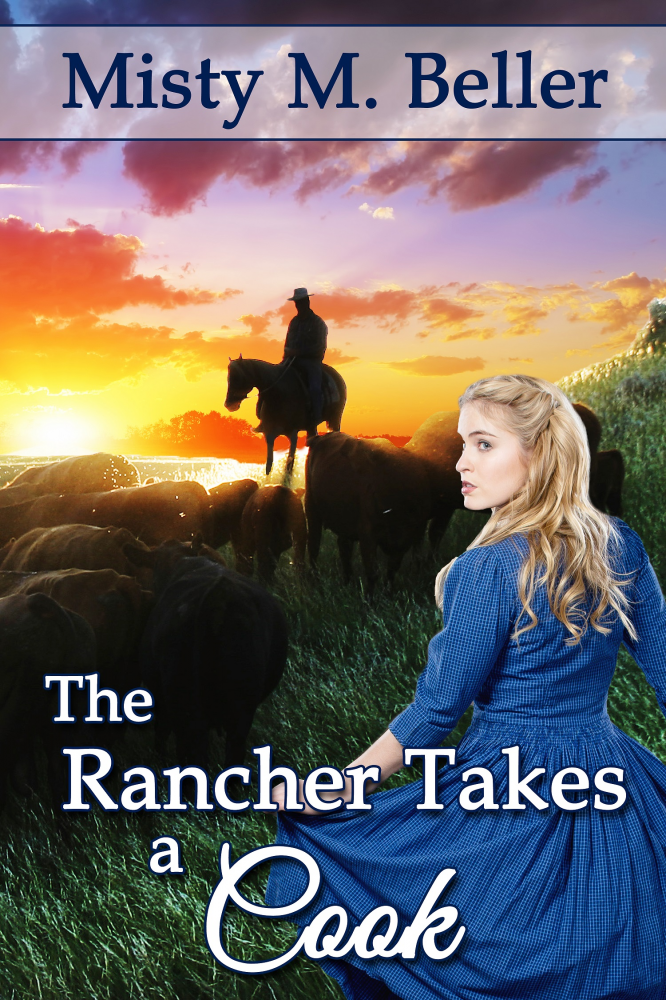 Featured book: The Rancher Takes a Cook
Author: Misty M. Beller
Publisher: Prism Book Group
Genre: Christian Historical Romance
Series or stand alone: Book 1 in the Texas Rancher Trilogy
Target age: Adult, 25+
I'M EXCITED TO WELCOME AUTHOR MISTY BELLER. MISTY HAS STOPPED BY TO GIVE US A GLIMPSE INTO HER WRITING AND HER LIFE.
MISTY IS OFFERING A GIVEAWAY OF THE RANCHER TAKES A COOK (WINNER'S CHOICE OF EBOOK OR PRINT COPY) . CHECK BELOW TO SEE HOW TO ENTER TO WIN.
Welcome, Misty! Tell us a little about what you write.
I tend to be a bit of a sentimentalist, so Historical Romance is perfect for me! I love the simpler life, where there's no rat race. Just hard work, plenty of alone time (can you tell I'm an introvert?), and a strong family unit. My stories usually center around horses and ranching, which comes from my love for the animals. I was completely horse crazy growing up, and actually trained and showed horses professionally for a couple years after high school.
Sounds like my kind of book! What would you like readers to gain from reading your books?
I once heard James Rubart say that every pastor only has one sermon, and the same is true with writers. In other words, there's one big-picture theme that pours from each of our hearts and into our writing. For me, it's the message that trusting God's plan for our lives brings us to a better place than we could ever imagine. Each of my heroes or heroines may have different hang-ups that keep them from allowing God to take the reins, but I want my readers to get a glimpse of the amazing outcome when we finally release our lives into God's capable hands.
A lesson we all need to learn. How do you personally handle "writer's block?"
Writer's block is no fun, but it's part of writing!
If I know basically how the scene should go, but I'm just having trouble putting decent words together, my only cure for writer's block is forcing myself to sit at the computer and WRITE! The words are usually crummy, but I give myself short 100 word goals. After I get through the first 200-300, things usually get easier.
If I have writer's block about how the story should go, sometimes it helps to sit at the computer and brainstorm every possible way this scene could unfold. Some of the things on my brainstorm list are unbelievably dull, and some are pretty far out there! I always come up with a scene I love, though.
Great suggestions! Do you have any advice or tips for aspiring writers?
There are so many things that spring to mind! Some I've learned from wise writers. Some from my heavenly Father. And some from doing it the hard way. J If I had to narrow down my experience into advice, these are the three things I would share:
Seek: Read books on craft. Join a writer's organization. Make friends with other writers and develop connections. Seek to learn everything you can about this wonderful world of fiction!
Work: Writing takes so many hours of typing and plotting and editing. You may feel it will never end. But enjoy the journey, even the hard times. I heard a quote today that really hit home for me. "Happiness is counting your blessings for the good things where you are right now." We all need goals, but the joy truly can be in the journey.
Pray: Seek God's face and His direction for your writing. If you're in His will, He will bless the work. His blessings may be a different outcome than you expected, but I promise it will be wonderful!
Thank you for sharig these useful tips. Who were some of your favorite authors as a child?
Oh my… I read every single one of the Mandie series by Lois Gladys Leppard, many of the Nancy Drew books, and every book about horses in any of the libraries around our home—fiction or non-fiction!
Nancy Drew books were among my favorites as well. Tell us 3 things your readers might not know about you.
I was a music major my first year in college: Sacred Music, Piano Concentration
Graduated from high school when I was 15.
I trained horses and riders professionally for a couple of years.
A 15-year old high school graduate! Wow, that's amazing! Do you have a nickname?
I'm a Mountain-Dew-aholic, much to my husband's dismay. In fact, I'm affectionately known as "Dewy" by some of my close friends.
Thank you so much, Misty (or Dewy!) for stopping by the porch!
Back Cover Blurb for The Rancher Takes a Cook:
When their South Carolina home burns to the ground, Anna Stewart's only choice is to move with her younger brother to the wilds of a Texas ranch.
Their prospects are beginning to look better, until the rancher's son, Jacob O'Brien, shows up with his alarmingly blue eyes to put a kink in Anna's well-controlled plans.
When danger escalates in the form of a band of cattle thieves with deadly intent, can Anna learn to release control to God's capable hands…and those of the blue-eyed cowboy who's stolen her heart?
LEAVE A COMMENT TO BE PLACED IN THE DRAWING TO WIN A PRINT OR EBOOK COPY (WINNER'S CHOICE) OF THE RANCHER TAKES A COOK BETWEEN NOW AND FRIDAY, JULY 10TH AT MIDNIGHT MDT.
Misty M. Beller was raised on a farm in South Carolina, so her Southern roots run deep. Growing up, her family was close, and they continue to keep that priority today. Her husband and two daughters now add another dimension to her life, keeping her both grounded and crazy.
God has placed a desire in Misty's heart to combine her love for Christian fiction and the simpler ranch life, writing historical novels that display God's abundant love through the twists and turns in the lives of her characters.
Connect with Misty on the web:
heck out her books The Lady and the Mountain Man or The Lady and the Mountain Doctor. Her latest book, The Rancher Takes a Cook, released June 26, 2015, from Prism Book Group.