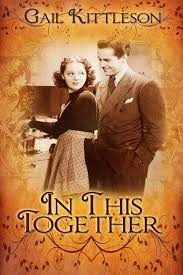 Featured book: In This Together
Author: Gail Kittleson
Publisher: Wild Rose Press
Genre: Women's Fiction
Series or stand-alone: Stand-alone
Target age: women 40+
IT IS MY PLEASURE TO WELCOME MY LONG TIME INTERNET FRIEND AND AUTHOR GAIL KTTLESON TO PATTI'S PORCH. GAIL CELEBRATES THE UPCOMING RELEASE OF HER DEBUT NOVEL, IN THIS TOGETHER. HERE, SHE SHARES THE CHARACTERISTICS OF A CLOSE-TO-YOUR-HEART HEROINE.
Close-to-Your-Heart-Heroines
When I'm seeking a good read, characters are my main consideration. The plot doesn't have to be wild or complicated, although sometimes they are. In fact, if I want to relax with a book, a crazy plot doesn't help at all. What I'm looking for is characters.
Even one solid character does it for me—I want to share her world for a while. Having spent a great deal of time with the heroine of my debut novel, In This Together, I can say that Dottie is that kind of woman. (Or gal, as they said back during her time.)
If you wanted a best friend forever, Dottie Kyle would be your woman. Humble, reliable, and a hard worker, she lives right down the street (or road). After she and her husband reared three children with the usual ups and downs, World War II took her son. And it also took her youngest daughter Cora, just out of high school.
After high school graduation, Cora moved to California to do her bit in a war factory, met a sailor, and settled in the golden state. Dottie's never even seen Cora's two beautiful little children, although like most Grandmas, she longs to.
When her husband died right after the war, Dottie took a job at a local boarding house—she mostly enjoys her work, except for her bum knee on three steep sets of stairs. But when her employer hires another worker, trouble brews, and Dottie must choose whether to stand up for justice or plod along against her conscience.
By that time, she becomes aware of the unexpected attentions of her quiet widower neighbor Al, who was married to her best friend, a cancer victim. If this weren't enough, Cora telephones with news of her third pregnancy. With a baby and a toddler, she needs her mother desperately.
Since I recently learned of the release date for Dottie's story, In This Together, she's uppermost in my mind right now. The World War II era has always intrigued me, with its never-ending host of powerful stories, and when Dottie started relating hers to me, I couldn't put down my pen (or computer).
What I love most about her is the way she discovers her own resilience bit by bit, like Miss Julia in Miss Julia Speaks Her Mind. And isn't that the way it is with us? As Eleanor Roosevelt said,
Women are like tea bags, you never know how strong
they are until they're put in hot water.
Most likely, we can all relate to that statement. How many times do we think we simply can't handle a certain something, and then that something hits. And we handle it. Maybe not gracefully, maybe not gratefully, but handle it, we do.
Living through World War II would challenge anyone, but the after-effects continued in the lives of ordinary, everyday citizens like Dottie. I'd love to hear about some of your favorite novel characters—is there one in particular that has become a real comrade?
In This Together is scheduled for release on Nov 18, 2015.
Book blurb for In This Together:
Dottie Kyle's world centers on hard work. When World War II steals her son and she loses her husband soon after the Allied victory, her job at Helene's boarding house gives her a reason to wake up in the morning. But when her daughter in California experiences complications in her third pregnancy and needs help with the little grandchildren Dottie longs to meet, old fears of closed-in spaces hinder her from embarking on a cross-country train trip.
Meanwhile, unexpected challenges arise at work, and Dottie's next-door widower neighbor Al's sudden attention becomes obvious. Could he hold the clue to conquering anxieties that have her in a stranglehold?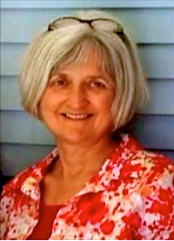 After teaching college expository writing and ESL, Gail and her husband live in rural northern Iowa, where she facilitates a small writing class … small but powerful!
In winter, Arizona Ponderosa forest country provides even more novel fodder. Gail enjoys writing, reading, hiking, biking, meeting strangers, leading writing workshops, and re-connecting with old friends - please feel free to contact her at her website, on Facebook, or via email.