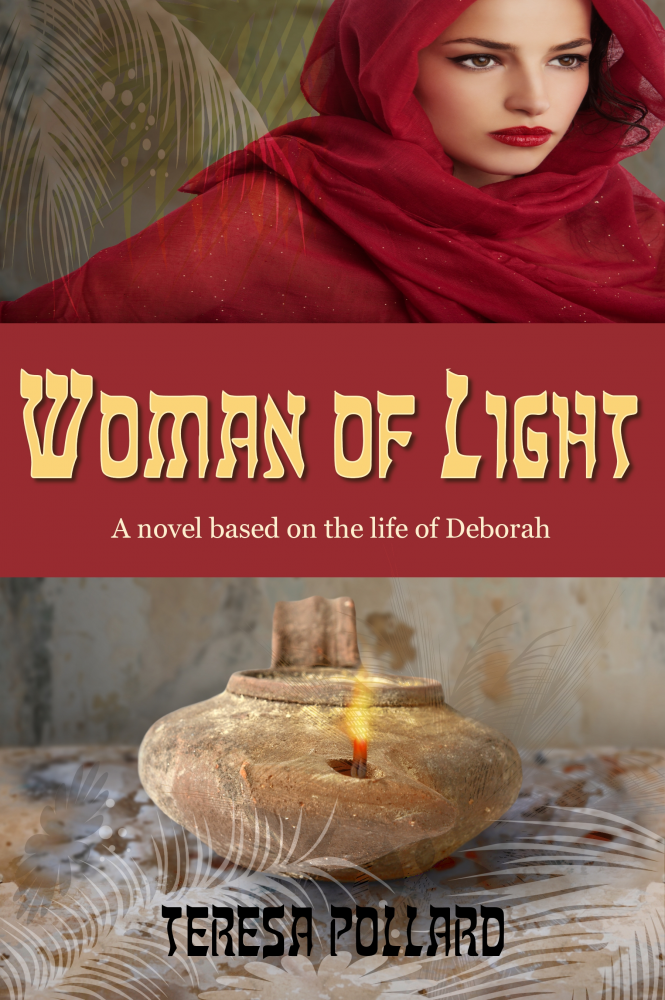 Featured Book: Woman of Light
Author: Teresa Pollard
Publisher: HopeSprings Books
Genre: Biblical fiction
Stand alone or series: Stand Alone
Target age: Adult ladies
I'm pleased to welcome multi-published author Teresa Pollard. Teresa shares the reason why we can rejoice in the fact that Jesus lives!
Because He Lives
My Pastor, Reverend Kevin Miller of Hebron Baptist Church, led our congregation this Sunday in an acapella rendition of Because He Lives. Of course he had no idea that this has been my favorite song for many, many years now. When the Gaithers first brought it out, I immediately fell in love with it, but then our choir began to sing it so often that, I'll admit, I got kind of tired of hearing it. Then…my godmother died, and three weeks later, my grandmother also died.
As the tears flowed down my cheeks, I began to sing. Because He lives, I can face tomorrow. Because He lives, all fear is gone…
Many years later, I went on a mission trip to Honduras. There I sang for the people, Porque El Vive (Because He Lives) as I shared my testimony in Spanish with them. It had been a lot of years since I'd studied Spanish, but God had provided a native Spanish speaker to help me prepare the testimony.
This has been a hard week in American history. Once again, Christians have been martyred by a madman for their faith in Jesus. Somehow we just don't expect that to happen here. We don't really know what real persecution is. But it's coming more and more often. We aren't exempt. But as the song says, Because He lives, all fear is gone (Porque El vive, ya no hay temor.) We don't have to be afraid!
The Bible tells us not to fear those who are only able to take the body, but rather to fear Him who is able to destroy both the soul and body in hell. (Matt. 10:28) Those nine people passed the ultimate test! We can be assured that they are safely in the arms of Jesus, and if they've not already received it, will one day wear a special martyrs crown for their suffering!
That doesn't make it easy! But it does make it worthwhile! The theme of my new novel, Woman of Light, is the power of praise to get us through our darkest days. I'd never really thought about it before, although I'd been doing it most of my life. I've always loved to sing. But it never really occurred to me how much the Israelites sang too. Have you ever realized how much of the Old Testament was songs?
We know, of course, that most of the book of Psalms was written to be sung, but that's also true of Judges 5 as well as Exodus 15. It may be true of other passages as well. Music lifts our hearts in praise and communion with our Heavenly Father. We can't really harbor bitterness or anger or resentment when we're praising God. There's a contemporary song that says There is power in the Name of Jesus. It's especially true when we lift our voices and our hearts in praise. He lives, and because of that, nothing and no one can ever take that away.
Back cover blurb for Woman of Light
Ehud, Israel's great judge, is dead. He must have been out of his mind with sickness to prophesy that his granddaughter Deborah would judge Israel. Just who does she think she is? Doesn't she know Sisera's iron chariots threaten to annihilate the fledgling nation? And Barak? A poor man who can barely feed his own family. What kind of a God would choose two such improbable people to lead His people to battle?
Pre-order Woman of Light here
Amazon links:
Teresa's books on Hope Springs.
Teresa Pollard is from Richmond, Virginia, and was saved at a young age. She has a Master of Arts degree in English and Creative Writing from Hollins College, and has served as a Sunday School teacher and children's worker for most of the last forty years.She is the co-author of Not Guilty and Not Ashamed, and the author of Tokens of Promise and Woman of Light, (due out from HopeSprings Books in October). Married for forty years, she was devastated by divorce and the death of her youngest daughter, but God has blessed her with a new home and another grandson. She now resides in Dacula, Georgia.Visit her blog, where she adds new content every Tuesday and follow her on Facebook.