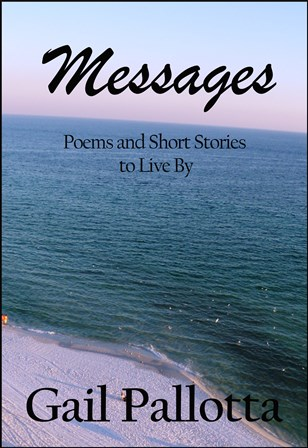 TITLE OF BOOK: Messages: Poems and Short Stories to Live By
AUTHOR: Gail Pallotta
PUBLISHER: Create Space
GENRE: Literary poetry and fiction
SERIES OR STAND ALONE: Stand alone gift book
TARGET AGE: 16 – 65+
GAIL IS ONE OF MY MANY CYBER AND WRITER FRIENDS! AS WE ENTER THE NEW YEAR, GAIL TALKS ABOUT SURPRISING DEVELOPMENTS SHE DIDN'T EXPECT IN 2015 AND SHARES PLANS FOR 2016.
GAIL IS OFFERING A KINDLE GIVEAWAY OF MESSAGES: POEMS AND SHORT STORIES TO LIVE BY. SIMPLY LEAVE A COMMENT BELOW TO ENTER THE DRAWING.
Happy New Year everyone!
A new year gives us a fresh start and something to look forward to. It's no wonder many of us make New Year's resolutions. We share some of our good intentions with friends, and others rattle around in our heads unspoken. However, each brings its own hope for the next twelve months. Some come to fruition, and others end up lost in life's day to day hassles.
Sometimes, a new year gives us time for reflection. In making my New Year's resolutions, I'd like to stay as close to God as possible. In thinking back on 2015, I see not only accomplishments that fell flat, but also unexpected pleasures. I joined a church that didn't exist at the start of 2015! My daughter is engaged to a great guy we didn't know in January of 2015.
At the beginning of 2015, I had no idea I'd publish a book called Messages: Poems and Short Stories to Live By. I've been told not to say that God told me to write a book, because more than likely the publisher will tell me God didn't tell them to publish it.
In the case of Messages, I'll say that in spite of me and my shortcomings, God intervened.
I'm a computer klutz, so as much as I admire those who self-publish, it scares the daylights out of me. As a result, I don't generally have the Adobe program used for self-publishing. However, I needed it to edit a PDF manuscript and purchased it for one month. Being a person who hates to waste anything, I wondered what else I could do with it. For quite some time, I'd pondered organizing a short story anthology. Yet, I'd only finished some of the titles.
Over the years I'd written quite a few poems. I'd been told they were lovely poems, but the market for them was so small. I dismissed the idea of publishing anything, but the poems and stories I had completed kept popping in my head. I sent the poems to my writing partners, and they encouraged me to proceed. I took one step at a time, not sure how or if I'd take the next one. Finally, I compiled and formatted Messages.
Then, I found a picture I'd taken from a twelfth story balcony in Destin, Florida. I downloaded a program for creating covers, but something went askew in the process, and I couldn't access it. For several days I looked at stock photos and fretted. I almost ditched the idea of putting out the book, but I decided to send the photo I really wanted to use to my writing partners to see if it had enough pixels. I had no idea what I'd do if it did. Maybe I could find a way to access the program mocking me every time I clicked on it.
Well, Mildred Colvin sent back a cover. That did it. I had to publish the project.
The result is a gift book of short stories and poetry, including history, romantic love poems, the paranormal and day to day living.
I can't help but wonder what surprises wait for me in 2016, and I wish many wonderful surprises for all of you.
Blurb for Messages
Find inspiration for our hectic times in these straight-forward poems for happy and sad days.
Find history, warmth and a touch of the paranormal in three stories.
Getting the Goat peeks into the early 1900's when mountain life was tough. Does Mama's advice hold true today?
In Stitches in Love Rose's deep love for her grandmother motivates others to share their gifts. Does Rose reap her reward?
Robert Horner is tempted in The Stranger, but does he succumb to the lure?
Buy Messages on Amazon
DON'T FORGERT TO LEAVE A COMMENT TO BE PLACED IN THE DRAWING TO WIN A KINDLE COPY OF MESSAGES: POEMS AND SHORT STORIES TO LIVE BY BETWEEN NOW AND FRIDAY, JANUARY 15TH AT MIDNIGHT MST.
Award-winning author Gail Pallotta's a wife, Mom, swimmer and bargain shopper who loves God, beach sunsets and getting together with friends and family. A former regional writer of the year for American Christian Writers Association, she won Clash of the Titles in 2010. A 2013 Grace Awards finalist, she's been a best-selling author on All Romance eBooks. She's published three books, poems, short stories, and several hundred articles. Some of her articles appear in anthologies while two are in museums. Connect with Gail: