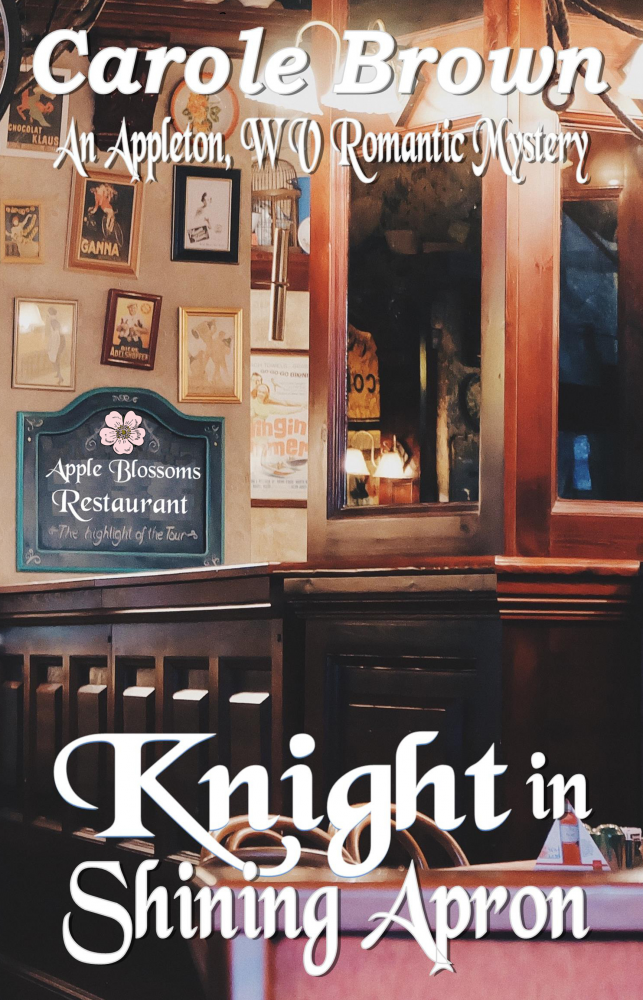 Featured book: Knight in Shining Apron
Author: Carole Brown
Publisher: Story and Logic Media
Genre: Romantic Mystery
Series or Stand Alone: Series (Second book)
Targeted Age: 15 – 100
IT IS A PLEASURE TO RESUME PATTI'S PORCH, AFTER A FEW WEEKS HIATUS, WITH GUEST AUTHOR CAROLE BROWN. CAROLE SHARES SOME ASPECTS OF A CONFERENCE EXPERIENCE (TIMELY WITH ACFW CONFERENCE AROUND THE CORNER!) AND GIVES US INSIGHT INTO FRIENDSHIP.
CAROLE IS OFFERING A GIVEAWAY OF KNIGHT IN SHIINING APRON. SIMPLY LEAVE A COMMENT BELOW TO ENTER THE DRAWING.
It's So Easy to Hide!
A man that has friends must show himself friendly.
Make no friendship with an angry man; and with a furious man don't approach.
Greater love has no man than this: that a man lay down his life for his friends.
--All from the Proverbs
I was at a large conference, practically an unknown, and certainly, a pre-published author, a bit overwhelmed with all the joyous greetings and hugs going on around me. I knew few people, but had signed up with the hope of learning the ropes and the rules of authorship. Had I made a mistake?
I could very well have nodded my head and headed for my room to pack and run home like a wolf being put in its place in its pack.
But I didn't.
Friends are the bacon bits in the salad bowl of life.
In days, I had one just-published author offer extra batteries to me when she overheard me asking at the reception desk if they had any for sale or knew where I could quickly get some. Another time a beginning-to-be-seasoned author stepped up to me while I was browsing and spent a minute or two talking to me and being friendly. Another one spent a little time with me listening as I offered ideas I had for a plot and offered encouragement. Two multi-published authors offered sincere praise on a novel I'd written, saying they definitely wanted to see the novel published. And on and on . . .
As an author, I tend at times to hang back when I'm with a crowd of mostly unknowns. Do you? Do you consider yourself more of an introvert than an extrovert? Is it easier to let someone else do that task than to step out into the unknown and attempt it? Many authors readily admit to these or similar feelings.
Strangers are just friends waiting to happen.
What does it take to have friends?
Be friendly. Smile. Listen. Share. Be yourself. Don't try to pass yourself off as someone better or more important than you are. Later, the other person will find out anyway who and what you are, so relax. Don't hog the conversations and never bore others with your woe-is-me illustrations and problems.
What does it take to make friends?
Step out of your comfort zone and speak to one person. You don't have to tackle everyone in the conference room. Zoom in on one or two people. Ask questions and then listen when someone answers. Never assume a person is not worthy of your friendship because they're pre-published or uneducated or some other factor that seems important to you. Everyone is valuable. Also remember, not everyone will turn out to be a best friend. Test the waters. You'll soon feel the comradeship if you're meant to be friends.
What does it take to be a friend?
Be faithful, be loyal, be caring. Never take the other person's trust for granted. If something is told to you in confidence, keep that confidence with all your might. If they want it told, let them do it. It's not YOUR place to share. Be honest but gentle. Stand up for your friend when needed. Care for his needs, his struggles, his disappointments.
Let me lean on you, and you lean on me, and we'll be okay. --Dave Matthews Band
In the second book of my Appleton, WV Romantic Mystery series, A Knight in Shining Apron, Starli Cameron is best friends with two others: Toni DeLuca Douglas (featured in Book One: Sabotaged Christmas) and Caroline Gibson (who will be featured in Book Three: Undiscovered Treasures, coming next year). Their friendship has been lifelong and enduring. They've seen each other through problems and sorrows. They've entirely different personalities and likes and habits, yet they stand firm in supporting each other.
In Starli's story, she suffered abuse from her deceased husband when he was alive. They went through her past marital anguish with her, encouraging her and letting her know she was not alone. Now his younger brother has come back to haunt her with threats. Toni and Caroline stand firmly beside her, ready to step up if Starli needs them to help stop his hassling. They make no bones about where they stand and how far they will go to protect her.
We all take different paths in life. But no matter where we go,
we take a little of each other everywhere. --Tim McGraw
I'd like to leave you with my thought about friendships. I've made a lot of friends through the years, and I value most of them. Here's how I categorize them (And because I do, doesn't mean they aren't important. They are, just in different ways):
Top Priority Besties: God and my husband. These two I know I can always talk to, can share anything--good or bad, and truly be myself with them, with no hesitation or worries about what they will think of me.
Besties. There are only a handful of them. They are dear to my heart and share many of my thoughts, feelings and much of my life as I do theirs. We laugh and enjoy the company of each other with the freedom in knowing we truly are friends that care.
Warm Friends (or Surface Friends). These are the ones that I share minor incidents with. I laugh and joke, but always realize that I seldom go deeply into any topic with them. They are wonderful, sharing people, but for one reason or another, we've never grown closer, whether it be because of circumstances, life, or distance.
Long Distance Friends. These people are people who we've met, loved, or with whom we've shared a few of life's happenings. It can be long ago school mates, who, though we seemed to be great friends then, have grown apart. It could be we met, have kept loosely in touch, but seldom see each other. Or it might be our interests and habits that keep us from growing any closer.
A Friend is someone who knows the song in your heart
And can sing it back to you
When you've forgotten the words.
-- unknown
Remember, "there is a friend who sticks closer than a brother." And Jesus is his name.
Blessings!
Knight in Shining Apron Cover Blurb:
Starli Cameron gave up her career plans to be a concert pianist to marry the man of her dreams. He turned out to be a nightmare. When he dies in a car accident, Starli takes the insurance money and builds a successful and upscale restaurant: Apple Blossoms in rural West Virginia. Threats from someone determined to ruin her life and the suspicious romantic advances from her new chef force Starli to search her heart and finally turn to God for real healing.
Sir Joel Peterman-Blair, top notch chef from England, is roped by his uncle, into filling in as head Chef at Apple Blossoms. Joel, with his sanguine-personality, has always laughed and flirted his way through life. But now, confronted with and attracted to the most beautiful woman he's ever met, Joel has to prove his sincerity and depth of character to his icy-cold employer. Can his love for God and for this woman reach out far enough to rescue her from her own mistrust and bitterness? Will he learn that life is not all play?
And can they both work together to find the source of threats that seem to be coming from Starli's past?
DON'T FORGET TO LEAVE A COMMENT TO BE PLACED IN THE DRAWING TO WIN A COPY OF KNIGHT IN SHINING APRON BETWEEN NOW AND FRIDAY, AUGUST 5TH AT MIDNIGHT MDT.
Besides being an active participant of many writing groups, Carole Brown enjoys mentoring beginning writers. She loves to weave suspense, tough topics, romance and whimsy into her books, and is always on the lookout for outstanding titles and catchy ideas. She and her husband reside in SE Ohio but have ministered and counseled nationally and internationally. Together, they enjoy their grandsons, traveling, gardening, good food, the simple life, and did she mention their grandsons?
Connect with Carole online: