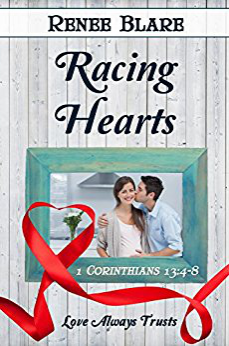 FEATURED BOOK: Racing Hearts, A Love Trusts Novella
AUTHOR'S NAME: Renee Blare
PUBLISHER: Prism Book Group
GENRE: Romance
STAND ALONE OR SERIES: "Love Is" Series, Book 12
TARGET AGE: 17+
IT IS A PLEASURE TO WELCOME AUTHOR RENEE BLARE. RENEE SHARES WHY SHE WROTE A BOOK THAT EXPLORES THE SUBJECT OF LOVE.
RENEE IS OFFERING A GIVEAWAY OF AN EBOOK COPY OF RACING HEARTS. SIMPLY LEAVE A COMMENT BELOW TO ENTER THE DRAWING.
What is Love?
by
Renee Blare
Life isn't easy. Love isn't easy. But God is faithful and love trusts.
As many of you may know, I recently published a book called Racing Hearts. The story explores the very subject of Love. It explores love at its most basic and rudimentary level, both maternal and marital.
Before I began writing Racing Hearts, I asked myself this question—what is love? It truly is an incredible question. I pondered and researched for many weeks. I considered many avenues and definitions.
You see, today's society warps love into lust and performance whereas God's love is unconditional and powerful. I could write a book about what society deems it to be, or I could write a book about God's meaning. I chose God's.
But I needed a way to show the amazing, beautiful, unconditional, forgiving, redeeming, powerful love of God. I also had to relay how His love moved in the lives of people who put Him first, no matter what.
Life isn't easy. Love isn't easy. But God is faithful.
In the end, I came home. My own past became the illustration.
Racing Hearts is a touching tale of a young Christian couple. They are full of love for each other and the Lord and set off on an adventure of a lifetime to Jackson, Wyoming. They recently discovered they're expecting a child, and, even though they're under serious financial stress, they're excited to meet the challenges head-on. That is, until complications from the pregnancy arise, and their world crumbles around them.
This is a true story. It's based on my one and only pregnancy with my son. This life and death struggle brought me, my husband, James, and my young marriage rapidly to the "trusting" point. I learned that any lie, no matter how big or small, had consequences. It hurt both of us. It hurt God. It hurt my unborn child. I grew up—fast…in maturity, in my marriage, in my walk with Christ.
Life isn't easy. Love isn't easy. But God is faithful and love trusts.
1 Corinthians 13:5-8 (NKJV)
1Co 13:4 Love suffers long and is kind; love does not envy; love does not parade itself, is not puffed up;
1Co 13:5 does not behave rudely, does not seek its own, is not provoked, thinks no evil;
1Co 13:6 does not rejoice in iniquity, but rejoices in the truth;
1Co 13:7 bears all things, believes all things, hopes all things, endures all things.
1Co 13:8 Love never fails. But whether there are prophecies, they will fail; whether there are tongues, they will cease; whether there is knowledge, it will vanish away.
Racing Hearts Blurb:
Full of hope for the future, a young couple sets off on an adventure and welcome their new home with open arms. The lakes sparkle, the mountains glisten, and deep within, the seed of life grows. But challenges arise in their newfound paradise and soon, their love faces a trial of almost insurmountable odds.
For the two Christians, placing the fate of their unborn child in the hands of God seems rather easy, but trusting each other? Now, that may prove to be the largest challenge of all…as hearts race in the Rocky Mountains.
DON'T FORGET TO LEAVE A COMMENT TO BE PLACED IN THE DRAWING TO WIN AN EBOOK COPY OF RACING HEARTS BETWEEN NOW AND TUESDAY, NOVEMBER 15TH AT MIDNIGHT MST.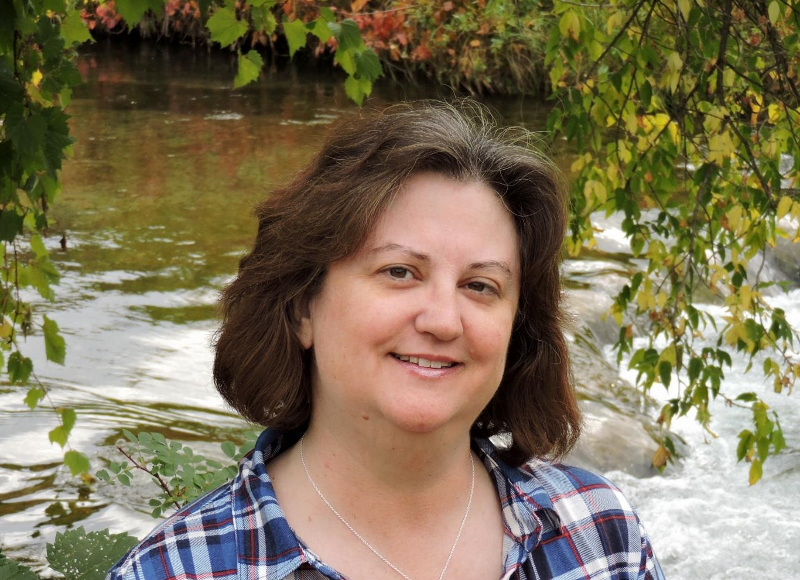 Raised in Louisiana and Wyoming, Renee Blare began writing poetry in junior high school. After having her son, a desire to attend pharmacy school sent her small family to the University of Wyoming in Laramie, and she's been counting pills ever since. While writing's her first love, she also likes to fish and hunt as well as pick away on her classical guitar.
Once again in the foothills of the Wind River Mountains with her husband, crazy dogs and ornery cat, she serves her small community as a pharmacist and pens her stories any chance she can get. She loves to interact with readers and invites you check out her website, blog, and social media.