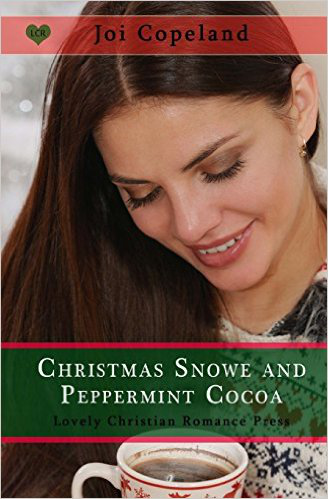 FEATURED BOOK: Christmas Snowe and Peppermint Cocoa
AUTHOR'S NAME: Joi Copeland
GENRE: Christian Romance
STAND ALONE OR SERIES: Series
TARGET AGE: 12 and up
I AM PLEASED TO WELCOME AUTHOR JOI COPELAND. DO YOU FIND IT DIFFICULT TO TRUST YOUR CHILDREN TO GOD? JOI SHARES THOUGHTS ABOUT THE AGONY MARY MUST HAVE EXPERIENCED AS SHE ENTRUSTED HER BELOVED SON, JESUS, TO GOD'S SALVATION PLAN.
JOI IS OFFERING A GIVEAWAY OF READERS CHOICE OF HARD COV ER OR EBOOK COPY OF CHRISTMAS SNOWE AND PEPPERMINT COCOA. SIMPLY LEAVE A COMMENT BELOW TO ENTER THE DRAWING.
Snow is falling from the sky. Lights on my Christmas tree are twinkling, and a fire is roaring in my fireplace. My family and I just returned from volunteering at our churches Christmas Express, an outreach designed to share the love of Jesus with the community in which we live.
Tonight, while volunteering, my boys received some news. My two seventh grade boys auditioned for Peter Pan and discovered they did not get the parts they tried out for. One wanted Peter while the other was hoping for Mr. Smee.
One son was quite pleased with his new part, John Darling. The other struggled with his, Mr. Darling. It was difficult, as his mom, to watch his face fall when I told him the news. The hope in his eyes as he saw me walk up to him fell when I shook my head. Needless to say, he was crushed. I watched my son go through a tidal wave of emotions. And I could do nothing to stop it from happening.
I wonder how Mary felt, watching the Son of God go through His life, unable to stop the bad things from happening. I know a bit, of course, being a mom myself. More often than not, I have to push down the Mama Bear fighting to break free when someone hurts my babies. (who, by the way, are 12, 13, and 14. They would not enjoy me fighting for them like I used to).
How did Mary feel when the Romans led Jesus away? Did she want to storm in their midst, ready to do battle with anyone who tried to hurt her firstborn? If a sword was available, would she have used it?
Many times in my job as a mom, I've cried out to God, "You love him more than I do. Why aren't you stopping this from happening?" To which God gently, yet firmly replies, "I know more than you. Trust Me."
Ugh. Trust. A five letter word. Easy to spell. Hard to do. But every day I wake up, I have to release my boys to God's loving hands. They are His, first and foremost. So, when difficult things happen, I get on my knees and pray. That's the best way to fight for my kids. And God answers, in His time, in His way.
When Mary cradled the baby next to her breast, did she know her baby boy would be allowed to die on the cross for our sins? As she brushed her lips across His face, did she even fathom blood pouring down from the crown of thorns?
When Jesus was dragged away, did Mary get on her knees, begging God to save her Son from the hands of the Romans? Did she cry out to God, confused, angry, and unsure what His plan was?
I can't imagine what she went through, watching her Son die for mankind. I don't know that I could do it. I'm no Mary. But I am so thankful for the sacrifice. Jesus, Savior of the world, come down as a sweet baby. During this season of Christmas, may we remember the baby boy turned Man, who gave Himself for us. Trust Him no matter what we are going through. Because God knows. He sees the future. He asks us to trust.
Christ-child. Emmanuel. God with us.
DON'T FORGET TO LEAVE A COMMENT TO BE PLACED IN THE DRAWING TO WIN A COPY OF CHRISTMAS SNOWE AND PEPPERMINT COCOA BETWEEN NOW AND TUESDAY, DECEMBER 20TH AT MIDNIGHT MST.
Joi Copeland is married to a wonderful man, Chris, and has three amazing boys, Garrison, Gage, and Gavin. She lives in Denver, Colorado, but within the year, hopes to be living in Galway, Ireland.
Joi's love of writing began at a young age. She wrote short stories for several years, and in 2009, she began writing her first novel, Hope for Tomorrow.
Joi's books include:
Hope for Tomorrow, book 1
Hope for the Journey, book 2
Hope from the Past, book 3,
Letters of Love
Christmas Snowe and Peppermint Cocoa, a novella
Sheriff Bride Rob's Story, a novella
Connect with Joi online: