I've been away from home for the past couple of weeks. Hence, the reason there is a big gap in my posts from the end of July until the present.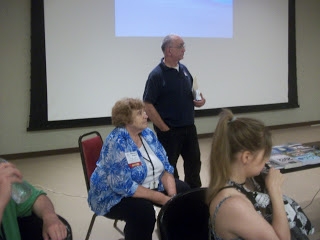 First, I had the pleasure of serving on faculty at Marlene Bagnull's
Greater Philadelphia Christian Writers Conference
.Marlene is one of the most inspirational people I have ever met in the world of writing and publishing. She blesses conferees and faculty alike with her ability to bring God up close and personal. Unfortunately, this is the only photo I have of Marlene. (lady with the blue jacket.) I managed to delete just about all of my other pictures from the conference off my camera before I could get them downloaded. Don't even ask me how I managed that!
I enjoyed many different experiences at the conference this year. Sometimes, I feel like the conferees taught me more than they learned from me.
After a long day of travel that started at 3:00 AM for me, Wednesday evening was fun because it provided a chance to greet old friends and meet new ones. Everyone was charged with excitement and the anticipation of teaching and learning. I was especially excited to see my coworker with
Written World Communications
(WWC),
Rowena Kuo
, who was also my room mate. She lives in the Chicago area and we had not seen each other for two years. I was also excited that another coworker,
Chris Richards
, was able to attend the conference as well. Chris lives in Colorado, but the distance between us is about 200 miles, so we don't get to see each other often either.
I had a few appointments Thursday morning. This is one of my favorite parts of serving on faculty because it is a time to connect with writers, hear their creative ideas, and share thoughts about the writing life. Appointments are ongoing between other responsibilities from Thursday to Saturday.
Thursday afternoon, I taught a segment of Teens Write. This year, the theme was The Publishing Games, which mirrored The Olympic Games. Each presenter was assigned an event. Mine was archery, about which I know next to nothing I know the contenders use a bow and arrow, but that's about it. I figured I was fairly safe, though, since the chances of any of the kids knowing a lot about it would be pretty slim. I did look up the names of this years's US competitors. When I asked if anyone recognized the names, didn't one of the kids raise her hand, her eyes filled with excitement. Archery is her favorite sport in the entire Olympics. I learned a lesson there. Never underestimate the knowledge of your audience!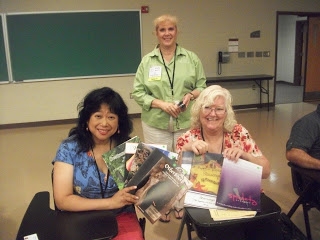 The magazine editor's panel, held on Friday and Saturday, gave me an opportunity to talk about my "baby,"
Starsongs magazine
. Rowena and I also made conferees aware of the many magazines WWC already prints or plans to launch over the next few months. The lovely lady standing behind us is Cindy Sproles, who moderated the panel and serves as editor for
christian devotions
.us. It's always interesting to sit on the panels and learn about what other editors guidelines are and what type of content they are looking for.
This year, I was assigned two paid critiques. A paid critique allows a writer thirty minutes of one-on-one time to discuss a piece the critiquer has received and evaluated several days prior to the conference. I have to admit I was nervous about this. What if the writer felt I was too critical? Suppose she felt I didn't provide enough information to help? As it turned out, both of my paid critiques were delightful ladies with a passion for writing, open to suggestions for improving their work, and filled with a desire to improve their skill.
Saturday, I taught
The Over Fifty Writer
, which is a bit out of character for my persona as the Division Manager for YA and Children's Imprints with WWC. However, as the picture above definitely indicates, I am - well - well over fifty! I began the session with a written speech I had started to prepare several days prior to the conference, but ended up completing between 1 and 3 AM Friday night. Yeah, I still haven't conquered the procrastination thing. I had forgotten all I learned in
Toastmasters
, that a written speech is not always the best speech. Twenty minutes into class time, everything written on paper had been said, so I had to rely on extemporaneous talk, which, in my opinion as I listened to the recording of the class later, sounded much more natural. What ensued was a discussion among the class members about some of their experiences. A lot of emotion came out during that segment of the workshop. Perhaps that was more important than anything I had to say.
There are a great selection of workshops, continuing sessions, general sessions, and clinics offered at Marlene's conferences, both in Philly and
Colorado
. I had planned to attend a couple of the workshops, but was so busy that I didn't get the opportunity. Not that I'm complaining! I love to encourage other writers and spend time with them. I am so blessed to be a part of Marlene's faculty. Another great thing about the conferences is that all workshops and sessions are
available on CD,
the entire conference can be obtained as an MP3 file.
The speakers Marlene engages for the worship sessions, like
Tim Shoemaker
, and
Jim Watkins
, are inspirational and engaging. Oh, to be able to speak with the power and the polish of these men someday! Then there are Marlene's prayers. She talks to the Father as though she could see Him standing right next to her. Sometimes I believe she can.
After the awards ceremony and closing session on Saturday, those faculty who could attend went to Marlene's home for a delicious spread of food. It had been a hectic four days (especially for Marlene!) and everyone was ready to relax. Most folks fly out on Saturday, but those of us who were able to attend had a wonderful time.
I won't remember the faces of all the folks I met with at appointments. I don't know the names of most of the attendees at Teens Write or The Over Fifty Writer workshop, or of those who were in the audience at the editor's panels. Still, I hope I left the people who came in contact with me something valuable that they can use to further their writing journey.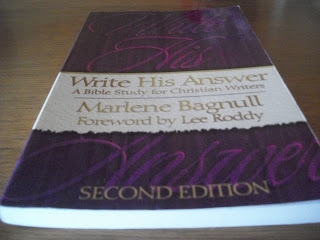 If you are a writer, I hope to see you either in Philly or Colorado next year! In the meantime, I urge you to check out
Write His Answer
, Marlene's great book for writers.
If you are not a writer, I urge you to check out the various web sites mentioned in this post anyway. Most of them have wonderful information about the Christian life and books available, from novels to devotionals.
A huge thank you to Marlene, who has fueled my passion to help others pursue publication as they write His answer!
(Next, read about the ten days I spent in up-state New York)
Thanks for reading my blog!