After the Philadelphia writer's conference, I flew to Albany, NY, on Sunday, where my sister picked me up and took me ninety miles north to her home in Schroon Lake, the heart of Adirondack country.

We had a wonderful ten day visit, laughing about everything, sharing memories, and enjoying our time together. Here are a few of the things we did while I was there.

Monday, we went to the Neighborhood House, the assisted living facility where our mom lives, to pick her up and spend the day. She had a doctor's appointment in Saranac Lake, she and dad's former home. We brought a picnic lunch, but cool weather caused us to eat lunch in the eating area at the Adirondack Medical Center. We finished up the afternoon with some shopping.

Monday evening, we went to town to check out the performance at the boathouse, located on the lake. The event draws quite an audience.
Schroon Lake boathouse
Scaroon Manor is close to my sister's house. Tuesday, we went for a little hike...and came out at the lake.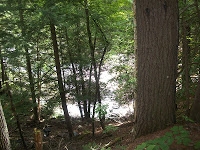 Scaroon Manor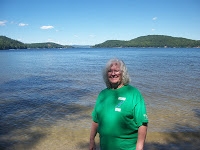 Schroon Lake at Scaroon Manor
We were going to go back to the picnic area on Saturday with our mom, my brother-in-law, and the ruler of the house, Wesley, but the rainy week-end forced a change of plans.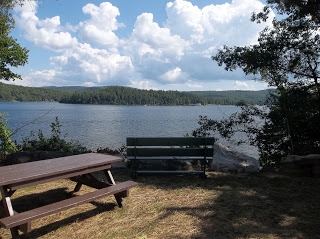 Wednesday, we went back up to Neighborhood House for coffee with mom. Terry and Pete had a golf engagement that afternoon, so I relaxed and caught up on a little work.
Schroon Lake is a tourist town with all kinds of activities in the summer. Wednesday evening, we went back to the town park to watch the square dancers.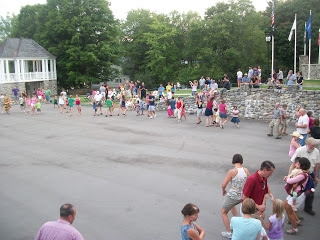 square dance in town park
We took a walk along the beach.(Notice, my beautiful sister is taller, thinner, and younger than me!)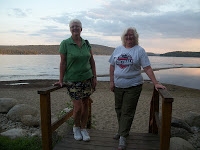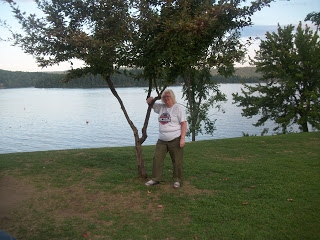 This is the tree we planted when our dad passed in 1996. We call it "grandpa tree'.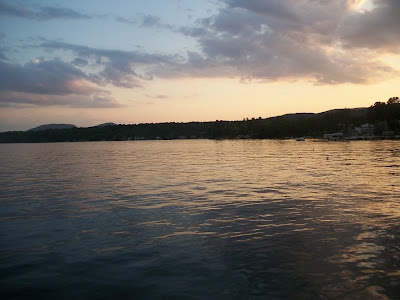 sunset on a lake is one of the most beautiful of natural wonders
Thursday, Terry wanted to take me on the
Word of Life
guided boat ride, but it was full. However, she met a friend in town who offered us a ride on her and her husband's boat. We went for a long ride that would have been even longer if the storm hadn't come up. It lightninged, thundered, and rained like crazy for the rest of the afternoon.
I could get used to this!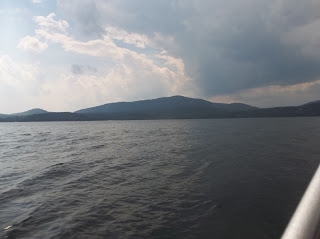 We picked mom up on Friday and brought her to Terry's for the week-end. Friday evening, we had a "girls' night out" with some friends of Terry's that mom and I have come to know over the years.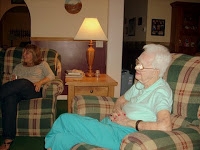 The weather squashed any outside plans for the week-end, but we did get out of the house to do some shopping. Sunday, we attended church, and in the evening, we went to the
Seagle Music Colony
for vespers.
Monday, we took mom back to Neighborhood House.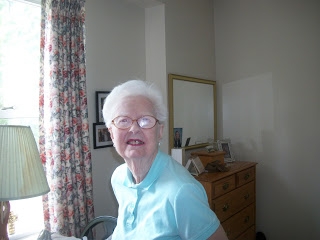 That evening, I met a couple of friends for dinner who graduated from nursing school with me way back in 1972. Unfortunately, I didn't get any photos of us together! That day was my sister's birthday, so she and Pete went out to a dinner of their own.
Tuesday, Terry and I were able to take the Schroon Lake Cruise on the Word of Life Pontoon boat that we had missed on Thursday. That was great, since Linda and John had taken us to the south end of the lake and the cruise traveled to the north end.
Later that day, we went in search of a place called Blue Ridge Falls. Wow, this place reminded us of our childhood days, when we used to stop by those mountain streams on our way up-state from Long Island and run along the rocks.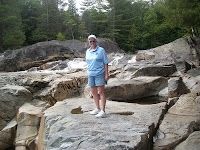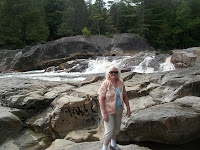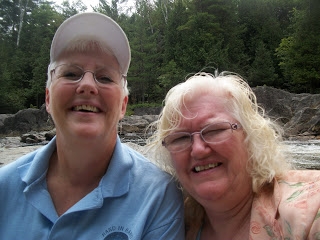 Wednesday, it was time to go back to the airport for my trip home. The suitcase that had weighed in at 46 pounds when I left Colorado now weighed a whopping 64 pounds, which meant a fee of $90 additional dollars!

My husband, daughter, and granddaughter met me at Colorado Springs airport. We made the long drive back to town, another two and a half hours.

Vacation was absolutely wonderful! Still, it's always good to get back home!
---