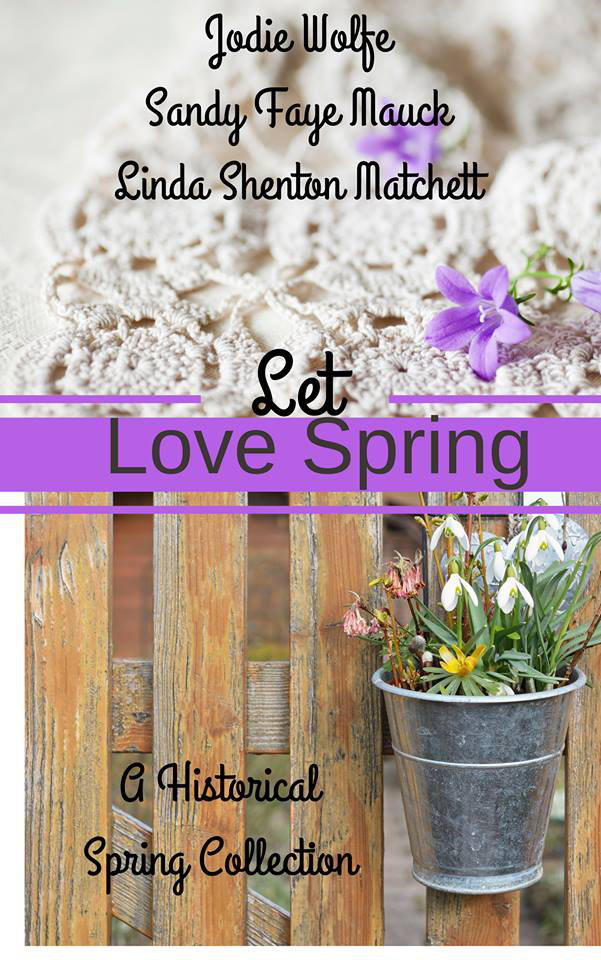 FEATURED BOOK: Let Love Spring: A Historical Spring Collection
AUTHOR: Jodie Wolfe, Sandy Faye Mauck, Linda Shenton Matchett
PUBLISHER: Celebrate Lit Publishing
GENRE: Historical Romance
SERIES OR STAND ALONE: Stand Alone
TARGET AGE: 20-65
IT IS MY PLEASURE TO WELCOM AUTHOR JODIE WOLFE TO PATTI'S PORCH. JODIE SHARES WHAT PROMPTED HER TO STEP OUT IN BOLD FAITH.
JODIE IS OFFERING A GIVEAWAY! SIMPLY LEAVE A COMMENT BELOW TO ENTER THE DRAWING FOR A COPY OF LET LOVE SPRING.
Bold Faith
by
Jodie Wolfe
I've been thinking and praying about what I should write about for my guest blog appearance here on Patti's Porch. This past Sunday, our church had a guest speaker and he was talking about having bold faith. He used the passage from 1 Samuel 14:6. I love the way it's translated in The Message:
Jonathan said to his armor bearer, "Come on now, let's go across to these uncircumcised pagans. Maybe God will work for us. There's no rule that says God can only deliver by using a big army. No one can stop God from saving when he sets his mind to it."
God has ways He can use us, but we must step out in faith. If we choose to stay in the shadows, God has a hard time utilizing us to the full extent in the way He would like to.
The speaker's words touched me since this is also a topic that I've been exploring with a mentor writing friend. In our last phone conversation he started by saying, "I know what's wrong with you."
Now doesn't that make you sit up at attention when you hear a remark like that? :) You know what he said? "Jodie, you need to come out of the shadows and be who God created you to be." WOW! If you know me, you'll realize that I'm a major introvert. A wallflower. One who enjoys not having attention called to them. The one who still blushes when attention is thrown their way. Yeah, that's me.
I'm still unpacking what all stepping out means in my life and writing career. I DO want to be seen as a woman with bold faith, who isn't afraid to step out, knowing that God will show up. It may not always be the way that I anticipate, but I am assured that I serve a trustworthy Heavenly Father. He has my back.
I plan to make myself available and trust that He will accomplish His will for my life. How is He asking you to step out with bold faith?
Blurb for An Angel for the Cowboy (part of Let Love Spring: A Historical Spring Collection)
When the bank threatens foreclosure on Essie Love's home, it's up to her to provide for her sisters. She'll do whatever it takes to save them, even if it means marrying a stranger.

Jud Steele is wanted for a crime he didn't commit. Wounded and left for dead, he lands on Essie's doorstep. While she nurses him back to health, he finds himself longing for a home and family.

Can two desperate people find a path that leads to what they both need?
DON'T FORGET TO LEAVE A COMMENT TO BE PLACED IN THE DRAWING TO WIN A COPY OF LET LOVE SPRING BETWEEN NOW AND TUESDAY, MAY 23RD AT MIDNIGHT MDT.
Jodie Wolfe creates novels where hope and quirky meet. She's been a semi-finalist and finalist in various writing contests and is a member of American Christian Fiction Writers (ACFW) and Romance Writers of America (RWA). When not writing she enjoys spending time with her husband in Pennsylvania, reading, walking, and being a Grammie. Connect with Jodie online:
Blogs Jodie contributes to: Stitches Thru Time, Putting on the New.