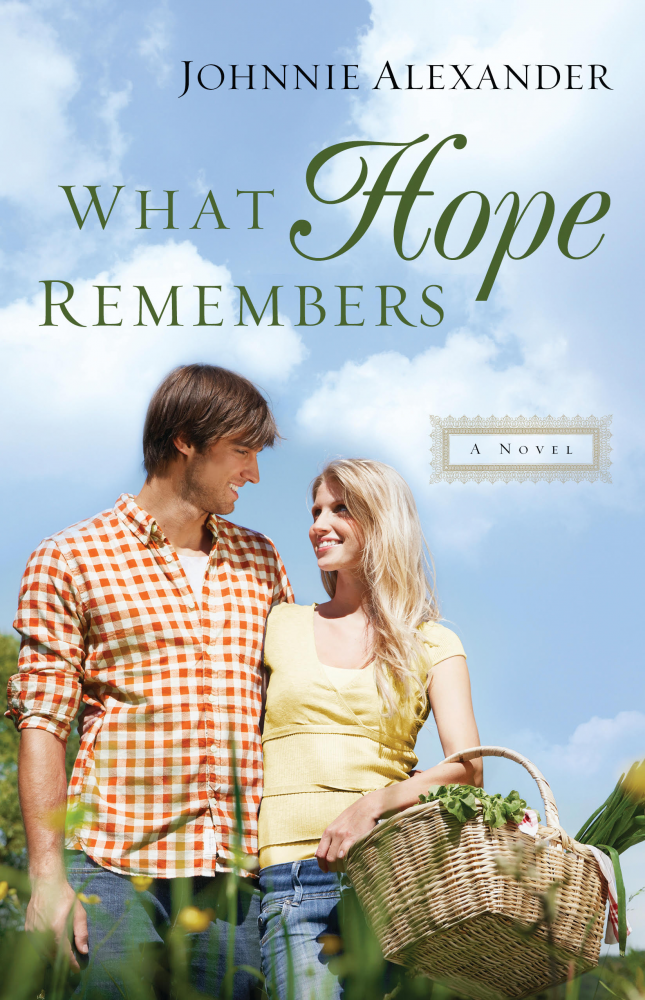 FEATURED BOOK: What Hope Remembers
AUTHOR: Johnnie Alexander
PUBLISHER: Revell
GENRE: Contemporary Romance
SERIES OR STAND ALONE: Series (Misty Willow Series #3)
TARGET AGE: Women
IT IS MY PLEASURE TO WELCOME AUTHOR JOHNNIE ALEXANDER TO PATTI'S PORCH. JOHNNIE SHARES THE COMFORT SHE FOUND IN THE WORDS OF ISAIAH DURING A STRESSFUL TIME.
JOHNNIE IS OFFERING A GIVEAWAY! SIMPLY LEAVE A COMMENT BELOW TO ENTER THE DRAWING FOR A COPY OF WHAT HOPE REMEMBERS.
"In Quietness and Trust is Your Strength"
by
Johnnie Alexander
The phrase from Isaiah popped up here, there, and everywhere during the first weeks of 2016.
I cradled it in my heart while wondering what God was trying to tell me.
My life was already quiet back then. I wasn't exactly a hermit, but as my mom's health declined so did my freedom to drive into town whenever I wanted. On the weekends, I went to writers group meetings about every other Saturday and to church on Sundays and a movie afterwards with a friend while my sister stayed home.
I admit to moments of "itchy feet"—of missing those days when I controlled my comings and goings. But mostly I relished the tranquility of our home. Nestled into a hillside at the end of a cove, the house stood distant from the fuss and bother of traffic.
Birdsong filled the air on still mornings. A fox once passed the window as I wrote at the kitchen table. My little papillon treed raccoons more than once.
The outside world could be shut out, even ignored, for long stretches of the day.
And yet the words from Isaiah 30:15 were given to me again and again, calling me to talk to God, to listen for His still voice as I tended our alpaca herd and walked the pasture, added logs to the comforting fire, and cared for my mom.
As the days passed, leading to inevitable grief, God gave me the strength I needed to heal from the heartache. I trusted Him while crying, while laughing through tears at happy memories, while saying that final goodbye.
Over a year later—a year of adjustment and changes, including a move to another state—I trust Him still.
The phrase from Isaiah doesn't pop up here, there, and everywhere anymore.
But I still cradle it in my heart.
Book Hook:
Sometimes prison bars are real; sometimes they are traps we create in our own lives. Amy and Gabe each search for a way to forgive the past and find a second chance at love.
Back Cover Blurb:
When Amy Somers loses her job as a lobbyist, she moves to Misty Willow, well aware that she's crossing bridges she'd burned years before. With all the mistakes she's made and the uncaring things she's done–even to her own family–she can hardly believe that happiness will find her, especially when Gabe Kendall, her first crush and her first kiss, rides back into her life atop a buckskin mare.
A former Marine, Gabe is at loose ends after serving a prison sentence for being in the wrong place at the wrong time. He sees beyond Amy's hard exterior to the girl he once knew and loved, and he longs to see her open her heart. Yet with his vision clouded by shame for his past and fears about the future, he finds it difficult to see the path ahead.
But the memory of that long-ago kiss just may have the power to reignite a romance that brings out the best in both of them.
Purchase: Link to Online Retailers
DON'T FORGET TO LEAVE A COMMENT TO BE PLACED IN THE DRAWING TO WIN A COPY OF WHAT HOPE REMEMBERS BETWEEN NOW AND TUESDAY, JUNE 6TH AT MIDNIGHT MDT. (US Winner: choice of print or ebook; International Winner: ebook)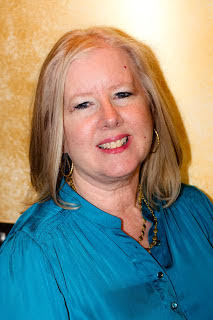 Johnnie Alexander is a wannabe vagabond with a heart for making memories who lives in Florida with Rugby, the princely papillon, and Griff, the happy-go-lucky collie. A winner of the prestigious American Christian Fiction Writers (ACFW) Genesis Contest (Historical) and several conference awards, she volunteers as marketing director for the Mid-South Christian Writers Conference and is the past president of both the ACFW Memphis and ACFW Central Florida chapters. Visit Johnnie online:
Facebook Profile (Friend or Follow!)