Saturday, I had the pleasure of attending the book launch for Written World Communications' most recent release, the prarnormal/action/adventure novel
Rockapocalypse
by Byron Suggs. Although all WWC book releases are exciting, this one holds a special place in my heart.
It is the first book edited by me.
For months, author Byron and I emailed, talked by phone, quibbled over words, debated grammatical issues, discussed scenes, and at times, agreed to disagree. I can't say I ever got inside Byron's head, but I did start thinking the way his characters would think.
After a while, I no longer had to ask
grammar or local flavor?
in a character's dialogue. I just knew.
I turned in the final proofread, and in a matter of days, the manuscript was off to press. That's when the doubts bombarded my brain.
Had I caught all the typos?
Had I corrected inconsistencies in capitalization?
Had I been tired when I read the final copy and missed something really important?
It thrilled me to make my way through a throng of people to the back of The Written World on Saturday where Byron sat behind a table with a stack of books next to him - real printed books we and other members of the Written World team had worked on and perfected together. The cover art we had all agreed on was replicated in a big poster located next to him.
Even though Byron and I had joked about never reading the book again, I couldn't resist thumbing through the pages, skimming sentences and scenes I'd read at least a dozen times over the past weeks. Somehow, the words looked different between the pages of a bound book than they did on a computer screen.
Then I found it The one thing I had feared. It jumped out at me like a mole on the end of a model's nose.
A mistake!
I won't repeat the sentence itself to avoid ruining any portion of the story for readers, but there is a period where a comma should be!
Readers might not even notice, but that particular oversight is one of my pet peeves.
This example will explain what I mean.
"Let's go
.
" Sue said. (incorrect)
"Let's go
,
" Sue said. (correct)
UGH!
My granddaughter, who accompanied me to the booksigning, saved my crushed ego.
"Look, grandma. All books have mistakes." She showed me the book she had brought with her, a novel written by a world renowned author that has sold millions of copies.
Sure enough, at the end of a paragraph of dialogue, there was no closed quotation mark! I double checked to be sure the same character was not continuing his dialogue in a new paragraph.
Nope, this was a genuine, bona fide mistake!
When it comes right down to it, the only book where I have never, ever seen a single error, whether it be typo or missing comma, is the Holy Bible. How fitting that God's book is the only perfect one I've ever found!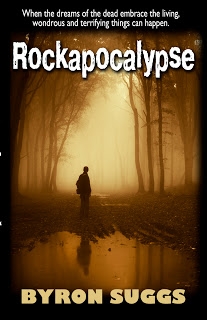 There are probably other errors in
Rockapocalypse,
things I missed. I heard that during the printing process, in one place, the word "chief" lost its "c." Bet any reader smart enough to read the book will figure that one out.
I believe in this story.
The message overshadows the mistakes by miles.