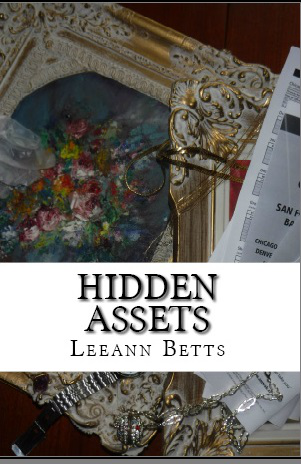 FEATURED BOOK: Hidden Assets
AUTHOR: Leeann Betts
PUBLISHER: PLS Bookworks
GENRE: Cozy mystery
SERIES OR STAND ALONE: Book 6 in By the Numbers series (can be read as stand alone)
TARGET AGE: 16+
IT IS MY PLEASURE TO WELCOME AUTHOR LEANN BETTS TO PATTI'S PORCH. LEANN SHARES THE MOST IMPORTANT RESPONSIBILITY WRITERS HAVE TO READERS.
LEANN IS OFFERING A GIVEAWAY! SEE BELOW FOR INSTRUCTIONS ON HOW TO ENTER THE DRAWING FOR A COPY OF HIDDEN ASSETS.
GETTING TO KNOW YOU
by
Leeann Betts
There is one truth about writing that remains: no matter how much the package changes, the fact is that our readers are absolutely the most important thing to writers. I say that because without you, what would be the point of writing? I suppose some may turn all spiritual on me and say they have to write the book God gave them, and that's true. Or some writers might say they have to write because the story is inside and it needs to come out, and that's true.
How do I know that? Because I've used both of those answers when asked why I write.
One thing I realized when I sat down and looked at my social media plan—which up to this point was "if it's not working, do more"—I'd completely left God out of my plan. (Thank you, wise husband, for pointing this out to me).
As I prayed about this, a scripture verse came to mind: The right word spoken at the right time is as beautiful as gold apples in a silver bowl. (Proverbs 25:11 NCV)
I thought about that for a while, and the Lord spoke to my heart: when you think of Me as Author, what do you want to know about Me?
That was easy: I wanted to know God had written the Bible for me. That if nobody else read it, it was still worth writing. I wanted to know that I could learn about God through His book. And that when I meet Him in person, He will be exactly how I pictured Him from His book.
I saw where God was going with this: my readers want to know that I, as the author of the book they're reading, am real, that I care about you as an individual, not just as a cash cow. You want to believe you can get to know me through my books, and that if you meet me at a party and talk to me, you'll say, "You are exactly how I thought you'd be."
For that to happen, I must write authentically, because you, as my readers, will know if I'm not. So as I share, through my characters, you figure out my worldview, beliefs, and moral compass. Then you can figure out whether my character—and by extension, me the author—is someone you want to know more about.
When you read my books, I hope you learn that I love numbers almost to the exclusion of everything else; that I trust numbers more than people because numbers never change; that I don't much like to exercise; and that I strive to be a submissive wife to my husband but I still struggle with that. And just like Carly, I'm very justice-oriented, which, unfortunately, can make me also judgmental, which, like Carly, I work on constantly. And maybe you'll also see that I wish I were more like Carly: quicker to jump in to help; quick on the comebacks; and not take myself so seriously.
When I write, I try to envision one specific reader—she looks a little like me, she has too little time to read and way too many books in her to-read stack, and she wants a story that offers insight into a kinder way of living while still addressing the bad things that can happen. My ideal reader likes a challenge—I love it when readers tell me they figured out the solution just before Carly did. My ideal reader wants the bad guy—or gal—to get caught, and my ideal reader loves a series.
The reason I write cozy mysteries is because I know life is not all sweet and kind, but I don't need to read about it on the page. It's bad enough that these things happen—and I believe you, as my readers, feel the same way.
I love to hear from readers, and I find that their questions provide insight into them as people, not simply consumers. Questions like: where do I get my settings? Where do I find plots? Where do I get names? How do I create fictional communities? What's Carly's favorite recipe? When you treat my characters like real people, I know I've done my job.
Leann will give away a free ebook or print(US Only) copy of Hidden Assets in a random drawing of everyone who answers the following question: if you could have coffee with your favorite author, what one question would you ask them? Leave your answer in a comment between now and Tuesday, October 17th at midnight MDT.
Leeann Betts writes contemporary suspense, while her real-life persona, Donna Schlachter, pens historical suspense. She has released six titles in her cozy mystery series, By the Numbers, with Hidden Assets released in June. In addition, Leeann has written a devotional for accountants, bookkeepers, and financial folk, Counting the Days, and with her real-life persona, Donna Schlachter, has published a book on writing, Nuggets of Writing Gold, a compilation of essays, articles, and exercises on the craft. She publishes a free quarterly newsletter that includes a book review and articles on writing and books of interest to readers and writers. You can subscribe at www.LeeannBetts.com or follow Leeann at www.AllBettsAreOff.wordpress.com All books are available on Amazon.com in digital and print, and at Smashwords.com in digital format.
Connect with Leann online:
SUBSCRIBE TO PATTI'S BLOGS ON HER HOME PAGE.