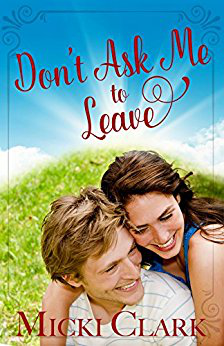 FEATURED BOOK: Don't Ask Me to Leave
AUTHOR: Micki Clark
PUBLISHER: Mantle Rock Publishing
GENRE: Contemporary, Christian Fiction, Romance
SERIES OR STAND ALONE: Stand alone
TARGET AGE: Young adult, adult
IT IS MY PLEASURE TO WELCOME AUTHOR MICKI CLARK TO PATTI'S PORCH. MICKI SHARES THE WAYS SHE HAS LEARNED TO DEAL WITH THE FACE OF EVIL IN THIS WORLD.
MICKI IS OFFERING A GIVEAWAY! SIMPLY LEAVE A COMMENT BELOW TO ENTER THE DRAWING FOR A KINDLE COPY OF DON'T ASK ME TO LEAVE.
WHERE COULD I GO?
by
Micki Clark
I lead what I would call a blessed life. I have two wonderful Christian parents. I have a husband who genuinely loves me and our three children, and works very hard to provide us with a comfortable life. I thoroughly enjoy my job as a teacher. The Lord has blessed us in so many ways.
But on September 24, life wasn't so grand. That morning, a masked gunman entered a Tennessee church and opened fire on the congregants. While this certainly isn't the first church shooting in recent history, it is one of the first that's been within a half day's driving distance.
I hadn't had time for that tragedy to fade from my consciousness when, on October 2, a shooting in Las Vegas killed nearly sixty people and left hundreds of others wounded.
Last Sunday, as I sat in church, I found myself looking around the auditorium during the service in a way that I never really had before. I wasn't seeing the building, or the faces of my friends. I was contemplating a potential path to safety for my family should a gunman enter. It shook me to my core.
I was thinking the same thing that countless other parents have before me—why did I bring a child into a world so full of sin? Where could I go for safety? How could I protect those I loved from the unseen face of Evil?
And then it hit me. Where could I go, indeed? I simply had to look to the Father.
That day, I was preoccupied about how evil the world has become, but I had forgotten something. Since Adam and Eve left the Garden, this world has been full of sin, suffering, and anguish. While the ancient Christians might not have had to worry about church shootings, they definitely faced persecution, fear, and evil.
Most of us know the story of Stephen, a "man full of God's grace and power" (Acts 6:8). We can flip through the Bible and find many examples of persecutors. Pharaoh. King Nebuchadnezzar. King Saul. Ahab and Jezebel. And so many more.
It's not just in the Bible. In 177 AD, Eusebius, a historian, told us of a group of Christians in what is now Lyon, France, being gathered, interrogated, and tortured. In more recent history, we have Adolf Hitler, Josef Stalin, and countless others.
In other words, the world has always been full of sin. However, God's word exists to provide us comfort.
In the aftermath of the Las Vegas massacre, many on social media decried the phrase "thoughts and prayers". Prayers meant nothing, they insisted. Prayers are for sheep.
I agree. I am a sheep, and I am grateful that He is my Shepherd. Isaiah 40:10-11 tells us that "the Lord God will come with a strong hand and … he shall feed his flock like a shepherd: he shall gather the lambs with his arm, and carry them in his bosom." Revelation 7:17 says "the Lamb … shall feed them, and shall lead them unto living fountains of waters: and God shall wipe away all tears from their eyes."
As difficult as it might be to live in today's world, so full of sin, fear, doubt, and anger, it can be easy to forget that we are loved by a Shepherd who will protect us from the wolves howling in our midst. It is He, and only He, who can wipe away the tears from our eyes.
For me, I will do what I can to raise my children safely in this world. We'll lock our doors, learn how to look both ways before crossing the road, and other important things… but I refuse to raise my children with a fear of what may happen tomorrow. Life on Earth can truly be wonderful, but it simply cannot compare to the reward that awaits us.
Instead of living a life in fear of the evil that may be lurking around the corner, we'll work on being like Matthew 5:14: "You are the light of the world; a city set on a hill cannot be hidden." We will work our hardest to be good, to be faithful, and to spread God's light as far as we can. If enough people do that, then we can certainly prevent evil from netting a stronger toehold. Either way, we can certainly look forward to a blessed life in Heaven with our Shepherd.
Book cover blurb for Don't Ask Me to Leave
Newlywed Rachel Miller has everything she could want from life—the perfect husband, her dream job, and a cute little house in the country—but the daydream is shattered when her husband is killed in a tragic accident. Her mother-in-law, Nadine, takes her in as she tries to pick up the pieces, and their handsome neighbor Beau is willing to help…if Rachel will let him. Does she dare open her heart for a second chance at love?
DON'T FORGET TO LEAVE A COMMENT TO BE PLACED IN THE DRAWING TO WIN A COPY OF DON'T ASK ME TO LEAVE BETWEEN NOW AND (TUESDAY, OCTOBER 24TH AT MIDNIGHT MDT.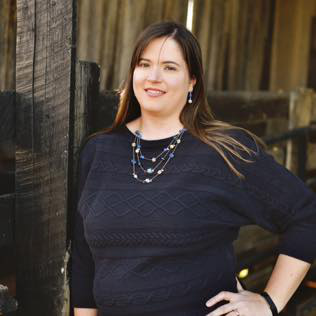 Micki Clark was born in Lexington, Kentucky. A graduate of the University of Kentucky, she has loved the written word since childhood (when she was often captured hiding in the closet reading instead of doing mundane things like cleaning her room). She now teaches high school English in Western Kentucky. Micki invites readers to visit her blog.
SUBSCRIBE TO PATTI'S BLOGS HERE