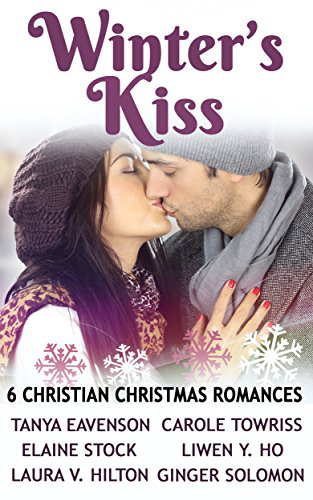 FEATURED BOOK: Winter's Kiss (6 in 1 collection)
AUTHOR'S NAME: Laura V. Hilton
(other contributing authors: Elaine Stock, Tanya Eavenson, Ginger Solomon, Carole Towriss, Liwen Ho)
PUBLISHER: self-published
GENRE: contemporary sweet romances/contemporary Christian romances
STAND ALONE OR SERIES: stand alone
TARGET AGE: women, upper teens through adult
IT IS MY PLEASURE TO WELCOME AUTHOR LAURA V. HILTON. LAURA, WELL KNOWN AND LOVED FOR HER AMISH NOVELS, JOINS OTHER AUTHORS TO BRING A DIFFERENT READING ADVENTURE TO FANS.
Authors seem to gravitate to boxed sets or collections, because it helps get your name out there. If you are in a collection with Author A and she is a New York Times bestseller, and you are, well, nobody, then it helps to get your name out when people buy the book for Author A because the assumption is they'll read the rest of the stories, after paying their hard-earned 99 cents to preorder.
So even though I am traditionally published, I self-published a couple of my stories (making me what is called a hybrid author). I was happy when I was asked to participate in a boxed set that needed an extra person. They told me the theme, the approximate word count, and when they needed it and since I was between contracts and had already written a chapter of mine plus a synopsis for a traditionally published collection that never happened due to the publisher closing the line, I was happy to accept.
The theme: Kisses, Kids and Christmas.
Mission: To write a story including all three.
My story, Carousel Christmas, is set in New York State. My son was stationed there for a brief time when he was in the Coast Guard, and while I didn't use the area he was stationed at, I used a different town that we went through on our way to Vermont. It has a lot of fascinating history behind it, and was once used as a sort of hospital for the wealthy to check into and be treated for various problems, with a medical doctor on hand. It wasn't technically a hospital though, but more of a resort town, with things to do, including a lake.
Now it is "merely" a town and no longer a resort, but the carousel written about is real. The skating rink is real. And the people in my story are real to me. And I hope that when you read the story they become real to you as well.
The whole collection is only 99 cents to preorder. And you'll not only get my story, but also ones by bestselling authors Liwen Ho, Tanya Eavenson, Carole Towriss, Ginger Solomon, and Elaine Stock.
If you are looking for a Christmas themed novella this season, Winter's Kiss would be one to consider. Six sweet romances by Christian authors.
Hope your holidays are merry and bright!!
Winter's Kiss Blurb
Six Christmas romances with a Christian message from bestselling authors.
And You Came Along by Elaine Stock
Five days before Christmas, single parent Jacey Tucker thought the broken pieces of her life were falling into place until an eviction notice and termination at her job sends her and her little boy scrambling out of town. Zander Paxton, a detective recovering from an injury and loss of faith, needs to start the next season of his life but he isn't sure how or where. As Jacey heads south and Zander heads north, they get caught in a blizzard...and trapped together in a remote cabin.
A Different Kind of Christmas by Carole Towriss
Robinson Taylor Mitchell, unwelcome at home, wants a special someone of his own to celebrate with—someone like Juli, who's just moved to town but won't give him the time of day. Juliana Hellisch won't be home for Christmas for the first time ever. She's stuck in Brandon Beach workibng off school debt as a nanny to an adorable three-year-old. She meets Rob, but there's no way she's getting involved with another rich snob, not after what happened last time.
To Gain a Bodyguard byTanya Eavenson
Undercover ICE agent Madi Reynolds has spent years infiltrating a human-trafficking ring, but when her life is threatened, she is forced to walk away and advised to leave the country. War Veteran and ICE agent Brice Johnson faces the biggest assignment of his life--protect the woman he loves.
Tropical Kiss and Tell by Liwen Y. Ho
Micah Chan has loved Lucy Choi ever since they were kids, but life—and some regretful decisions—stopped him from pursuing her. Now he has a choice to make: Let her marry another man or break up her engagement to make this Christmas the most memorable one of their lives.
Carousel Christmas by Laura V. Hilton
Romance sparks for Noelle and Nick as they work together to decorate the carousel barn and relationships begin to be healed.
Christmas Reflections by Ginger Solomon
Marisol Jones never expects to marry. Most men can't see past her scars, but Garth Simmons isn't most men. He doesn't seem to notice her imperfections and neither does his daughter.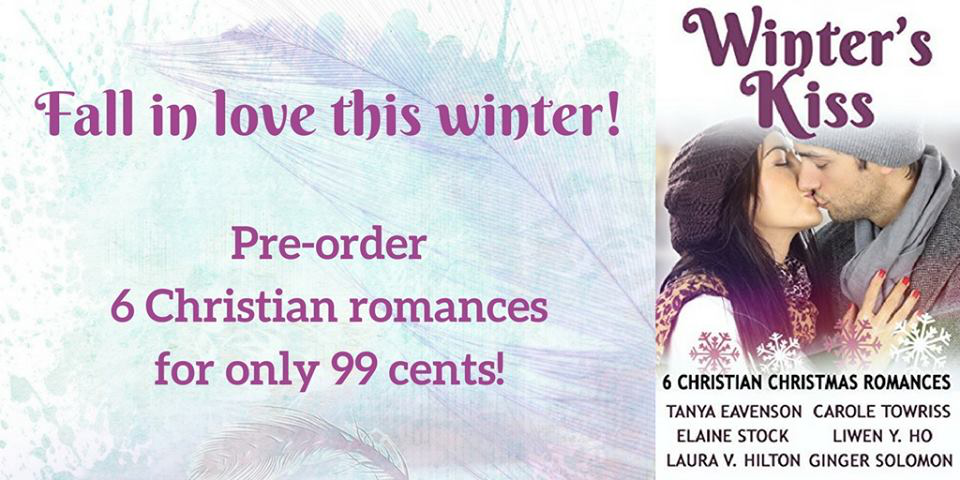 Laura V. Hilton is an award-winning, sought-after author with almost twenty Amish, contemporary, and historical romances. When she's not writing, she reviews books for her blogs, and writes devotionals for blog posts for Seriously Write and Putting on the New.
Laura and her pastor-husband have five children and a hyper dog named Skye. They currently live in Arkansas. One son is in the U.S. Coast Guard. She is a pastor's wife, and homeschools her two youngest children.
When she's not writing, Laura enjoys reading, and visiting lighthouses and waterfalls. Her favorite season is winter, her favorite holiday is Christmas.
Find Laura online:
Purchase Laura's books:
SUBSCRIBE TO PATTI'S BLOGS HERE