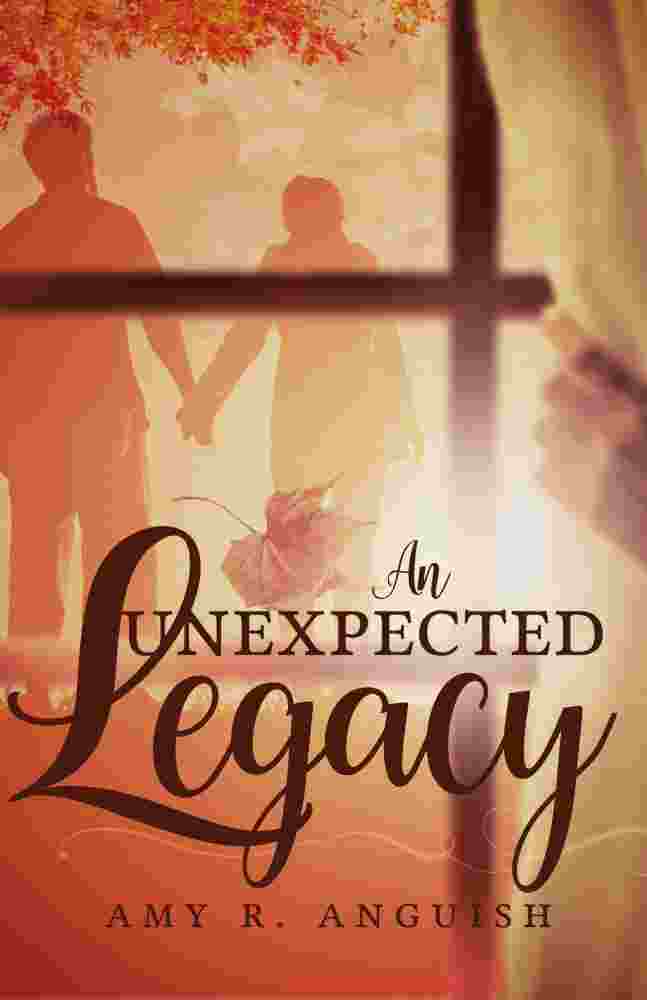 FEATURED BOOK: An Unexpected legacy
AUTHOR: Amy Anguish
PUBLISHER: Tulpen Publishing
GENRE: Christian Romantic Suspense
SERIES OR STAND ALONE: Stand alone for now
TARGET AGE: College and up
IT IS MY PLEASURE TO WELCOME AUTHOR AMY ANGUISH TO PATTI'S PORCH. AMY TALKS ABOUT THE MESSES IN LIFE AND THE GOOD THINGS THAT COME OUT OF THEM.
AMY IS OFFERING A GIVEAWAY! SIMPLY LEAVE A COMMENT BELOW TO ENTER THE DRAWING FOR A PRINT COPY OF AN UNEXPECTED LEGACY.
BAKING MESSES
by
Amy Anguish
With the holidays just past, I'm sure you've had some baking going on in your homes (or have at least sampled some that happened in your loved ones' homes). In my book, An Unexpected Legacy, I have a scene with baking in it, as well as other scenes that include baked goods and the kitchen in general. In our house, we love making banana bread and pumpkin bread. And cookies, of course. Every now and then, I'll throw in a pan of brownies or a cake for special occasions. And always, there is a sprinkling (at least) of flour or sugar or various other things on my counter once I'm done mixing it up. Not to mention the stack of dishes in my sink that are just added to the others from our normal meals.
Is it worth it? Does it really save any money for us to mix up our own batters, to take the time to concoct from recipes passed down for generations (or at least pulled off of Pinterest)? You begin to wonder as you scrub the cinnamon from your floor. Then, your home fills up with the aroma, the baked good comes out of the oven, you take a bite … Mmmm.
It makes me think about a lot of things in life. If you look back on all the good things in life, wasn't there a bit of mess to go along with it? Children are messy, for sure. But when they wrap those chubby little hands tight about your neck and give you a huge slobbery full-mouth-open kiss, who cares about the fact that you now have traces of peanut butter in your hair?
So, what's my point? Well, my thoughts continued down the road of how many good things come with messes, and then I thought about the best thing in life. Jesus and His church. Because, you see, life is a mess. But Jesus cleaned it up for us. That's the simplistic version, but you get the point. If Jesus hadn't been willing to take on our messes, we would be lost forever. Hooray for having a loving Heavenly Father who treats us even better than we treat those children of ours who leave peanut butter everywhere! Doesn't it make you glad?
"But if we walk in the light as He is in the light, we have fellowship with one another, and the blood of Jesus Christ His Son cleanses us from all sin." I John 1:7 (NKJV)
Blurb for An Unexpected Legacy:
"Smoothies brought them together, but would the past tear them apart?"
When Chad Manning introduces himself to Jessica Garcia at her favorite smoothie shop, it's like he stepped out of one of her romance novels. But as she tentatively walks into a relationship with this man of her dreams, secrets from their past threaten to shatter their already fragile bond. Chad and Jessica must struggle to figure out if their relationship has a chance or if there is nothing between them but a love of smoothies.
DON'T FORGET TO LEAVE A COMMENT TO BE PLACED IN THE DRAWING TO WIN A COPY OF AN UNEXPECTED LEGACY BETWEEN NOW AND TUESDAY, JANUARY 9TH AT MIDNIGHT MST.
Amy Anguish grew up a preacher's kid, and in spite of having lived in seven different states that are all south of the Mason Dixon line, she is not a football fan. Currently, she resides in Tennessee with her husband, daughter, and son, and usually a cat or two. Amy graduated with a degree in English from Freed-Hardeman University and hopes in all her creative endeavors to glorify God, but especially in her writing. She wants her stories to show that while Christians face real struggles, it can still work out for good.
Learn more about Amy at:
SIGN UP FOR PATTI'S BLOGS HERE.