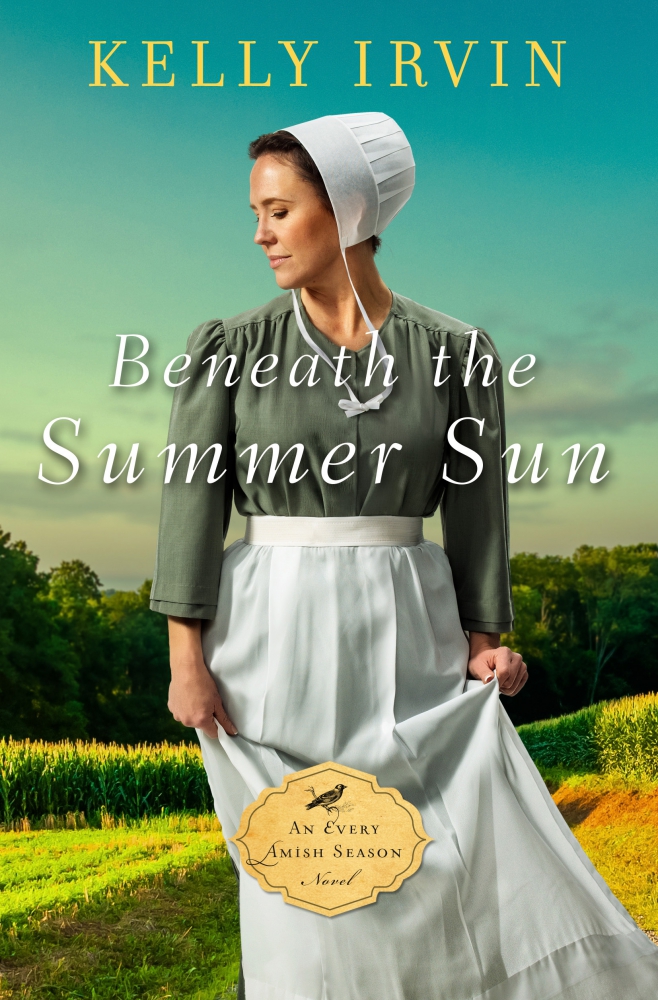 Featured book: Beneath the Summer Sun
Author: Kelly Irvin
Publisher: Zondervan
Genre: Amish Romance
Series or Stand Alone: Series (Every Amish Season)
Target Age: 18 to 100
IT IS MY PLEASURE TO WELCOME AUTHOR KELLY IRVIN TO PATTI'S PORCH. KELLY SHARES THE SURPRISE LEADING MAN SHE DISCOVERED WHEN WRITING HER NOVEL WITHOUT AN OUTLINE.
KELLY IS OFFERING A GIVEAWAY! SIMPLY LEAVE A COMMENT BELOW TO ENTER THE DRAWING FOR A COPY OF BENEATH THE SUMMER SUN.
WRITING ROMANCE WITHOUT A "NET" LEADS TO A SURPRISE LEADING MAN
by
Kelly Irvin
I'm a seat-of-the-pants writer. For you "normals" who don't live in this fictive world of make believe, that means I don't outline my story before I start writing. I know who the main characters are. I know what the big conflict is—usually—and sometimes I know how the story ends. At least I think I do. Quite a lot of debate goes on among writers about which is better, but I can only speak to the subject from my point of view and experience. When I let my mind go and simply start writing on a wing and prayer amazing, startling things happen. It requires faith and a well-developed sense of adventure to write this way. Will I be able to finish what I started? It's like walking a high wire with no net.
Case in point, my new Amish romance novel, Beneath the Summer Sun. This is the second book in a series called Every Amish Season, about four successively older Amish widows. When I wrote the proposal for the series, I had to include a one-page synopsis for each book. For Jennie's story, I knew she was the victim of domestic abuse in her first marriage. I knew she was frightened of ever loving again. And she felt guilty for being relieved that her first husband was gone. And lonely. Despite the challenges of raising seven children alone, she couldn't bow to her community's demand that she remarry. She couldn't trust. This is a happily-ever-after romance genre, after all, so I knew someone had to eventually win her heart. I had just the man for the job.
Or so I thought. I start writing. Into my story walks a second man with grit and determination and muscle to go with it. A man with a sore heart in need of his own love story. He has his own baggage. Both men who vie for Jennie's heart are good men with their own problems that they must work out before they can commit to love.
I keep writing, more and more astonished by the course of events. Almost as surprised as Jennie. She goes from having no hope of ever loving again, to a heart torn between two men who are determined to woo her. She keeps backing up and they keep slipping closer. Her children like them both. Her closest friends, three women who've experienced loss themselves, have their opinions.
But Jennie has to make this decision on her own. I kept trying to go in the direction I'd written in my synopsis, but it just didn't feel right.
Which is why I always tell my editor that I won't guarantee that the novel will have any similarity to the finished manuscript.
Jennie's is a harrowing story. Domestic abuse isn't an easy topic. But the uplifting ending will remind readers that God is a God of second and third and fourth chances. He will walk through the fire with us, if we let him. Ultimately, He will work for our good in all things.
The story also reminds us that timing is critical. We can't move on without first dealing with the issues that have us mired in our past. Leo has to deal with his anger and guilt over his father's death. Nathan must learn to accept his parents' choices when he was young. He has to decide whether to listen to God's calling in his own life, no matter what that means for his own desire for love.
Jennie has to make peace with her past. When she does, the sparks fly. And love prevails.
I love how this story turns out even though it seems as if I had little to do with it. I hope my readers will too.
Blurb for Beneath the Summer Sun
Jennie Troyer knows it's time to remarry. Can she overcome a painful secret and open her heart to love?
It's been four years since Jennie's husband died in a farming accident. Long enough that the elders in her Amish community think it's time to marry again for the sake of her seven children. What they don't know is that grief isn't holding her back from a new relationship. Fear is. A terrible secret in her past keeps her from moving forward.
Mennonite book salesman Nathan Walker stops by Jennie's farm whenever he's in the area. Despite years of conversation and dinners together, she never seems to relax around him. He knows he should move on, but something about her keeps drawing him back.
Meanwhile, Leo Graber nurtures a decades-long love for Jennie, but guilt plagues him—guilt for letting Jennie marry someone else and guilt for his father's death on a hunting trip many years ago. How could anyone love him again—and how could he ever take a chance to love in return?
In this second book in the Every Amish Season series, three hearts try to discern God's plan for the future—and find peace beneath the summer sun.
Buy links:
DON'T FORGET TO LEAVE A COMMENT TO BE PLACED IN THE DRAWING TO WIN A COPY OF BENEATH THE SUMMER SUN BETWEEN NOW AND TUESDAY, FEBRUARY 6TH AT MIDNIGHT MST. (US entrants only)
Two-time ACFW Carol Award finalist Kelly Irvin is the author of the critically acclaimed Amish of Bee County, Bliss Creek Amish, and New Hope Amish series. Her newest release is Beneath the Summer Sun, the second novel in the four-book series Every Amish Season from Zondervan Publishing. Her work has also appeared in four Amish anthologies, An Amish Market, An Amish Summer, An Amish Christmas Love, and An Amish Christmas. Kelly is a retired newspaper reporter and public relations professional who lives with her husband in Texas. They have two children, two grandchildren, and two ornery cats.
Connect with Kelly online:
SUBSCRIBE TO PATTI'S BLOGS HERE