HI LILLIAN AND WELCOME TO PATTI'S PORCH. I'M AFRAID IT DOESN'T LOOK MUCH LIKE CHRISTMAS AROUND HERE WITH NO SNOW, BUT WE'VE HEARD IT MAY BE HEADED OUR WAY SOON.
Thank you, Patti. I'm happy to be here. Don't worry about the snow. It will come. The sunshine feels good
PORCH PEEK: BE SURE TO CHECK OUT LILLIAN'S SPECIAL OFFER TO PATTI'S PORCH READERS AT THE END OF THIS POST!
TELL US ABOUT THE CHRISTMAS STALKING.
The Christmas Stalking is a romantic suspense novella that features Destiny-a very famous country music star. She has everything she dreamed of and more. Fame. Wealth. Beauty. Adoring fans. Oh, yeah and a stalker.
As the stalker escalates, she decides it's time for Destiny to disappear and let Holly Stone take over her own life again until the stalker can be apprehended. She goes back to the Adirondacks where she spent time as a young girl. She reconnects with an old friend and...that's where the fun begins.
WHAT'S THE SETTING FOR THE CHRISTMAS STALKING?
It's in a fictional hamlet called The Village Of Serenity & Peace in the Adirondack Mountains of New York. The citizens refer to it as Serenity. And, of course, there is no such thing as serenity or peace when my main character, Destiny, shows up
.
HOW DID YOU COME UP WITH THAT TITLE?
It's a great title for a Christmas-themed book, don't you think.I actually was almost finished writing it. My working title was simply STALKED—nothing Christmassy about that. All of a sudden, it came to me in a flash-THE CHRISTMAS STALKING. I thought it was the perfect title.
WHY DID YOU WRITE THE CHRISTMAS STALKING?
I could give a deep profound answer, but the truth is I wrote it to entertain my readers. My publisher (Pelican Book Group) announced they wanted Christmas-themed novellas. I'd never written a novella before so thought I'd give it a try, the real challenge was to incorporate the Christmas theme into a suspense novel?
I took up the challenge to do just that and I enjoyed every minute of it!
IF THE CHRISTMAS STALKING BECOMES A MOVIE WHO WILL PLAY THE MAIN CHARACTER?
Either Carrie Underwood or Kelly Picker would be great as Destiny. As for the male characters, I'm not going to say since it could give away the ending!
WHAT DO YOU WANT READERS TO TAKE AWAY FROM THE CHRISTMAS STALKING?
We have become a celebrity-obsessed society. Many people think they can only be happy if they are rich and famous. I wanted to show a character who "had it all" but still wasn't happy. True happiness and joy comes from a relationship with God not how many people know your name.
IS THE CHRISTMAS STALKING THE FIRST BOOK YOU PUBLISHED?
No, I've published several others, including DECEPTION and PURSUED also published by Pelican Book Group. This is. however. my first novella and it's only available as an e-book. So, it's a little different from my other books.
WHY DID YOU BECOME A WRITER?
Interestingly enough, I've always had stories that rattled around in my head. I called them daydreams. Unfortunately, it never occurred to me I should be writing them down to share with others until I was 40. It took me a year to finish my first ma
nuscript, but by then I was hooked! I loved writing.
I remember as a child, I would create elaborate scenarios for Mr. and Mrs. Potato Head and their children, not to mentions my dolls. The poor things had so many problems! I think I lived in my head or in my books as much as I did in the "real" world.
WHAT IS YOUR WRITING PROCESS? DO YOU OUTLINE YOUR STORIES IN ADVANCE?
I am not an outliner. I wish I were—it seems easier to me. But my mind doesn't work that way. I never know what is going to happen in my story on any given writing day. It's as if my mind is a movie screen and I watch that day's events and then I write it.
When I start a new story I usually have a clear picture of the main character in mind and what obstacle he/she will face, but anything goes after that. If I'm writing and start to feel bored—then I kill someone or blow something up. And that way it's a surprise to me and to my readers.
DO YOU KNOW WHO THE BAD GUY IS WHEN YOUBEGIN YOUR STORY?
Not usually. Most of the time I have several characters who it might be and as the story comes to a conclusion, I am surprised right along with my readers. This story was no exception, there are several characters who could be the stalker. And I wasn't sure who it was until the very end.
MOST PEOPLE DON'T THINK OF MURDER MYSTERIES AND SUSPENSE NOVELS AS CHRISTIAN FICTION, WHAT DO YOU SAY TO THEM?
I can certainly understand their point of view. And for some readers my stories might be a bit too graphic or edgy and that's ok, I understand that. I would say my readers are those who like traditional suspense and mystery novels but are tired of all the explicit language and sex scenes that aren't necessary to a good story.
I don't promote or glorify violence in my stories and show characters experiencing the natural consequences of their bad choices and bad actions.
THEN WHAT MAKES YOUR STORIES CHRISTIAN FICTION?
My stories always have an element of faith in them. How that plays out depends on the individual plots of each specific story. My main characters are always on a spiritual journey, though some may be further along than others.
One more word about Christian Fiction, it has changed dramatically over the past ten years. Other than erotica, readers can find their favorite genre as Christian Fiction as well as mainstream fiction. There are Christian Fiction books out there for every book lover—historical; romance; regency; science fiction; even horror novels.
WHAT ARE YOU WORKING ON NOW?
My editor and I are busy on the final edits for a book to be released next year. It's the second in my SISTERS BY CHOICE series and is currently titled BETRAYED. The first book in the series was DECEPTION.
DECEPTION is the story of a school counselor who's get the shock of her life one morning when a niece she doesn't know exists calls her and asks, "where's my mommy?" Her journey to find her sister leads her on a winding path of deception. BETRAYED picks up the story of DECEPTION, but focuses on Maria who was the wife of the terrorist from the first story.
I also have a devotional blog (www.PowerUpWithGod.com) that I love to work on. Lately, I've been working on a series of devotions called FACING ADVERSITY GOD'S WAY. I was diagnosed with bilateral brain tumors this year and so I'm using my experiences to help others who are facing a crisis.
HOW CAN READERS FIND YOU ON THE INTERNET?
My website is www.lillianduncan.net and I have a devotional blog at www.PowerUpWithGod.com I'm also on Twitter as @LillianDuncan and on Facebook at http://www.facebook.com/lillian.k.duncan
THE CHRISTMAS STALKING by Lillian Duncan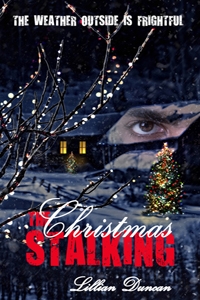 Overzealous fan or crazed stalker?
Country music superstar Destiny appears to have it all. Beauty, money, and fame. But it's not all glitz and glamour. Being a celebrity comes with a price—loneliness, and now threats from an unknown stalker.
With Christmas approaching, and as the danger escalates in Nashville, Destiny has no choice but to disappear. She escapes to her grandparents' cabin in the Adirondack Mountains near the tiny Village of Serenity & Peace. It seems to be the perfect choice for a hideout. Longing for the serenity and peace she experienced there as a child, Destiny sheds her celebrity persona and resumes her long-forgotten identity as Holly Stone.
Unfortunately, fame follows her to the tiny village—along with her stalker.
Lillian Duncan writes stories of faith mingled with murder & mayhem. She writes the type of books she loves to read—suspense with a touch of romance. Whether as an educator, a writer, or a speech pathologist, she believes in the power of words to transform lives, especially God's Word.
To learn more about Lillian and her books, visit: www.lillianduncan.net. She also has a devotional blog at: www.PowerUpWithGod.com
As an early Christmas gift to Patti's Porch readers, purchase a copy of THE CHRISTMAS STALKING and receive a FREE e-copy of either DARK ALLEYS or GEESE MATE FOR LIFE. Once you purchase it, simply go to her website (www.lillianduncan.net) and send her the order number. Lillian will email you a copy of the book of your choice. Merry Christmas to all!!