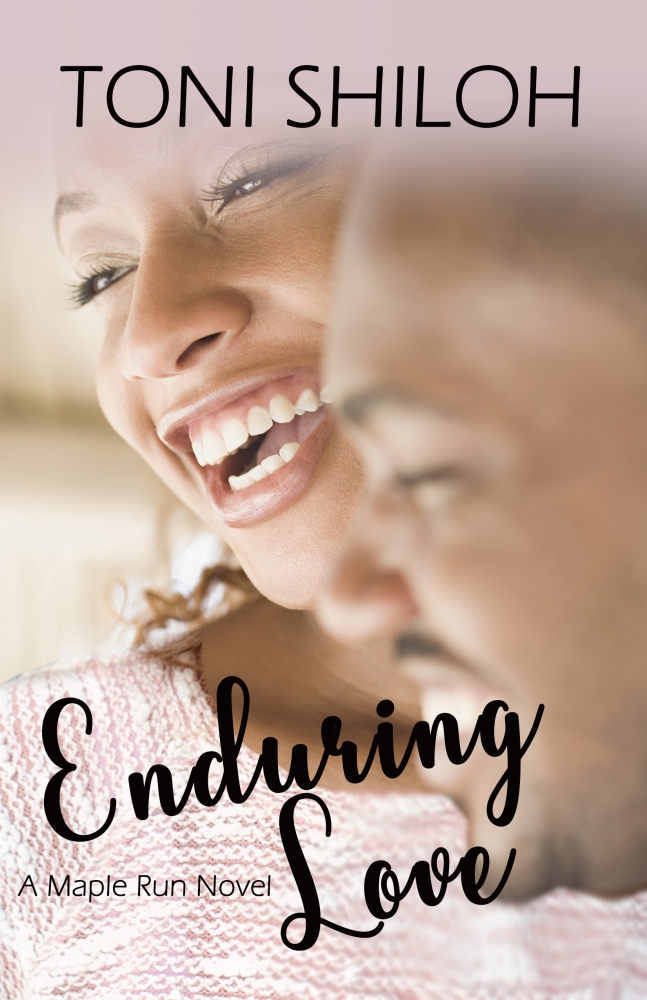 FEATURED BOOK: Enduring Love
AUTHOR: Toni Shiloh
PUBLISHER: Celebrate Lit Publishing
GENRE: Christian Fiction Contemporary Romance
SERIES OR STAND ALONE: Maple Run Series #3
TARGET AGE: 18+
IT IS MY PLEASURE TO WELCOME AUTHOR TONI SHILOH TO PATTI'S PORCH. TONI SHARES HOW THE SETTING IN HER BOOKS REFLECTS HER OWN DESIRE FOR SMALL TOWN LIFE.
TONI IS OFFERING A GIVEAWAY! SIMPLY LEAVE A COMMENT BELOW TO ENTER THE DRAWING FOR AN EBOOK COPY OF ENDURING LOVE.
COMMUITY LIVING
by
Toni Shiloh
When I began writing Buying Love, the first book in the Maple Run series, I had no intention of writing a series. Yet the secondary cast of characters begin to speak to me and ask for a chance in the spotlight. And with each subsequent book, I fell in love with the people and the town.
You see, Maple Run is a fictional town located in Virginia. I wanted the town to be everything I wish for in my own setting. A place where people know you and look after you. A place filled with friends who will do life with you and build you up when you need it.
Belle Peterson doesn't know what it's like to live in that type of community. A new Christian, she moves to Maple Run seeking refuge and solace in the small town. What she finds is more than she could ever think or imagine. An abundant life awaits if she can shed the shame of her past.
How true that is in real life! Christ offers us an abundant life but we hold on to guilt and shame as if it will keep us from making the same mistakes. When instead, God wants to touch our heart and bless us with His Spirit to guard us. It doesn't mean we won't sin, but with God we will be forgiven and can continue to live life in abundance.
Even though Maple Run isn't real, I hope that people will read Enduring Love, book three in the series, and seek to create a little small-town hospitality wherever they live. Hopefully, it will inspire us all to live life as the body of Christ and build one another up in the process.
Book cover blurb for Enduring Love:
"There comes a point in every woman's life where she must decide what to believe: the truth of the past or the circumstances of the present."
Belle Peterson is hiding a secret. Seeking sanctuary in the small town of Maple Run, she's intent on starting her life over—one she hopes honors Christ. The plan was going great until an undeniable attraction to Micah has her wondering if she's changed at all.
Micah Campbell can't understand why Belle is so uptight and wants nothing to do with her until the gentle whispers of God tell him to befriend her. He didn't count on the feeling of protectiveness to rise up or that spark of attraction.
When Belle's past is revealed, Micah prays that his love can endure it.
DON'T FORGET TO LEAVE A COMMENT TO BE PLACED IN THE DRAWING TO WIN AN EBOOK COPY OF ENDURING LOVE BETWEEN NOW AND TUESDAY, JUNE 12TH AT MIDNIGHT MDT.
Toni Shiloh is a wife, mom, and Christian fiction writer. Once she understood the powerful saving grace thanks to the love of Christ, she was moved to honor her Savior. She writes to bring Him glory and to learn more about His goodness.
She spends her days hanging out with her husband and their two boys. She is a member of the American Christian Fiction Writers (ACFW) and president of the Virginia Chapter.
You can find her on her website.