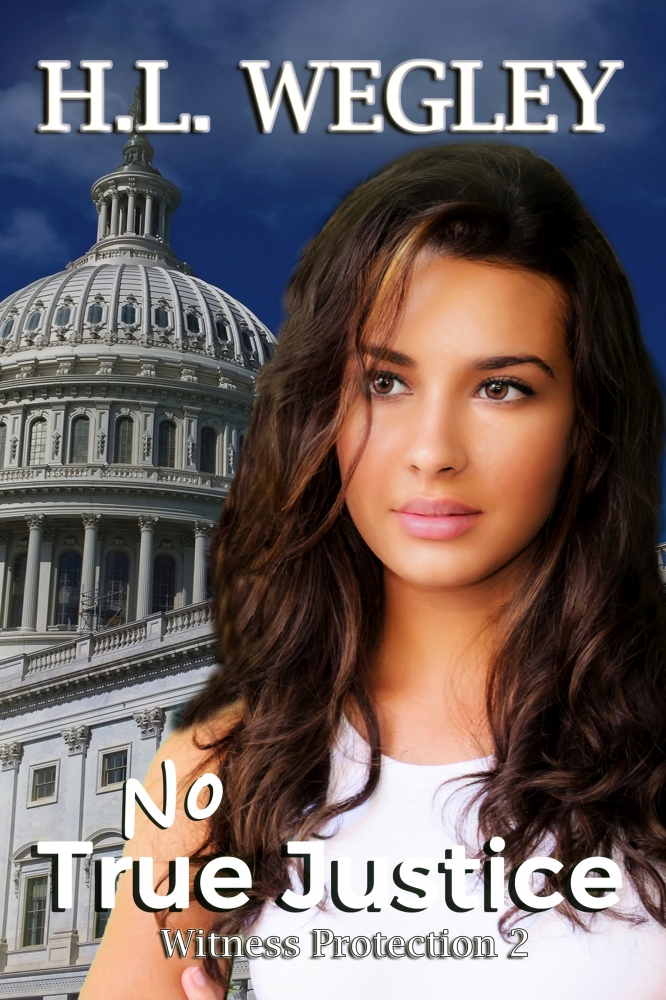 FEATURED BOOK: No True Justice
AUTHOR: H L Wegley
PUBLISHER: Trinity Press International
GENRE: Romantic Suspense
SERIES OR STAND ALONE: Witness Protection 2, (books can be read in any order)
TARGET AGE: 18+
IT IS MY PLEASURE TO WELCOME AUTHOR H. L. WEGLEY BACK TO PATTI'S PORCH. H. L. SHARES BREATHTAKING PHOTOS OF AMERICA'S BEAUTY AND EXPLAINS HOW HE CARVES A NOVEL OUT OF INSPIRING SETTINGS.
H. L IS OFFERING A GIVEAWAY! SIMPLY LEAVE A COMMENT BELOW TO ENTER THE DRAWING FOR WINNER'S CHOICE OF A PRINT OR ECOPY OF NO TRUE JUSTICE.
SOMETIMES SETTINGS SPAWN STORIES
by
H. L. Wegley
Don't you just love alliteration?
But seriously, there is so much beauty across this great land of ours that we are truly blessed to live here. Like me, you have probably been so inspired by your first glimpse of one of America's scenic spots—the Grand Canyon, Crater Lake, Mount Rainier—that you are moved to do something. Maybe write a poem. I used to reach for my camera at those times. But recently, I've begun saying, "I've got to set a story here."
Such was the case when I saw Crooked River Canyon with its five-hundred-foot-deep gorge running along on side of Crooked River Ranch in Central Oregon. The picture of this miniature Grand Canyon shows where my hero and heroine of No True Justice run to escape an FBI black ops team who are highly motivated to kill them.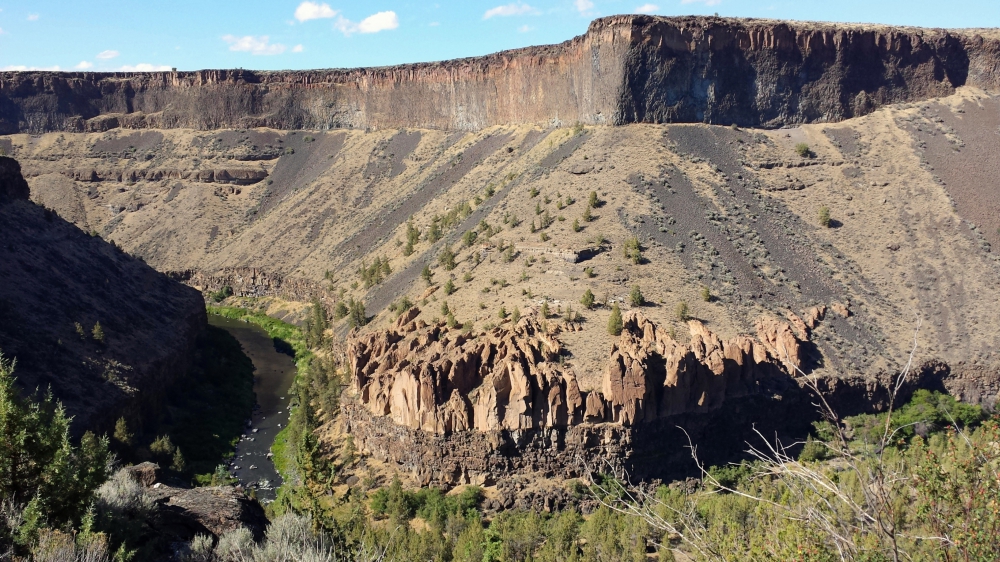 On the left side of this picture, where the canyon is shadowed, a movie crew lowered Conestoga wagons down into the gorge when filming the Hollywood classic western, The Way West, starring Kirk Douglas, Robert Mitchum, Richard Widmark, and Sally Field, who made her motion picture debut in this film. They intentionally dropped one wagon. I thought that was pretty cool when I saw the movie, but then, I wasn't the person in the wagon screaming. Just kidding, Kirk Douglas was too much of a man to scream. He fell silently to his death … in the movie.
Last summer my wife, Babe, and I were given a boat tour of Lake Billy Chinook, a man-made lake to the north of Crooked River Ranch. The lake was formed by building Round Butte Dam at the confluence of the Deschutes, Crooked, and Metolius Rivers. A lake in canyon country is certain to be spectacular. But when the Cascade's volcanic peaks are in view while you're boating on the lake, it's beyond description, so I'll just provide a picture. The mountain in the background is Mount Jefferson, located a little south of Mount Hood.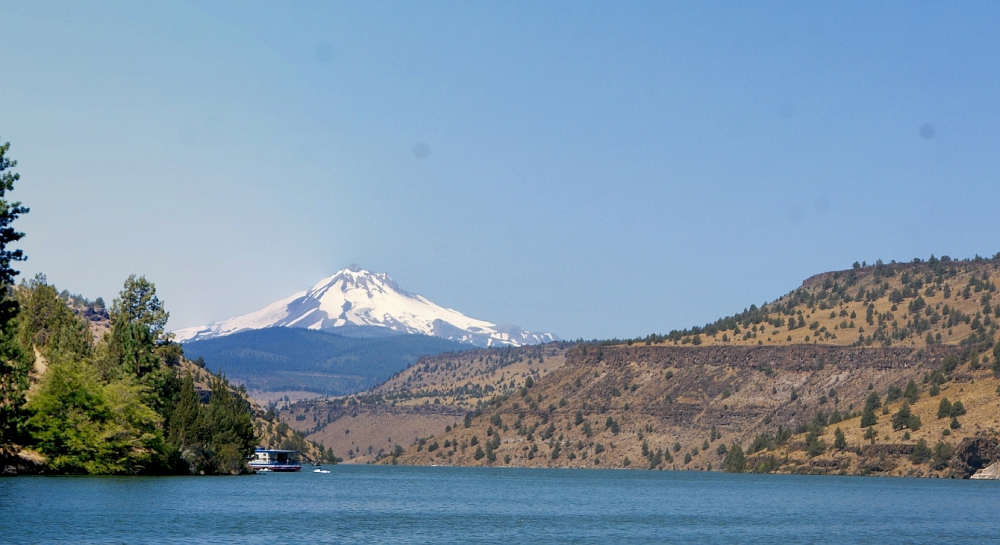 Back to the boat tour. If you're a writer, or unfortunate enough to be married to one, you know that strange things happen in writers' minds. Thoughts enter from some place that—I'll leave the origin of those thoughts up to the writers out there, because it probably varies by genre. Continuing, we were motoring along the northeast shore of the lake, when a thought struck me. What if a helicopter were approaching us and the men onboard had RPG launchers and they were intent on killing us? I write thrillers and suspense so, as you can see, spontaneous thoughts do vary by genre.
Back to the question—there was a solution. We wouldn't have to die if we could roll off the boat and into the lake, opposite the approaching helicopter, and then swim underwater about thirty yards to the cave our tour guide pointed out to us. The cave appeared as only a narrow slit along the surface of the lake. But it opened inside, creating a great place to hide. That solution would have worked, except my heroine has a phobia about going underwater. She gets claustrophobia and thinks she's going to drown. She loses it, a complete panic attack. But my hero is a strong swimmer and …
Notice how a plot and some characters just sort of emerged from … well, who knows where? But there they were. So I wrote them down and stuck them in a book called No True Justice.
The setting of the story is the area around Crooked River Ranch, Crooked River Gorge, and Lake Billy Chinook, all in a thirty-mile radius in my wife's and my home state, Oregon—almost heaven … beats West Virginia. Has Cascade Mountains and the Crooked River.
You know, that would make a catchy tune. But I could never write it. I can't remember whether to use "Every Good Boy Does Fine" or "Good Boys Do Fine Always." And where do you find middle C?
DON'T FORGET TO LEAVE A COMMENT TO BE PLACED IN THE DRAWING TO WIN A COPY OF NO TRUE JUSTICE BETWEEN NOW AND TUESDAY AUGUST 28TH AT MIDNIGHT MDT.
BY LEAVING A COMMENT, YOU GRANT PERMISSION FOR YOUR EMAIL TO BE REVEALED TO THE AUTHOR IF YOU ARE THE WINNER TO FACILITATE RECEIPT OF YOUR BOOK.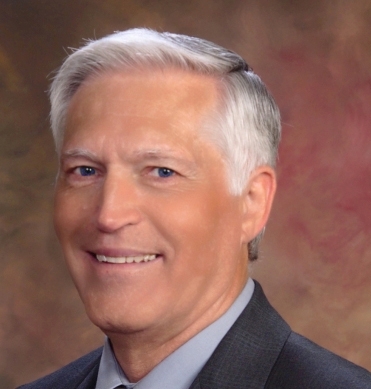 H. L. Wegley served in the USAF as an Intelligence Analyst and a Weather Officer. In civilian life, he served as a Research Scientist in the Atmospheric Physics Department at a national lab. After earning an MS in Computer Science, he worked 20+ years in systems development at Boeing before retiring near Seattle, where he and his wife enjoy small-group ministry, grandchildren, hiking beaches in the Olympic National Park, and where he writes inspirational thrillers and high-action, romantic-suspense novels. He is a multi-published author with 7 inspirational thrillers and 2 nonfiction books published and several more novels on the way.
Connect with H. L. online:
SUBSCRIBE TO PATTI'S BLOGS HERE